International Babywearing Week
I love babywearing. It makes me feel closer to my son (not just physically) but emotionally as well. I can see his smiles and sleepy eyes up close.
The kid is 6 months old now, but still hates being put down. He'll do tummy time a few times a day. It is often a struggle full of tears. He's not in pain. He just prefers being held. As he has grown and developed, the amount of time in tummy time without tears grows. We're around 3-5 minutes now on a normal basis. Sometimes its 8-10 if he's in a really good mood. Then he cries and wants to be held again.
When he was super young I wasn't comfortable putting him in a carrier. He's the first baby I've ever held for more than a minute or two. His head control was obviously not there so I prefered to hold him with both arms. Safe. Close. I once had a conversation with Abigail about this. She wondered why I always held him with two arms. My answer? "It's in case one of them unexpectedly fails." I'm a computer guy so I always think about redundancy / backups.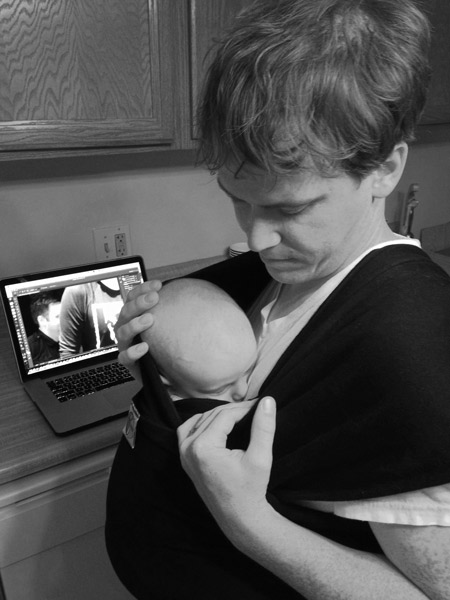 Sometimes you've got to readjust to make sure the kiddo's airway is clear.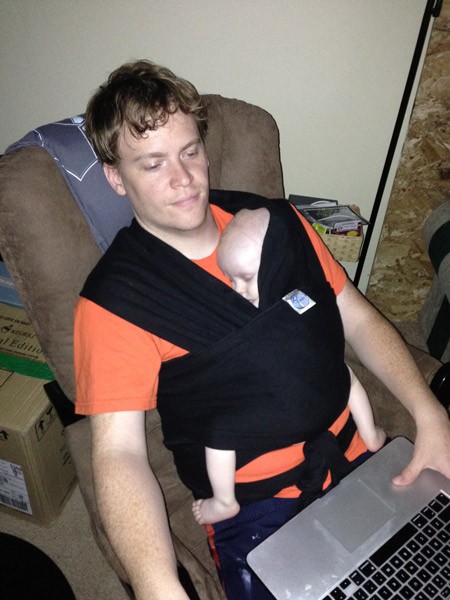 Hooray, he can sleep and I can get homework done!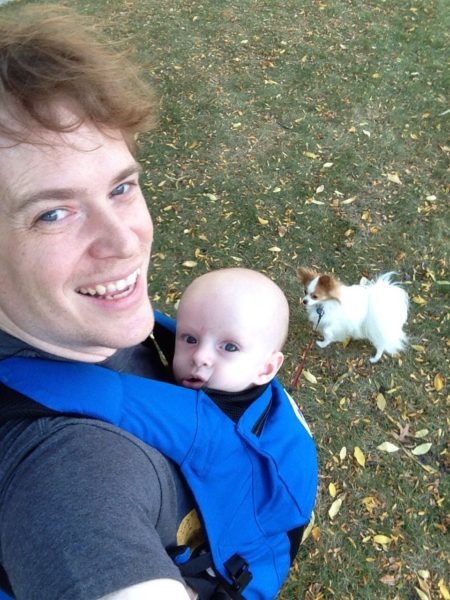 Out for a walk!
Now that Mr. Dude has better head control I don't mind carrying him with one arm… for a few minutes. Any longer than that and 12 pounds can get super heavy. Not to mention only having one arm free! That's where baby wearing is handy. Plus I can take the dog out or work on my homework if I'm wearing Wes.
Did/do you baby wear? What do you like about it most?