Its Not Okay To Be Afraid Of A Word, I Will Not #BanBossy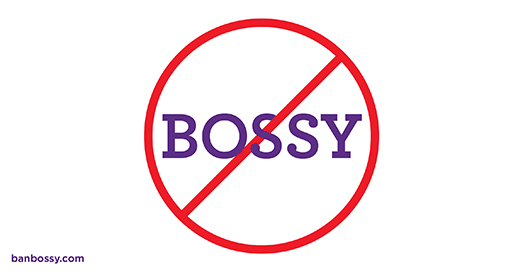 I have a problem with anyone wanting to ban a word. Any word really. Censorship is almost never a good thing. The use of language should be encouraged. If the word bossy was banned from our vocabulary another word would take it's place. Are we going to ban all words that could be taken negatively? The use of negative words can be discouraged, and the use of tact can be promoted, but outright censorship of a word should be avoided. It changes nothing.
There are a number of business women and celebrities calling for an end to the use of the word "bossy." Not even that, they are calling on the world to Ban Bossy. The effort is being spearheaded by Sheryl Sandberg, Facebook COO and author of the bestselling book "Lean In." The reasoning behind this she says is that the word bossy is viewed as a negative or insulting term that can hurt the feelings of girls who would otherwise seek in leadership positions.
When a little boy asserts himself, he's called a "leader." Yet when a little girl does the same, she risks being branded "bossy." Words like bossy send a message: don't raise your hand or speak up. By middle school, girls are less interested in leading than boys—a trend that continues into adulthood. Together we can encourage girls to lead.
Being in leadership often means not being liked. If being called bossy is keeping you out of a leadership position, man or women, you aren't ready to hear the other things people will say about you once you are there. People generally have negative feelings towards those in authority because getting there often means being pushy, aggressive and bossy.
One of the mistakes being made by the #BanBossy campaign is treating those that are bossy and those that are leaders as if they are the same. Those are two very different ideas. A good leader is someone who can help guide and direct a group or organization towards a worthwhile goal without being bossy. In the same right, just shouting orders at someone and being bossy does not equate to being a leader.
Simply banning the word bossy will not change things. Growing up I was called bossy. It bothered me sometimes sure, but I was bossy. I knew what people should do and wasn't afraid to tell them how they were messing up. The fact that I was called bossy was only truth finding its way to my ears when I wanted to tell everyone how to be better without them asking for my thoughts. I've learned tact and how to approach a situation in a less bossy manner, but I still have my opinions and like sharing them.
I've never understood why swearing isn't allowed on daytime tv. Its not like kids don't hear those same words used at home or in school. What has banning them from use on the radio done? Nothing. When a word in a popular song is bleeped out or a movie shown on tv has an audio edit over a swear word everyone knows the word that was used. It still pops into your head when the edit happens. The effect of removing the word is then ineffective. Why bother trying to ban it?
My argument is the same for banning the word bossy. It isn't the solution. The solution is to treat women and girls as the whole people they are with dreams, feelings, skills and intelligence. A woman should not be treated as someone or something less than a man. She should be viewed as an equal. No more and no less.
I fully support the idea of empowering women to become leaders in the workplace, civic arena, and elsewhere. I view my wife as a co-parent and equal. There is no other way I'd like to have it. For far too long women have taken a back seat in our culture to men simply because of their gender. This is changing and women are now being treated as equals more than in the past. I hope this trend continues and that as my son grows up he learns from me that the sexes are equal and should be treated as such.
Banning a word from one's vocabulary should only be done when it targets a very specific ethnic or minority group in a derogatory sense. I believe that is the only time it is acceptable to do so. The word bossy doesn't even remotely fit that requirement. Anyone, regardless of age, gender, ethnicity or any other criteria one uses to segregate a segment of the population can be called bossy.
It's okay to be bossy and okay to call that person bossy. People in leadership are often not liked because of their tendency to act like the boss. So this is my message to Sheryl; Stop focusing on the negative. Take your focus off of trying to ban a word and start promoting all the things girls can do and be. Encourage them to dream and stop giving the word bossy power it shouldn't have. Its okay to be bossy. Its better to be a leader.