Oath Day 2014
I've only just gotten into drinking beer in the last year or two. One big reason is that the only beers I had only had crap beers until recently. My first beer was a can of Coors, purchased by a friend. It was 2008 and I'd never had a beer before. It was not a pleasant first beer, as you can imagine. Later that year I had a few beers from a local Denver brewery while in Denver. I don't remember the location or the beers I had, but they were MUCH better than my first experience.
Fast-forward to 2013 and I've got a kid on the way. A friend of mine (Jeremy of Barrel Aged Heir)has started home-brewing and suggests we brew a beer in celebration of the soon to be new arrival. We brew, bottle it a month later, and in 2014 after my son turns one it still tastes great. Several Chicago Dads outings later I've had some great tasting beers and am learning what I like and don't in the beer world.
Enter Oath Day Two at Solemn Oath Brewery in Naperville, IL on May 31, 2014. Jeremy and I attended and had a blast. I'd never drank that much in one day before, but it went really well. We work together but don't get to just chat about fatherhood and life in general often. This gave us a great chance to do just that while sampling some amazing food and beers.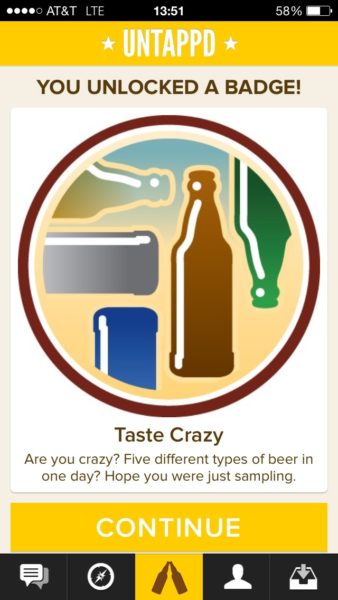 I used the Untappd app to keep track of my beers and what I thought of 'em:
SOLEMN OATH BREWERY BEER LIST
Bier Der Toten (Vienna Lager)
Wreckagemaster (Imperial / Double IPA)
Goth Syrup (Dark Ale)
Sybil's Revenge (Saison / Farmhouse Ale) – "Smokey oak. Black Liquorice taste. Its kick you in the face good."
Skinny Jeans R Ridiculous (American Pale Ale)
Foux Du Fafa (Saison / Farmhouse Ale)
This was probably the best beer brat I've ever had. It was from a food truck that Standard Market sent over. They know their stuff. If you ever get a chance to check 'em out you should.
Yes there is a skateboard demonstration going on behind this glass.
See?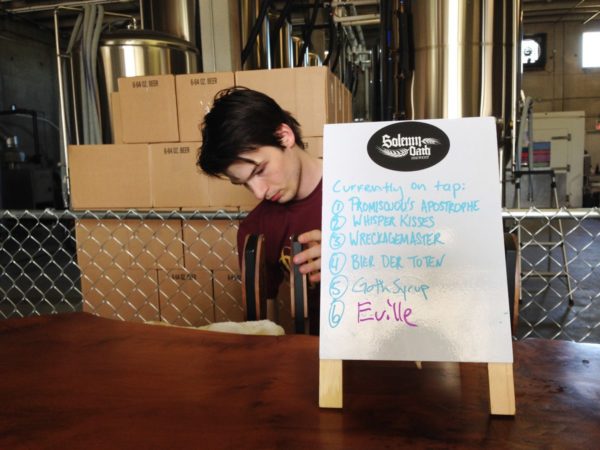 Everyone from Solemn Oath were very helpful, knowledgeable and excited about the beers they produce. I love seeing a company made up of people who absolutely love the product they produce. It shows in the quality and taste of the beers they offer.
The festivities we're held in the taproom and wearhouse that the brewery owns and operates. This stairway obviously goes to some amazing yet off limits to the public place.
Beer geeks discussing what they have had recently.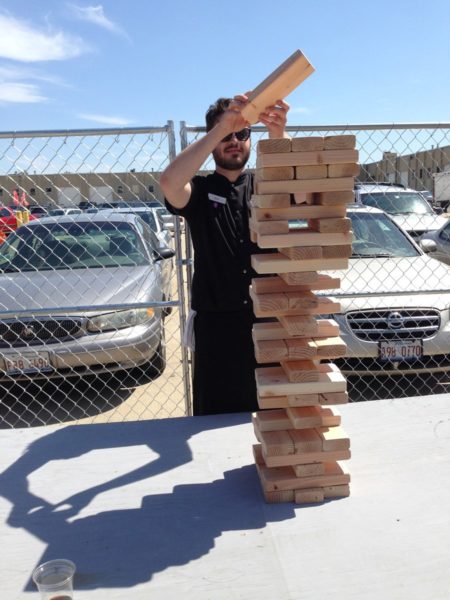 Giant Jenga game! How can you not love that?
The "tables" in the taproom are old barrels. Some with this sweet artwork.
I had a blast at Oath Day Two and hope to attend again next year. Have you been to any breweries that were amazing? Share about them in the comments below.