Last Minute Trip to London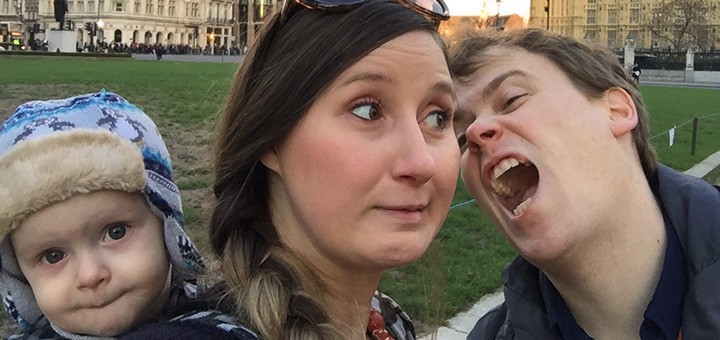 My wife is a flight attendant and sometimes travels to some pretty great locations for work. This last weekend was no exception. When she found out she had the weekend free and her mom wasn't going to be able to come over for our planned weekend of hockey and freedom from the little one, my wife made some last minute travel plans. She was able to pick-up a trip to London. The flights there and back had seats open so Mr. Dude and I tagged along!
Saturday night we caught a flight out of Chicago. This was Mr. Dude's second trip across the Atlantic. It was, however, his first trip with me as the solo parent. Yes, Abigail flew on the same plane as us. She was working the flight though so we didn't see her much. Mr. Dude did pretty well. It was an overnight flight and he slept off and on a lot of the flight. The only times he'd get fussy were when Mom would come say "Hi" and check on him. He always got grumpy afterwards. Not yet two, he didn't understand why she'd appear and disappear like that. The worst was about 20 mins before landing. She stopped by and chatted a minute. Mr. Dude was perfectly content to have both parents with him. She left and he proceeded to lose it for the rest of the flight. Let me tell you, I felt like the worst parent. He sobbed and called out for "Mama" until we got off the plane. Ugh.
Flight crews get to go through a super easy security line at the airport. Peons like me get to go through the regular winding lines that last forever. This means Abigail took off with the crew to the hotel. Mr. Dude and I did the regular security lines and took the train into the city to meet her. We took something called the Heathrow Express. It was actually pretty awesome. We got from Heathrow Airport to Paddington Station in 15 minutes!
We walked the rest of the way to the hotel and got a nice little feel of that part of the city. I was exhausted from the flight since Mr. Dude would only sleep when I was standing up or bouncing while in a seated position. It was nap time. I didn't care that it was like 2:00 p.m. local time. After the nap we headed out to take some pictures of a baby wrap (Artipoppe Badass Tyger) Abigail had borrowed for the trip. Apparently it was super comfortable. And now she wants one of her own. Anyways, we took the Underground to Westminster and did some sight seeing at the same time.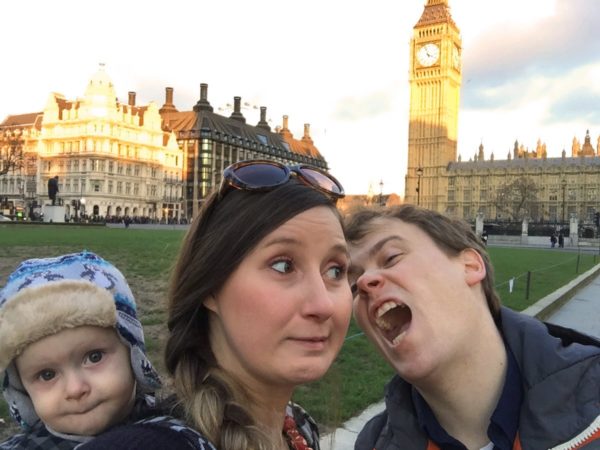 We only had a few free hours in the city before needed to head to bed and back to the airport. That meant some wandering around for photos and then fish & chips. We ended up at Garfunkel's, a place right next to Paddington Station, for dinner. The fish & chips were good with lemon, not amazing, but we were happy with the choice. They were kid friendly so that's nice too. A local pub down the street looked a little more promising as far as food and drink go but we felt a little weird about having a toddler in tow with us so ended up where we did instead.
Yes, I was drinking a London Pride out of a Budweiser glass. Luckily it still tasted great.
The flight home was much better than the flight there. Abigail worked the flight but made sure to avoid us. We were in Economy and she worked Buisness. Mr. Dude was almost perfect the first 8 hours of the flight. We spent a lot of time bouncing between activities: books, iPad, snacks, etc. Luckily we had a row to ourselves and the flight wasn't full so we had space to move around. That helped immensely.
He fell asleep at around hour 7. We were watching the first 20 minutes of Up for like the millionth time when he just nodded off instantly. He slept for a solid hour before the drink service woke him up. He was a grump the rest of the flight but slept off and on until landing. Once the lights came up he was all smiles.
My fear of flying solo with him was why he and I drove to Houston instead of flying back in December. It was an unfounded fear though as it turns out. The trip was a blast over all. The 8+ hour flights were really not that big of a deal. We now know Mr. Dude and I can fly solo on an airplane and it makes me feel really empowered as a father. There will be more trips in the near future. I can feel it.