"Home: Adventures with Tip & Oh" now on Netflix!
Disclosure: I've joined the Netflix #StreamTeam and have been compensated for writing this post.
Remember when I got to go visit Dreamworks Animation studios? And how I got to see a sneak peak at the recently released Voltron? That was only 1/2 of the story. The other thing we got to do was meet the awesome creative team behind Dreamworks Home: Adventures with Tip & Oh. Haven't heard of it? Take a look at the preview below:
Growing up has its challenges, but growing up alongside a Boov is a completely different story! Picking up where the hit movie DreamWorks Home left off, join Tip Tucci and her best-Boov-friend Oh as they embark on the everyday adventure of becoming family.
Oh was on hand for a meet & greet plus photo opportunity. Super nice fella. He and Tip are pretty great singers too. Just take a listen to the show's opening theme song and you'll be hooked:
One of the things we got to do after seeing the first couple episodes of the series was meet with Todd Garfield (executive producer) and Ron Funches (Sharzod) and then Ryan Crego (executive producer) & Ana Ortiz (Lucy). They are some of the most creative, funny and easy to talk to people I've ever met.
Blake Lemons, supervising producer, gave us a step-by-step walk through of how to draw a generic Boov. He also spent some time talking about the overall aesthetic of the show and how the artwork process is done:
The process of making the music for the show is a really interesting one. You can listen in to the conversation as Alex Geringas (music composer) and Rachel Crow (the voice of Tip) talk about the songs and music from DreamWorks Home: Adventures with Tip & Oh.
I also had to get in the Converse sneaker shot: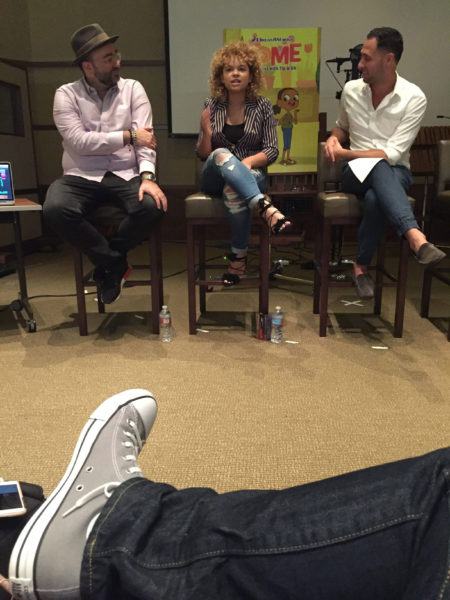 There was also a surprise dance lesson / workout set. Sadly the video I attempted to take of it didn't turn out. I did, however, get this shot right after it ended.
My three year old loves the show. I am also a huge fan. There are so many verbal jokes in the show beyond the slapstick animation that we can both enjoy watching it together. Now that this post is done, I'm going to go back to watching the rest of season one.