We Love "The Great British Baking Show"
Reading Time:
3
minutes
Disclosure: I've joined the Netflix #StreamTeam and have been compensated for writing this post.
My son Wesley loves cooking. He loves it so much that I can't be in the kitchen preparing a meal without him there joyfully offering to help. Even the clean-up is a source of enjoyment for him. He's not tall enough to reach the kitchen counter without a step stool or chair to stand on. The kid makes me smile.
I'm not an exceptional cook. I wouldn't even consider myself a good cook. That is to say nothing about baking. My failings in the kitchen don't stop me from preparing meals for the family nor his interest in assisting. And I'm all for it. Perhaps one day he'll be cooking for us!
There's this PBS show on Netflix called "The Great British Baking Show" that Wes absolutely loves! It is a weekly cooking competition show, but it's not one that is high drama nor full of screaming stressed out contestants. The challenges are not easy. These bakers are put in stressful situations like timed challenges. We both love it though because the contestants are polite to each other and get along. The judges are honest and to the point with their assessments. They are also encouraging. It's a breath of fresh air in the genre that our whole family enjoys.
Wes loves the show so much he asks to watch it sometimes. He is also inspired to bake from time to time while watching the show. The latest example was an inspiration to make cupcakes. We make cupcakes as father and son in the kitchen while watching the show earlier this week. It was a nice bonding experience for us. The cupcakes didn't look great, but they were tasty. We, of course, had fun making them as well.
The cupcakes we make at our house are out of a box. The ones they make on "The Great British Baking Show" are totally from scratch. It is an impressive feat. Our cupcakes were pink by request. Wes loves pink so we found just the right mix at the store to make this experience happen.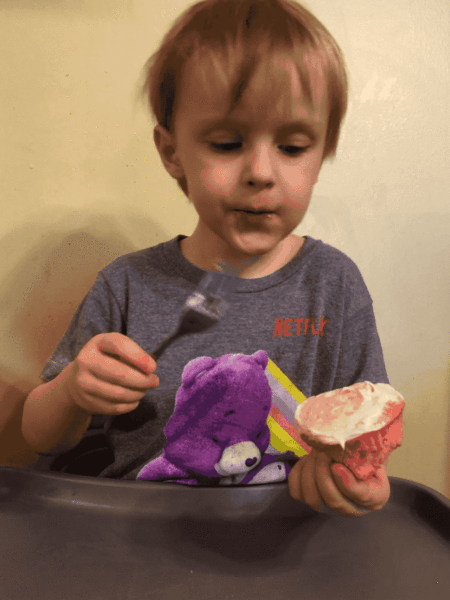 Jumping ahead in our process to the final product. Wes' review? "They're pink and yummy!" Awesome. That's all I was aiming for kid. Now, let's go watch another episode.