The Blue Man Group Celebrates 20 Years in Chicago
Disclosure: I've have been compensated for writing this post.
I've wanted to go see the Blue Man Group perform for years. Something always seemed to get in the way and I never went. This had been going on for years. Until earlier this month. My wife and I were invited to attend the 20th-anniversary show of the group performing in Chicago. The performance did not disappoint. Even after well over a decade of built up expectations of how much fun it would be when I finally got to go, the show did not disappoint!
Each performance from the group investigates the human condition through a mix of live music, comedy, performance art and technology-focused gags. The group aims to help people see the world through the perspective of a child (or an alien new to its Earthly surroundings. Three bald and blue men explore our cultural norms with wonder, poking fun at our collective quirks and reminding us how much we all have in common. Backed by a live rock band, the Blue Men unify the audience for the show's celebratory climax – an unforgettable, euphoric dance party.
Blue Man Group celebrated 20 years at the Briar Street Theatre in Chicago on October 12, 2017 at 8:00 p.m. The group's performance is continually refreshed with new music, fresh stories, and custom instruments. It's a joyful, multi-sensory experience that has performed in over 20 countries and has captivated more than 35 million people of all ages and cultures worldwide. The Blue Man Group has been seen in many marketing campaigns for brands like Intel and TIM/Brasil. They have also appeared on shows like "The Tonight Show," "Arrested Development," and "Ellen." Even if you've not seen them in person you likely know who they are…
Since the act debut in 1997, Blue Man Group Chicago has:
Entertained more than 4,600,000 people with 10,493 performances
Held five autism-friendly performances in collaboration with Autism Speaks
Used 965,365 ponchos and 17,694 boxes of Cap'n Crunch cereal
Awarded $45,000 to emerging artists through two Blue Man Group art competitions
Blue Man Group isn't just a Chicago local favorite. It has permanent theatrical productions in New York, Las Vegas, Boston, Orlando, Berlin and a World Tour too. If you ever get the chance to see a performance please do. Now that I've experienced one of their performances I can't believe it took me so long to attend. Now I want to make sure and go again in the near future!
The guys even come out after the show for selfies. If you're into that sort of thing. They will even take it for you!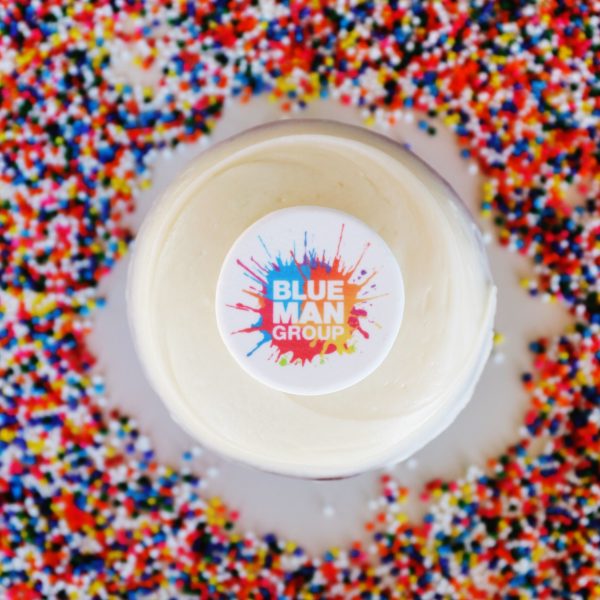 There were commemorative cupcakes from Sprinkles Cupcakes on hand for audience members after the Blue Man Group's 20th-anniversary performance show on October 12, 2017.
And they were yummy. So yummy in fact that we only got a photo of the box they came in!
It takes approximately 17 crew members to run each show, depending on the venue. This includes wardrobe, props, video, sound, electrics, deck and stage management.
Each week their list of "consumables" includes, approximately:
60 drum heads, for the drums in the band loft and on the stage
16 cymbals on the drum kit
64 drumsticks used by Blue Men and Band members
50 gallons of specially-mixed paint in three vibrant colors
32 pounds of Jell-O
8 boxes of Cap'n Crunch cereal
40 pieces of white chocolate Toblerone
385 marshmallows
44 boxes of Twinkie Lights
21 bald caps
28 cakes of blue makeup specially made for Blue Man Group
(They even have their our own proprietary color 'Blue Man Blue')
You can find out more about Blue Man Group, get tickets and more at BlueMan.com
Have you seen Blue Man Group? When & Where? I'd love to know!