Blue Man Group Launches Updated Show at Chicago's Briar Street Theatre!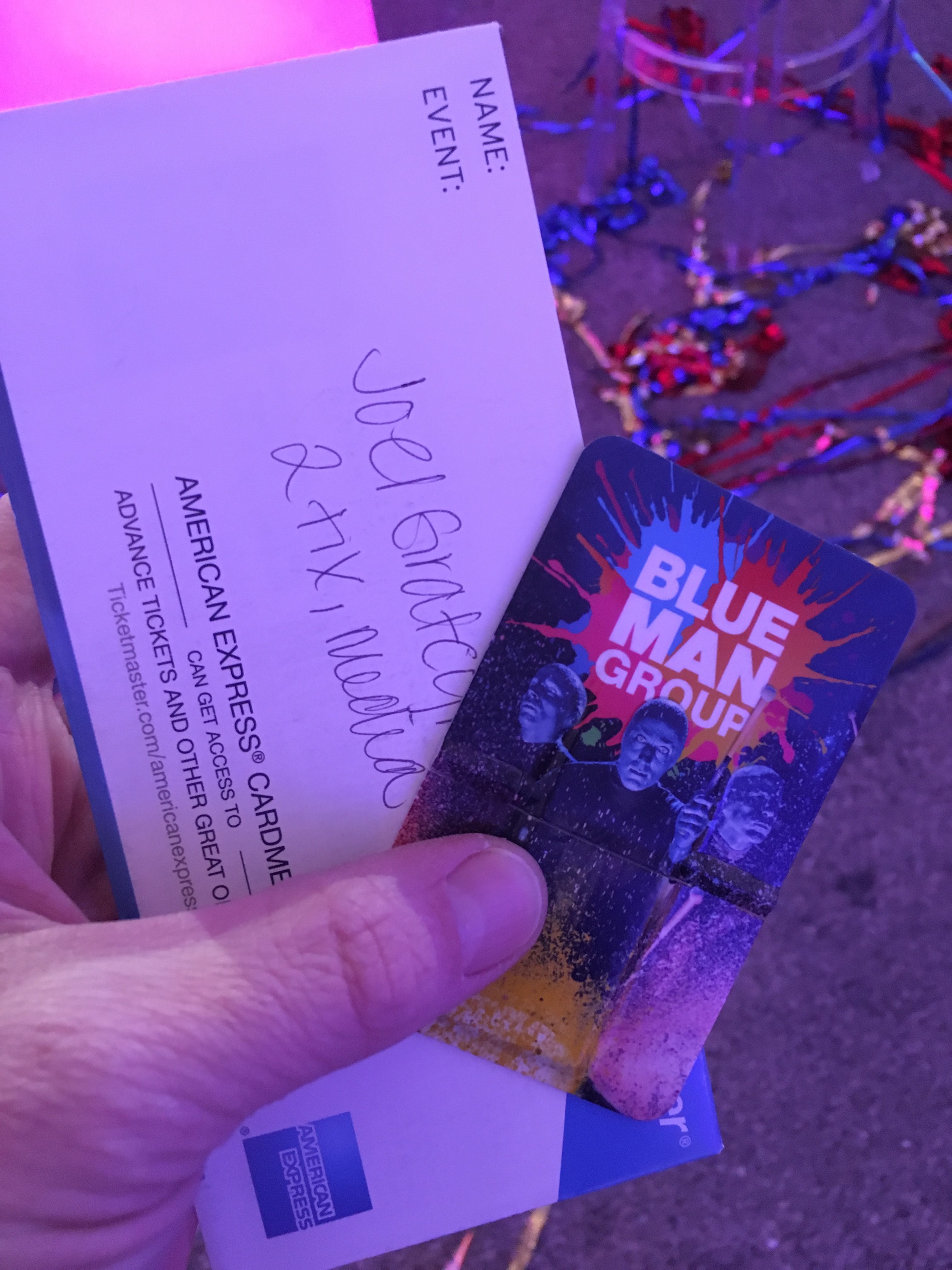 I was welcomed as a guest to the opening night of the Blue Man Group's new show at Chicago's Briar Street Theatre. Developed by Director Michael Dahlen and Creative Director Jeff Turlik, the new elements joining the Chicago production celebrate Blue Man Group's commitment to experimentation and evolution. These are my thoughts on the experience from November 8, 2018.
I attended my first Blue Man Group show in Chicago last year with my wife. They were celebrating 20 years of innovative and experimental live entertainment. This year the show's updated humor, music, lights, and surprises exceeded my expectations.
There are still elements of the classic show left in this new one. Rather than a completely revamped performance, the Blue Man Group has kept much of what's made it so popular. That is to say, most of my favorite parts of the show last year are still in the show's latest interpretation. Not only is there physical comedy, but also not so subtle jabs at society's overuse of technology.
There are new instruments in the show, a series of over a dozen video screens, and an ended series of impressively timed transitions between the physical, visual, and electronic on stage. This experience is best shared with your fellow attendees. That includes those you know and the strangers in the seats around you.
Can't wait to see the new show! Thanks for having me as a guest, @bluemangroup! pic.twitter.com/2qi1TDl3sA

— Daddy's Grounded (@DaddysGrounded) November 9, 2018
Newly constructed and remastered instruments such as the Spinulum, Light Horns and Trigger Vibes will bring expressive new sounds to Blue Man Group Chicago. Made from industrial materials, the Spinulum is played in a similar fashion to a slide guitar by moving a specially- made hand grip along the stainless-steel neck of the instrument while rotating a clear plastic disk. Light Horns will allow the Blue Men to call out to the audience in a never-before-done fashion. Part deconstructed xylophone, part drum hardware, the Trigger Vibes will present new but oddly familiar electronic sounds. Original music compositions will also be featured in the Chicago production including the theatrical debut of "Vortex," a piece from Blue Man Group's latest studio album "THREE." – Blue Man Group PR Kit
Crowd participation remains a large and entertaining part of the show. There is an odd silence filled with chuckles when the performers make their way into the crowd to choose who they'll bring on stage for various bits. The participant selection is almost as entertaining as the bits they participate in while on stage!
During each performance, one lucky audience member gets the opportunity to share the stage with Blue Man Group like never before—becoming a true rock star by playing alongside the Blue Men on one of the new instruments, the Mag Bells.
Tickets are available from $49-$99. Tickets may be purchased by calling 1-800-BLUE-MAN (1- 800-258-3626) or visiting BlueMan.com. A full show schedule and ticket pricing, can also be found at BlueMan.com.
Special rates are available for groups of 10 or more, varying from $46- $69 per person. For groups of 10 or more, call the group sales department to book at: 773-348-3300 or email chicagogroups@blueman.com to request information.
I'm so happy to have seen them perform in person for the second time. It is a live-experience I would gladly attend several more times.
Have you been? What did you think?