In Search of a Great Burger
I'm having a Dad-chelor party next month. The idea is similar to a bachelor party. Starting fatherhood is a big step so I wanted to get a group of guys who are important in my life right now together to celebrate the end of childlessness. Strippers and getting wasted like a traditional bachelor party isn't exactly my style (plus, we're doing this only days before my wife's due date and if I'm passed out drunk for the birth of our child I'm not sure it would be one of those "this will be funny later" moments.) Instead I wanted to find a place that served great beer and even better burgers in a local pub type feel.
Since, despite wanting to, I hadn't tried out many local burger places, my wife had a great idea to find the perfect spot. Her idea was to spend a week and visit a new beer & burger place in the area every day to find what I was looking for. There were several requirements that had to be met in order for it to be perfect place.
The right place would include the perfect combination of:
Atmosphere: The ability to be loud, have comfortable seating, good service, etc.
Cost: The option to spend $20 or less if they want on food, drink & proper tip.
Beer Selection: To have a wide enough selection that everyone will be able to get something they like.
Burger Quality: Tasty. I don't want a lame burger.
Reservations: Not a must, but a plus.
The place also needed to be in the western suburbs of Chicago. There are several places in the city that might be a possibility (Revolution, Haymarket and Kuma's for example) but since we have the event planned just a week before my wife's due date I want to be close in case her labor starts.
Places we considered but nixed before the experiment: A place like Smashburger wouldn't work because of the limited beer selection and fast-food type environment. There are places with lots of good beer options (i.e. Beer World) that don't serve food. I also wanted to stay away from places like Ted's Montana Grill because of price or TGI Fridays because the burgers are often mediocre.

Day 1: Sunday, Feb. 24, 5:00 p.m
The Bavarian Lodge
The Matterhorn Burger, $12
"11oz Black Angus on a pretzel roll with bacon, cheddar, and fried egg, with battered fries."

Atmosphere: Average age of customers was mid-60s. The decor is perfect for the type of restaurant. Lots of old photos, beer steins, nicknacks, dark colors and wood tones. The noise level was very low. Conversations were muffled and the old style Bavarian music was playing so quietly I only noticed it once during the meal.

Cost: Burgers were $9-$12. Included fries. I couldn't finished the burger because it was so big.
Beer Selection: The beer list was pretty extensive. I counted over 100 offerings on the regular menu and a little over a dozen were on the daily special.
Burger Quality: The burger was big, but bland. The bacon on the burger was very fatty. I like my bacon burgers to have crunchy bacon and not chewy bacon on top. The burger's pretzel bun and cheddar cheese were great. The fries were to die for. The medium cut fries were dipped in batter and fried to a crunchy perfection on the outside and tender softness on the inside.
Reservations: Nope.
Verdict? Not for the Dadchelor party. Okay place for the family, some beer or for some traditional German food.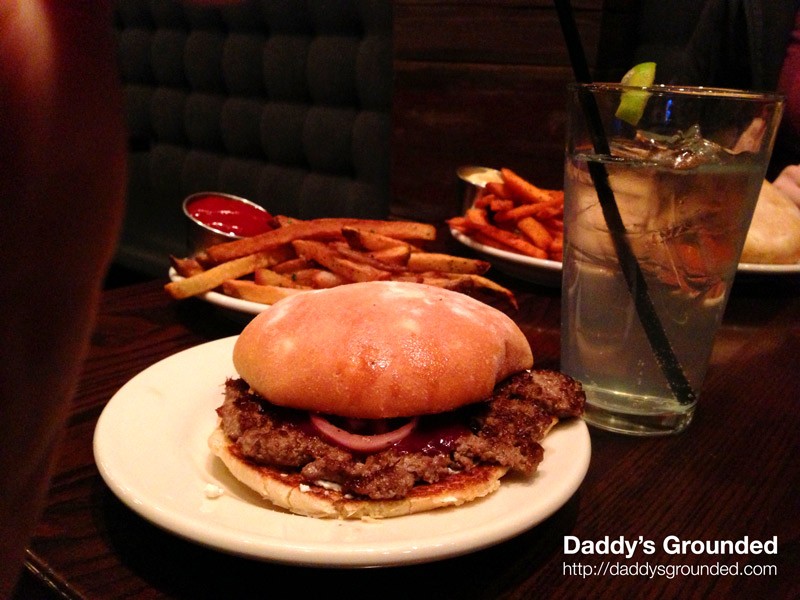 Day 2: Monday, Feb. 25, 5:15 p.m
DMK Burger Bar
Blueberry BBQ Bison Burger, $11
"Bison Burger — Fresh Goat Cheese, Pickled Red Onions, Blueberry BBQ Sauce"
Atmosphere: Small space. Didn't feel cramped but there also wasn't a spot for a noisy group of guys that wouldn't disturb other patrons.

Cost: High. The burgers & fries had to be ordered separately and were in small portions.
Beer Selection: Adequate. I liked that they had classic beers and some different/local ones that seemed interesting.
Burger Quality: The burger was good. It was a thin patty. Tender, juicy, flavorful. The salt & peper fries were separate from the cost of the burger. For $3 I got a handful of fries. Not nearly enough food for the price. I left hungry even though I ordered a burger, fries & soda.
Reservations: Nope.
Verdict? Not for the Dadchelor party.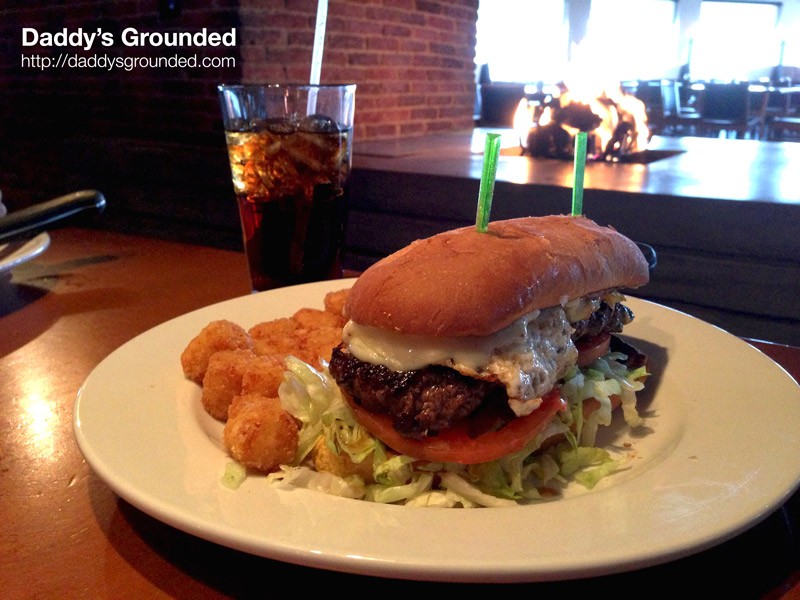 Day 3: Tuesday, Feb. 26, 4:30 p.m
Brick House Tavern & Tap
The Gun Show Burger, $10
"100% ground chuck burger topped with a fried egg & dijon mayo. comes with lettuce, red onions, tomatoes, pickles & a choice of tots or fries."
Atmosphere: Industrial, Brick, Fire-place, TVs, Couches and a Man-Cave. We also had an amazing waitress. Never had to wait for a refill.
Cost: Mid-range. You get a lot for your money.
Beer Selection: Nice selection of bottled and draft beers. Plus they do "beer bongs" of their draft beers which is great for a group.
Burger Quality: Excellent. The burger was tasty and the toppings were fresh. It came on a sub shaped bun. That threw me off, but it was just right for the burger.
Reservations: Yes.
Verdict? Perfect place for the Dadchelor party.
I'd never been to any of these three places before. The first two were on the recommendation of co-workers and based off Yelp reviews. The third, Brick House, was a place we passed on Tuesday after visiting DMK Burger Bar and thought we'd try. There were some other places on our list to check out and I will in time. We didn't do the whole week because I was so happy with Brick House and eating out every night does get expensive. I'm happy with my choice and so is my wallet. Now let's just hope my son stays put until after the party.