Second Cubs Game of the Season
Abigail, Mr. Dude and I got to attend a Cubs game at the end of September with a group of Chicago area dad bloggers. It was our second and last game of the season.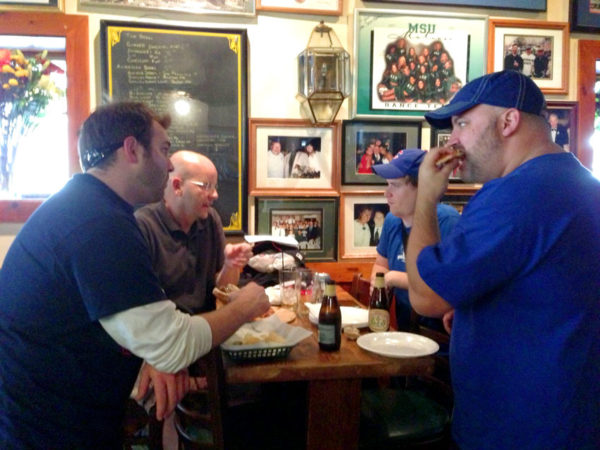 The outing began at a bar on the north side one of the guys used to work. You can see Jim Higley (Bobblehead Dad) and his son along with my self and Eric (Dad on the Run) chatting in the above photo. Thanks to Dove Men + Care and the #BigLeaugeDads instagram contest they are running we got in as guests! The contest runs through October 30, 2013 and offers a chance to win Opening Day tickets to the baseball team of our choice. Official contest details can be found here.
Our seats were a few rows from the field and in the shade for over half the game. It was a lot of fun to meet these guys in person. Wesley did amazing well for a 5 month old too. He was happy and/or sleeping most of the game. Aside from having trouble with a blowout diaper pre-game, the outing was pretty much perfect. The weather was gorgeous, and so was my fine looking wife.
My beautiful wife wearing Wesley at the game. 
Post-nap Mr. Dude was looking a bit confused when I snapped this picture. Who's that in the background (top right)? Victor of FanDads!
Rock star photo with len flare. Wesley's showing off his "My First Cubs Tee" shirt. 
Spoken language is still something out of Wesley's grasp, but I really feel like we communicated on another level that day. These two photos are my favorites. They capture a time during the game where he was wide awake and curious about his surroundings. Crowds, so far, are no big deal to Wes. He was content just sitting/standing there on my lap. He'd respond to the sound of my voice saying "I love you" with a smile or my making a face with a laugh. Wouldn't trade that memory for anything.
The Cubs didn't win it all this year, but there is always next year right?