A Day At Spirit Farms
Disclosure: We received a travel stipend in exchange for attending in the farm tour.
Our family was invited to spend the day at Spirit Farms in Sheridan, IL. And that is exactly what we did last week. We got to take a tour of the farm and hear all about how the business is run. Corn and soybeans are only a part of what they do. They do special events too, like the blogger one we attended, and others like corporate trainings, kids camps, and wedding receptions.
It was an early morning. The event itself was scheduled at 9:30 a.m., but we had an almost 2 hour drive to get there. The farm is run by a husband and wife team along with a staff of over 80 people. Wow, right? That's exactly what I thought. It is no small operation. The details of how our food gets from suppliers to producer to distributors to retailers and our homes is an amazing one.

We got to see a few horses as we started off our tour. Abigail was babywearing and looking beautiful as usual.
The tour was followed up by some sweet corn picking! This was the first time I'd ever actually picked corn out of a field. Normally I just get it from the produce aisle. The trick, I was told, is to twist and not pull. Worked like a charm!

We visited to a local farm stand that sells corn from Spirit Farms as part of our tour.

I, of course, had to buy some apple butter.

Wes ate his first ear of sweet corn at lunch that day!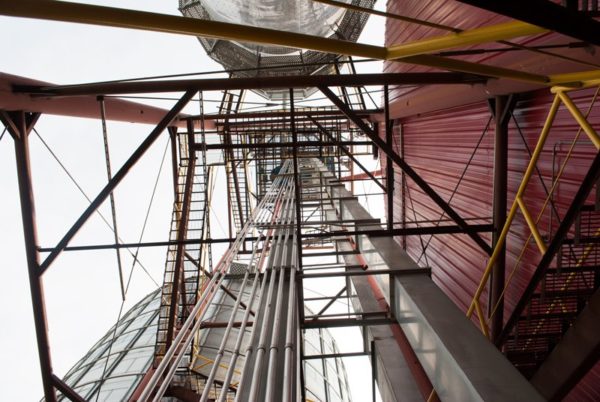 I'd like to thank Spirit Farms for hosting us for the day. We loved it and hope to return again in the future. Perhaps once Wes is a little older. I want to climb this huge stairwell and catch the view from the top!