Mushroom and Sausage Mostaccioli
Reading Time:
4
minutes
Disclosure: I have partnered with Life of Dad, LLC for the #ShroomTember promotion. Sponsored by The Mushroom Council, the #ShroomTember promotion gives anybody the chance to win a $500 Visa gift card.
I love mushrooms. They are one of only a few foods that I love having with almost everything. Mushrooms can be included in pizzas, salads, soups, bakes, stir-frys and more! Thanks to mushrooms' hearty taste and meaty texture, my favorite meals can be made healthier without complicated techniques to create better-for-you versions.
Mushrooms, on average, have 90 percent fewer calories than a ground meat alternative. They bring important nutrients like vitamin D, potassium, B vitamins and antioxidants to the plate without adding significant calories, fat and cholesterol. Mushrooms keep for up to a week in the refrigerator. To maximize shelf life, keep mushrooms in original packaging until ready to use. You can freeze sautéed mushrooms for up to one month. Who doesn't like that?
I love how easy Mushrooms are to prepare and store. You can sauté mushrooms in a snap. Just brush a pan with oil, butter or non-fat cooking spray and heat on high. Add a single layer of mushrooms; turn once when mushrooms become red-brown on one side. Cook until other side turns the same color, and remove from heat. Season to taste.
I've been invited to participate in #ShroomTember and let you know that you can participate as well. You could win a $500 Visa gift card! Get all the details at:  http://lifeofdad.com/MushroomCouncil
I present to you a recipe of my own creation that includes mushroom blendability. Replacing some of the ground beef, turkey, or other meat with mushrooms is an easy technique called blendability, which plays on mushrooms' compatibility with meat in terms of taste and texture.
My Recipe: Mushroom and Sausage Mostaccioli
I make mostaccioli once a month or so. My family & co-workers love it. So much so, that my wife's family specifically request it when we visit! The recipe is normally pretty plain and simple. This contest inspired me to spruce it up with some mushrooms. I'm so glad I did because it is a perfect with this  #ShroomTember theme and contest. The mushrooms took a basic recipe and made it spectacular. Pictured below are the items I used when preparing this dish, but you can choose your own brands/flavors based on personal preference.
Ingredients:
1 Pound of Mostaccioli noodles
4 Cups Shredded Italian Blend or Mozzarella Cheese
45 oz Jar of Traditional Spaghetti Sauce
8 oz White Mushrooms (Sliced)
8 oz Mini Bella Mushrooms (Sliced)
1 Pound Pork Sausage
15 oz Ricotta Cheese
12 oz Cottage Cheese
4 oz Sour Cream
2 Tablespoons Grapeseed Oil
5 Cloves of Garlic (Pressed or Chopped)
Pre-heat the oven to 375 degrees.
1.) Cook the mostaccioli according to instructions on the box. Then mix the noodles with the spaghetti sauce.
2.) Put the grapeseed oil in a pan, covering the bottom. Turn on medium-high heat. Add the mushrooms and garlic. Saute about 8 minutes or until the mushrooms are tender.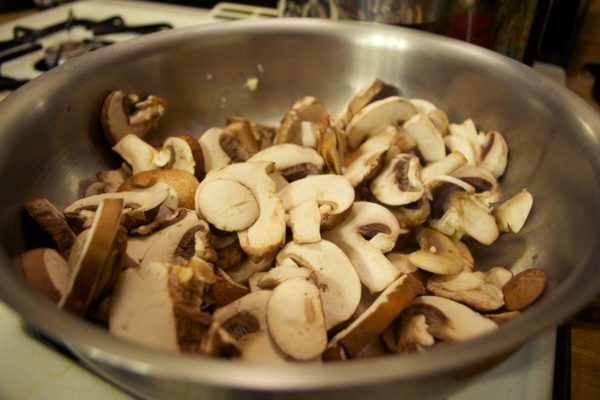 3.) Brown the sausage. Mix the mushrooms, sausage, cottage cheese, ricotta & sour cream.
4.) Combine the sausage mix with the with the noodles and sauce.
4.) Pour the mix into an 11 x 15 inch pan and cover with shredded cheese.
5.) Place in oven until cheese is lightly browned.
6.) Serve hot with your choice of sides. Salad & garlic bread for example.
I hope you like this recipe as much as I do! If you try it out let me know how you liked it in the comments.
Looking for more great mushroom recipes? Here are a few from Mushroom Channel Online:
Blend
Family-Friendly
Meatless