Co-Sleeping With A Toddler (And a Tuft & Needle Mattress Giveaway!)
Disclosure: I received a product for review from Tuft & Needle in exchange for the creation and sharing of this post.
Sleep is important. I mean seriously important. If you had told me how colossally my sleep schedule would be affected once I became a father before we had our kid I would have called you crazy or a doomsday personality. Turns out, those the-sky-is-falling people were right. Having a kid, especially a very attachment oriented kid, seriously cramps your sleep style.
Short nights of interrupted sleep are, in most cases, an unavoidable result of parenthood. Some people are lucky and get a kid who actually sleeps in a bassinet or crib. I wonder what that's like. I hear it's nice. Our kid, Mr. Dude, will not fall asleep without being right next to one or both of us. My wife and I do love the extra snuggles, but those are far and few between now that Mr. Dude is getting older. He would just snuggle all night as a baby, in between feedings/changes/living room pacing to get him to fall back asleep. Now, as a toddler, he literally rolls all over the bed and likes to wake me up by sitting on my face. Super unpleasant when he is need of diaper change.
If you've never co-slept, you may not know what I'm talking about. Andy Herald and Charlie Capen, of the incredibly funny How To Be A Dad, put together a book titled "Baby Sleep Positions," that perfectly illustrates this nightly experience.
Exhibit A: Snuggles vs Roll-On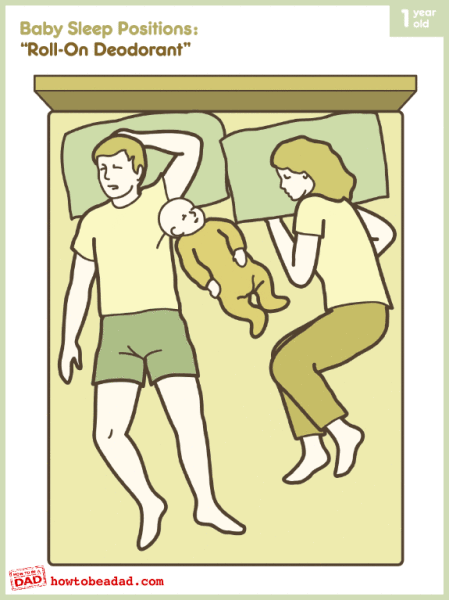 Exhibit B – 180 vs Roundhouse
We recently upgraded to a king mattress from Tuft & Needle. The difference between a queen mattress and a king mattress is only 18 inches, but those inches make an INCREDIBLE difference in personal space. Mr. Dude still co-sleeps with us on the king, but the comfort level of everyone involved has increased exponentially.
I remember buying our first mattress. It was a huge hassle. Our experience buying a mattress when we first got married was a lot like buying our first car. There were pushy sales people, insane delivery charges and questionable warrantee offers. It made us sleep on that first mattress well after its warranty expiration date. We wanted to avoid the hassle. Not to mention the delivery fees!
That's when I read about Tuft & Needle online. They offered something different; a stress free online shopping experience for a highly rated, eco-friendly, American made mattress. It was incredible. Ordering our mattress was simple and straightforward. They answered all my questions without issue and shipping was FREE!
Abigail and I love our new Tuft & Needle mattress. Even after 4 months of use, I'm still amazed at how comfortable and spacious it is. The 30 day sleep trial/guarantee they offer is great, but you won't need it. I don't plan on ever buying a mattress from anywhere else again.
I got to talk with one of the co-founders about how the company started. It was basically born out of the same type of frustration my wife and I had. They figured out a better way and made many people happy and well rested. You can read that interview over on my professional blog.
And now for the cool news, Tuft & Needle has agreed to give a brand new mattress (any size/style they make) to one of my readers! Awesome right?!!?! I didn't used to care about this sort of stuff before I grew up, but now it is something to be seriously excited about.
BONUS: How To Be A Dad gave us three autographed copies of their "Baby Sleep Positions" book to give away. Enter below and tell your friends for extra entries: