Our First 5k Run
I was in my 30s before I participated in my first 5k. My son, however, participated in his first 5k at the ripe old age of 1. No, don't worry, he didn't walk it. We did bring a stroller along for him to ride in as we went up and down the paths in Chicago's 2014 Color in Motion run this past June.
This was the first 5k I've attended as a participant. We did the course as a group and spent more time at a walk/jog than actually running. Like most events I attend, the people there are what makes the event worthwhile. My mother-in-law, sister-in-law and brother-in-law drove up from Indiana to do the run with Abigail, Wes and me.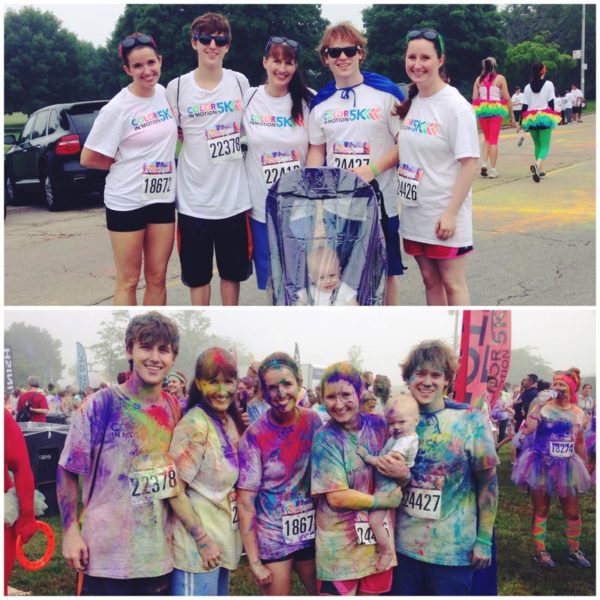 If you've not done one of these trendy get-covered-in-colored-powder-runs I'd recommend attending one. You can see there is quite a difference in the before and after of an event.
One big happy running family.
This wasn't exactly Wes' favorite new thing, but he did enjoy the after party food. This kid is cute. I love him so much.
My brother-in-law is a running machine. The was literally running in circles around us at one point. I'm old now and can't do that anymore. Ha!
Breastfeeding is public is awesome. Baby's gotta eat!
We each got sunglasses (along with t-shirts) as part of the race entrance fee.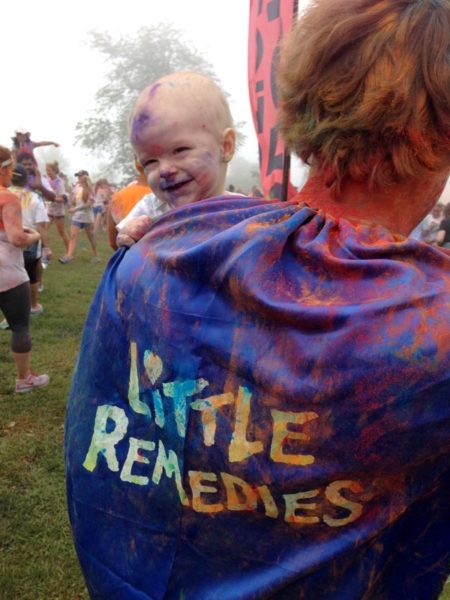 Mr. Dude after the race. He'd had a nice nap and was happy to be held by daddy. I wore this cape because I wanted to stand out. It worked, I was the only one running with a cape on. I got the cape from Little Remedies while attending the 2014 Dad 2.0 Summit back in February.
The pavement all over the park paths and roads we ran on looked like this. I love this picture. We went out to eat afterwards and saw this colored corn starch all over a local Panera Bread location. This stuff washes out, but spreads like glitter. It is crazy.