Look Who's Walking!
Disclosure: I've joined the Netflix #StreamTeam and have been compensated for writing this post.
The amount of milestones children go through is amazing to me. First smile. First word. First hand clap. And so on. Adults have milestones too. Those milestones happen much less frequently though. We've already done so many things for the first time. It took me having a kid to remember that the world is an amazing place.
It was only a few weeks ago that Mr. Dude couldn't walk without assistance. If I was holding his hands he'd walk along without a problem. The moment I'd let go of his hand he would sit down in protest of the unknown process of standing on two feet. It was a source of fear for the little guy. Something about not being in control would really bother him. He'd often get a look of panic on his face and let out a few tears when I'd let go. So we spent many an afternoon outside him having assistance from a toy or two:
He was 15 months when we talked to the doctor about it. We were not worried, but a little concerned that he wasn't walking at that point. She said that it wasn't really something to be concerned about. He was (and still is) verbally advanced for his age. When a child is particularly advance in verbal ability, she said, they tend to be a little behind physically. We called a couple of local places and found out we qualified for a local program that allowed a physical therapist to come over once a week and work with him. Now he's walking like a pro.
I'm so proud of him. Learning to walk has to be one of the freakiest things a little person has to face in the normal development process. I obviously learned to walk at some point, but don't remember the process. He's avoided injury so far and taken some pretty epic tumbles. I hope that trend continues for a very long time!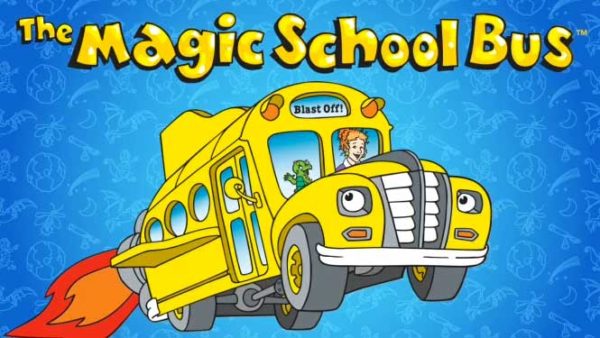 Join Ms. Frizzle as the Magic School Bus travels to outer space, under the sea, through an anthill — and even inside the human body!
Mr. Dude toddles around the apartment and rarely takes a break from all that activity. When he does sit for a minute, and we're not reading a book, his first favorite TV show is The Magic School Bus. Remember that show? I used to watch it on the weekends as a kid. Now we watch it as a family via Netflix.
Oh, And did you hear the news today? There is a pretty awesome classic sitcom hitting the streaming library in January:
I'm pretty sure Mr. Dude is destined to see it. Abigail is a HUGE fan. What are your favorite shows to watch on Netflix?