Burgers & All-In Parenting
Disclosure: I have partnered with Life of Dad and Applebee's for this promotion and was compensated for this post.
If you know me on any sort of personal level you will know that I'm a big fan of burgers. I have my own grading system for burgers and can fit them in a hierarchy when compared to each other. Today, I visited Applebee's with my 1 and 1/2 year old son to try out the new Applebee's All-In Triple Bacon Burger. I know what you are thinking. Just the name of the burger sounds amazing! Trust me. The burger lived up to its name.
Mr. Dude and I have been spending a lot more time together recently. That isn't just because we took a 2,600 mile road trip recently. That's a blog post for later. My wife, SkyWaitress, is back to work as a flight attendant after being on furlough for roughly five years. She is no longer a full-time stay at home mom. She is now, literally, a world traveler again. Her trips take her away from us for anywhere from a single day to several days at a time. This adjustment in caretaking has shifted the default parent title from her to me.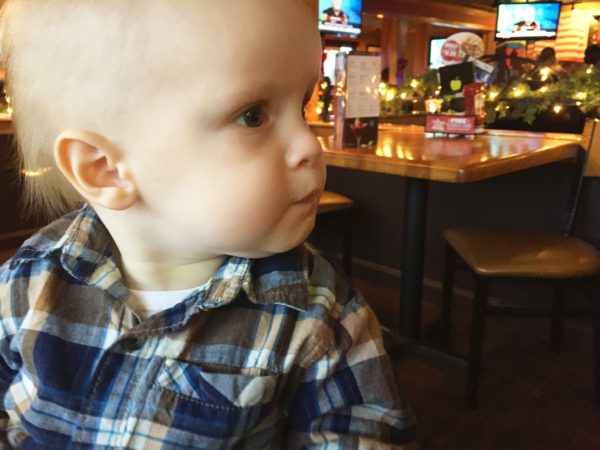 Today's meal with just my son and I was the first one we have eaten together at a sit-down restaurant. We've been out several times before with my wife but not just as father & son. It couldn't had gone better. Our server, Kate, was very attentive to our needs. She had refills on drinks and fries ready before we knew we wanted more and brought out Mr. Dude's food as soon as it was ready. He's a toddler, if the kid has food he's generally happy. A few minutes later the burger I'd been looking forward to was placed in front of me. Drool.
There are actually three other types of All-In Burgers on the menu: The American Standard, Mushroom & Swiss, and Sweet Asian Pineapple. An Applebee's All-In Burger has all the flavors seared inside the burger. By searing ingredients that would typically top a burger (like pickles, onions and mushrooms) right into the fresh ground beef everything you need on your burger is cooked right inside! The burger I tried was topped with two slices of cheddar cheese, two slices of perfectly crisped bacon and served on a buttery brioche bun. This hand smashed and juicy All-In Burger was exactly what I've been wanting for a while. Not to mention the fact that Applebee's carries Pepsi products. What does that mean? My favorite soda ever is also carried at Applebee's, Mountain Dew.
I love spending time with my kid. For every frustrating moment with him there are a dozen or more happy and completely mesmerizing ones. Kids help adults see the world through young eyes again. Everything is new, and exciting and just waiting to be discovered. I'm reliving my early childhood through observing his experiences and it is completely indescribable. They joy I get from seeing him grow and learn is unlike anything I understood before becoming a parent. He's not discovered the yummy goodness of burgers yet, but he was a huge fan of the Applebee's Kids Menu options of chicken strips with yogurt and strawberries on the side. Oh, and a few of my fries.
I consider myself an "All-In Parent." My son is one of the important people in my life. If he needs it, I'll do whatever I can to make sure he gets it. That's part of why I work so hard. I work full-time at a job that has a wonderful child care program he's about to be a part of and that is amazingly flexible with my schedule. I'm in school so I can better myself and be more prepared for the future. I also dad blog (not as often as I'd like) and do freelance social media work from time to time.
The work is only a small part of it. I'm exhausted by the end of each day like most parents. I love that we are developing our own bedtime routine that's something like this: snack time, play time, Pjs, teeth brushed, bathroom break, story time, and bed. I wouldn't trade that for the world. He's only going to be this small for a little while and I'm enjoying it while it lasts. That is a big reason we take some many photos. Not just because people change, but because capturing experiences can remind us of emotions and tastes locked away that mere words can't conjure up again. Case in point? This #BurgerSelfie
Not only am I enjoying a great burger in this captured moment. I'm happy to be spending time with my son and feeling great as a dad that he's enjoying his time with me. He's telling me jokes, even though I don't understand them. His laugh kills me. We're bonding over food, because that's what people do. We love to eat. This moment with my son is happiness.
If you go to Applebee's and try out one of the new All-In Burger, make sure to become a FANTOGRAPHER. Its basically just taking photos of your food, yourself and your friends at Applebee's and sharing it online. If people see you having a good time it might make them smile and encourage them to go have a good time too. I spent close to half an hour at looking through the #BurgerSelfie hashtag today. It was fun. Will I see you on there soon?