Reliving My Childhood Thanks to Netflix
Disclosure: I've joined the Netflix #StreamTeam and have been compensated for writing this post. 
I had a great childhood. Those years that I spent growing up are full of good memories. Road trips, camping, playing outdoor and of course, television. I grew up watching shows like Saved By The Bell, Star Trek: The Next Generation and Godzilla among others. Thanks to Netflix I can relive much of my childhood via shows now streaming on the service. Here are ten of my favorite movies/shows from when I was a kid now streaming on Netflix:
10.) Godzilla: King of the Monsters (1956)
I blame my love of the Godzilla movies and monster movie genre entirely on my father. He would have those horribly cheesy thing on TV when nothing else good was on and I love it! What kid doesn't like dinosaurs when they are a kid? Plus there were always explosions and exciting fight scenes. To this day I'll put on a Godzilla movie on TV while I have things to do around the house. It's comforting and brings me back to the days when I was little.
9.) The Adventures of Young Indiana Jones (1992-1993)
Adventure of the week anyone? Seeing all the adventures Indiana would go through on a regular basis made me feel like I was invincible. Case in point: My family and I were on a camping trip with several others one weekend after I'd recently watched an Indiana Jones adventure. The kids were playing tag and I was being chased by a girl who was currently "it." She chased me up a two-story fire tower and cornered me. My logic was to simply act like Indiana and avoid being tagged by jump from the second story. I did a running barrel roll and landed it perfectly. My parents of course had a heart attack when they saw it happened, I remember being pretty proud of my flawless performance.
8.) The Many Adventures of Winnie the Pooh (1977)
I loved to watch this movie while growing up. I also loved Winnie the Pooh so much that I read each and every one of his stories that I could get ahold of at the library. I can't wait til my son is a little older and I can introduce my son to the 100 acre wood.
7.) Chitty Chitty Bang Bang (1968)
I watched this movie on repeat as a child. The inventions that Caractacus Potts (Dick Van Dyke) came up with in the movie made my imagination race with ideas. The breakfast machine in the beginning of the movie was of particular interest to me. I haven't changed a bit. Breakfast, and food in general, is one of my favorite things. That and the idea of flying cars of course!
6.) Star Trek: Deep Space Nine (1993-1998) 
One of my favorite memories of watching Star Trek: DS9 was when they local UPN affiliate played the show at 1 a.m. I was in 5th grade and stayed up until 2 a.m. the night of a time change. It was a "fall back" change so I wanted to know if they would show the same DS9 episode again or if they'd show a new one. I looked forward to it all week-long. Remember, there were no DVRs back then and our family was too poor to afford a VCR that could record. The time finally came and much to my enjoyment the TV station play a different DS9 episode once the time rolled back. I was absolutely ecstatic.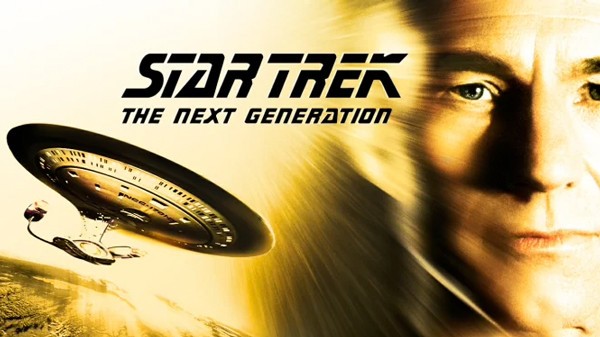 5.) Star Trek: The Next Generation (1987-1993)
I still tear up when I think about how I watched this series end. I was visiting a friend's house with my family. The parents were in the dining room talking over food. The kids were all out back playing on the trampoline and in the swimming in the pool. They were enjoying the Oklahoma heat. I was inside watching Picard and Q debate the future existence of humanity and the crew of the Enterprise going on one last adventure via the living room television. Thank goodness they later came out with a couple of movies. I needed more stories. The 178 episodes now streaming on Netflix were just not enough!
4.) Dinosaurs (1991-1994)
This show was a weekly event at my house. We'd order pizza, play some board games and watch this show almost every week. It was our one guaranteed family night were we could expect everyone home. Mom and Dad wouldn't have to work and we'd push homework off until after the show aired. It was great.
3.) Saved by the Bell (1988-1992)
I learned all I needed to learn about high school when I saw this show. I also had what I seem to remember as my first TV girl crush. It was of course Kelly Kapowski (Tiffani Thiessen).
2.) Quantum Leap (1989-1992)
I used to pretend (on a far too regular basis) that I was Sam Beckett. Through my week at school, church and home I'd pretend that I had jumped into my body. I'd imagine what it would be like to be him trying to figure out who I was and what I needed to do in my life. I'd be lying if I don't still do that once in a while.
1.) MacGyver (1985-1991)
What little kid didn't want to be MacGyver? He could do anything with a box of matches, a stick of gum and sheer willpower! Many kids wanted to be comic book heroes when we'd play pretend. I'd want to be MacGyver.
This list is not in order of importance, nor is it meant to be exhaustive. It is simply list of shows I used to watch with some of my memories associated with the shows attached. What are some of your favorite childhood movies and TV shows now showing on Netflix?