Meet The Clothing Care System That Made This Dad's Sniff Test Irrelevant
The reviewer has been compensated in the form of a Best Buy Gift Card and/or received the product/service at a reduced price or for free.
Parents and caretakers of toddlers are a busy bunch. Toddlers are constantly finding new and inventive ways to destroy family property or maim themselves with everyday objects. That often leads to a large chunk of time spent by caregivers constantly monitoring their every movement inside and outside the home. That's time lost which could be better spent on say sleep or laundry. I accepted my lack of sleep as the new norm when we had Mr. Dude as a newborn, but expected to get a more regular sleep schedule as he turned into a toddler. As it turns out, that's not so much what has happened.
There is still hope. I've found a solution that saves me a lot of time and has forever banished the need for the clothing sniff test in this house. You know about the test right? If you're a parent you know. It's for all those times you've been home wearing the same thing for a few days over a long weekend and need to go out, but really want to still wear that favorite t-shirt. If it smells alright, its okay to wear. Right?
I don't know if my house is like yours, but we often have piles of clothes in a few places. That's when the smell test comes in to play again. Did I already wear these clothes? Or are they left over from the last time I did laundry and they just never got put away. Wrinkles, after foul smells, are the enemy of parents in a hurry to get anywhere. The pile might be clean, but you don't want to be THAT parent at the playground wearing a shirt that looks like its been in a wad on the floor for a week.
Enter the SWASH™ System by Whirlpool. It is the only in-home 10-minute clothing care system designed to Dewrinkle, Refresh, Restore and Preserve clothes and say goodbye to excessive washing, drying, steaming, ironing, and dry-cleaning. Say hello to living life unhampered by the last minute rush to do laundry. Plus, it's slim and pretty easy on the eyes.
We've been using the system for about two weeks now and LOVE it. Abigail's work shirts, for example, are often clean, but wrinkled. I used to have to iron her pants and shirts the day of her trip or risk them getting wrinkled in our cramped closets. The same goes for getting the kiddo ready before going to visit the grandparents. I avoid ironing like the plague. The hassle of getting out the ironing board, heating up the iron, ironing Mr. Dude's dress-up polos and then putting it all away is a huge pain. SWASH™ allows wife's uniforms (and all our clothes) to look their best in as little as 10 minutes. It is gentle and doesn't wash away dyes or cause pilling or fading, so we're actually extend the life of our clothes. We've also expect to cut our dry cleaning bills down considerably by using this system. That's super important to us, because these airline uniforms aren't cheap to replace and I don't want to be the stereotypical slob dad out in public. I will, however, be the dad that wears t-shirts from his kid's favorite band.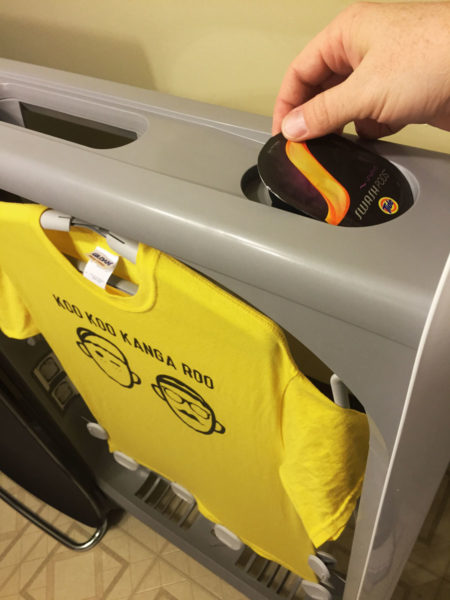 Setting the system up was dead simple. I just plugged the unit into a 120-volt standard wall outlet near where I wanted the item located in our home. No water, plumbing, pipes, vents, professional installation or special hookups are required. Perfect for a home or apartment with a little extra space. Its quiet operation means the SWASH system can be placed almost anywhere in your home. Place it in close proximity to your clothes, like in a walk-in closet or bedroom. It comes in two colors, shadow and linen, to match the décor of almost any space. Its easy to use too. A series of white, blue and orange lights count down cycle lengths and completions, and signals when an error has occurred.
There is an adjustable hanger that expands and contracts, making it easy to hang items inside the unit, no matter the size or clothing type. I'm experimenting a bit with using the Smoothing Clips based on each item of clothing to provide the right amount of tension for maximum wrinkle release. Each item is different, but I'm loving the results. Here's the before/after of a t-shirt in the SWASH™ Clothing Care System after a 10 minute cycle:
The SWASH™ Clothing Care System is for sale at Best Buy right now for $499.99. If you purchase it at Best Buy you'll also get the exclusive bonus of an extra adjustable hanger, so you can refresh two garments at once, and an extra pocket smoother to use on dress shirts. The SWASH PODS are single use, but run about 60 cents each when you buy a 12-pack online at BestBuy.com. If you get one of these systems I know you are going to love it. We do!