7 Ways To Keep Your Children's Digital Safety In Mind Every Day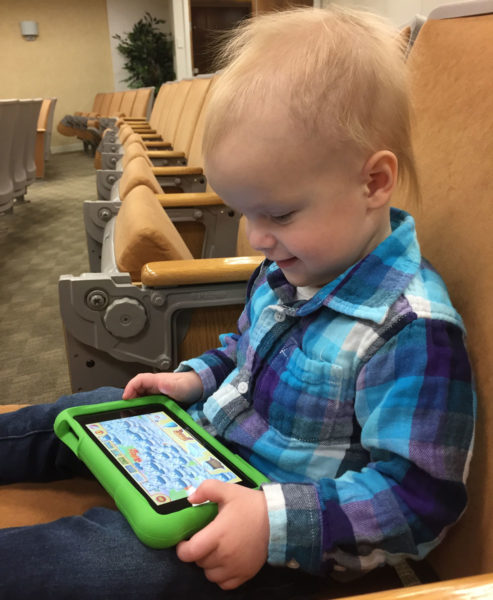 This post was inspired and sponsored by Domain.ME, the provider of the personal URLs that end in .ME. As a company, they aim to promote thought leadership to the tech world.
One of the choices I had to make early on as a Dad Blogger was how I would treat my writing and sharing of stories about my family. This isn't a problem solely dealt with by parent bloggers. It is also an issue any parent who shares information online should think about. I have friends who share just about everything online about their kids and others who do not even acknowledge the existence of their children in their online lives. I've found a place that I'm comfortable with that fits in between these two extremes.
There are several things parents should consider when looking at how their children's information will be shared online. How will I approach sharing personal information like birthdays, fears, failures and likes/dislikes. My son is currently two years old. He's too young to give consent or withhold it for my sharing stories online that involve him. I've considered this and settled on the general golden rule of parent blogging. I don't write or share things about him that I wouldn't have wanted my parents to share with others.
My dad, for example, is a talker. He's a social butterfly that will tell stories left and right based on his life experience. Many of his stories involve me or my siblings. Many of them are also funny and possibly embarrassing. Some of them I'd rather him not share, but most don't matter. Why? I'm confident in myself and who I am. People can (and do) insult me from time to time online, but it doesn't bother me. I am not defined by what others say. I am who I say I am and hope to raise my son to be the same way. There is an issue of self development and self doubting that he'll likely go through, but I plan on helping him through it as much as possible.
1.) It Isn't Just Adults, Children Are At Risk Online Too
The news media makes it easy to remember that adults face the dangers of identity theft and hacked accounts online. It can be easy to forget that children are at risk online too. And they aren't at risk online just when they log on. The digital identifiers children (and their parents) leave online can put them in danger offline too. Privacy settings based on location are a prime example of this sort of vulnerability. Don't share location data online publicly if you don't want complete strangers to know where your children go on a regular basis. Examples of these types of locations include daycares, schools, sports facilities, religious centers and so on.
2.) Parents Need To Protect Their Children Online
Parents need to stay informed about the tech and online services their children are involved in at any age. It might seem like a daunting task, but it is easier to prevent an online problem than to fix the consequences of it offline. My parents keep tabs on me online and I'm in my 30s. It is in a very different way than they used to but I welcome it. When I was a teen in the 90s and the Internet was just paving its way into the homes of millions of Americans for the first time we had a single family computer that was located in the living room. The screen was faced out to the center of the room (just like the TV was) so there was a clear view of what was going on online at anytime. It was a dead simple way of my parents keeping me accountable and safe regarding my actions online. This same idea can be used for the various types of tablets, phones and portable computing devices on the market today. Random checks by parents on their children's device activity can go a long way in making sure they stay on the right track. 
3.) Online Safety Is Important, This Is Why
Every parent wants to protect their kids from harm. The harm I'm talking about isn't the helicopter vs free-range parent kind, but one of personal reputation and online information sharing. This can affect everything from your child's sense of self worth, credit score and potential jobs in the future. Everything posted online stays online in some form or another whether it's deleted or not. Children are particularly vulnerable to phishing and cyber attacks because of their lack of online experience and naive nature. The more information about an individual that is out there, the easier it is for an identity thief to take advantage of someone. Just because your child is four doesn't mean they are safe from a fraudulent credit card being created in their name. Sign-up for a credit monitoring service for each member of your family, or in the very least check each member's credit score once a year.
4.) Understanding Who's At Risk
Children who use the Internet unregulated and unmonitored are the most at risk. My son, whom we call Mr. Dude online, is currently using an iPad and Kindle from time to time for various activities but he does so in a restricted and monitored way. We make use of the iOS guided access settings that allow us to complete turn off web browsing and text messaging. This allows him to enjoy his favorite kids apps without risking unwelcome access to the unrestricted web. Amazon's Kindle Fire kids edition offers a service targeted for use by children call FreeTime Unlimited. It restricts the tablet's use to only kid friendly apps. My point here is that even while we are watching his activity on electronic devices we also have safeguards setup to monitor his activity when we look away. Older children can be given access to the internet and restricted to only approved websites based on software that can be installed or settings saved on your home internet routers.
5.) Education Makes A World Of Difference
Talking to children about the dangers of the real world come naturally to many parents. Just like strangers with candy are almost always a sign of trouble, strangers online who request a private chat with children are also trouble. Educating children about online safety should start at a young age. Almost as soon as language develops really. Equating the dangers of the online world to real life and age appropriate examples are often effective. Everyone makes mistakes, but information about the dangers of making those mistakes can help minimize them in the long run. There are a multitude of online safety resources out there for parents and children to talk online safety with each other. Choose your favorite and start the discussion with your kids early and have that conversation often as they grow up. 
6. ) Communication is Key
We are very open when talking about our personal family's life experiences, beliefs, struggles and adventures. We shield our child's full name online. We also make sure to keep a tight lid on our location sharing. I often check into places via Facebook or other social apps just as I'm leaving them. Hotels for example are a great place to share reviews with other online, but waiting to post these sorts of things online until we leave helps to keep us safe. It helps to keep our home safe by not advertising when we are on vacation and our home sitting empty and unwatched. 
7.) Some Practical Advice
The Guardian had a great article posted last year titled "How do I keep my children safe online? What the security experts tell their kids." The author questioned 21 online security experts how they deal with online security and their own children. Each answer was then summed up and put into a nice compilation. It is a worth while read.
Simple advice like never sharing your online address can be easy to forget when you register a domain for example. When registering a .ME TLD you can pay a bit extra to keep your personal contact information not publicly listed in the Internet's yellow book call WHOIS.
No matter what you do and say and share online, keep in mind that people are paying attention to it. Understanding the security settings of the various social networks your children are on is also key.
The .ME domain is all about YOU – giving you an original destination to take control of your personal brand, personalize your blog or business. 

Are you trying to find a way to take control of your online identity? Maybe trying to position yourself as a thought leader in your industry? .ME is uniquely positioned to provide you with the space you need to build your personal brand and create a captivating online persona that's a direct reflection of YOU.

Get started with your new .ME brand today by visiting Domain.ME.