6 Ways the New Denny's "Taste of the Holidays" Menu Is Fun For All
Reading Time:
5
minutes
Disclosure: This is a sponsored post, in conjunction with Denny's Diner. I've received compensation for the creation and sharing of this post. All opinions are my own.
The time that encompasses Halloween, Thanksgiving and Christmas is probably my favorite part of the year. The leafs start to fall, the weather turns cooler, there are more days off of work and seasonal treats start to become part of the weekly family activity list. I love the holidays and how it makes me feel all warm and fuzzy inside. Denny's is unwrapping delicious festive flavors this season with its new limited time "Tastes of the Holidays" menu. With three new dishes and a few returning favorites, hungry souls of all ages are sure to feel the holiday spirit at breakfast, lunch, dinner or anytime in between.
1.) The Kids Can Eat Something Completely Different
You want a traditional holiday meal with turkey, stuffing, and cranberry sauce. Your kids want something sweet and storybook related. The simple solution is stopping by Denny's and letting them take care of all the details without any effort on your part to cook two completely separate meals.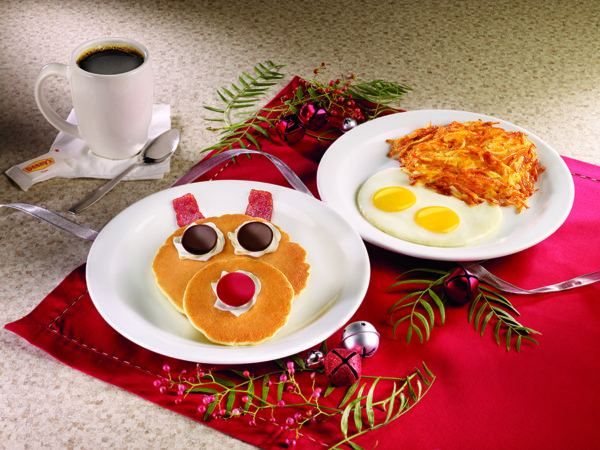 New! Rudolph™ Pancake Breakfast –Inspired by the lovable character featured in the classic TV special, Rudolph the Red-Nosed Reindeer. The dish includes two fluffy pancakes topped with turkey bacon antlers, whipped cream, chocolate eyes and nose, served with two eggs and crispy hash browns.
2.) Skip Doing The Dishes
You're hungry and want to eat, but you just don't have the energy to clean up the pile of dishes a delicious fall flavored breakfast would create. Let the professionals at Denny's take care of it for you. Fall flavors, dishes and all.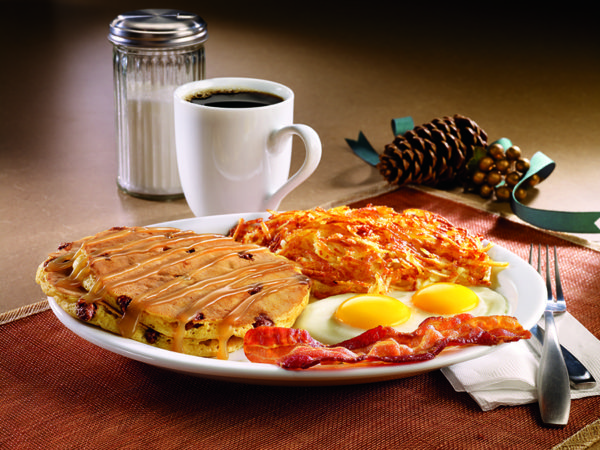 New! Pumpkin Pecan Pie Pancake Breakfast – Fluffy pumpkin pancakes, made with glazed pecans and drizzled with pecan pie sauce, offer fall flavors with every bite. Served with two eggs, hash browns and a choice of two bacon strips or sausage links.
3.) Fuel up for a long day of Holiday Preparations
You've got enough to do without needing to worry about all that goes into preparing a zesty breakfast for a high energy day. Shopping, decorating, travel plans and sending out greeting cards are just of few of the annual responsibilities of most Americans. Make things easier on yourself, leave breakfast (or lunch/dinner/dessert) up to Dennys and focus on your other to-do list items.
New! Holiday Harvest Skillet – Ready to add some sizzle to the season? Hearty gouda-apple chicken sausage is served on a bed of seasoned red-skinned potatoes, sautéed mushrooms, grape tomatoes, fire-roasted bell peppers and onions, topped with an Italian cheese blend and two eggs cooked to order.
4.) Enjoy The Benefits of Community Without All the Fuss of Planning It
Meet up at Denny's with your family and friends to enjoy a big holiday meal without dealing with the details of how many people can park in your driveway, reminding people not to track mud in the door or to use coasters on the nice furniture. Just invite everyone to Denny's and they'll take care of the rest.
Build Your Own Holiday Slam® – Denny's signature dish has been given a seasonal twist with two tasty new additions – premium Gouda-Apple Chicken Sausage and deliciously fluffy Pumpkin Pancakes. Diners can pick any four of their favorite items to make their own unique Holiday Slam® starting at just $5.99.
5.) Get That Holiday Meal When You Want It, Anytime
Not many people enjoy getting up at 3:00 a.m. to start those holiday meal preparations for hour and hours later that day. Reward yourself with a relaxing morning of sleeping in and then stop by Denny's whenever you get out of bed. A freshly made holiday meal will be ready when you are and you can even show up in your PJs if you want.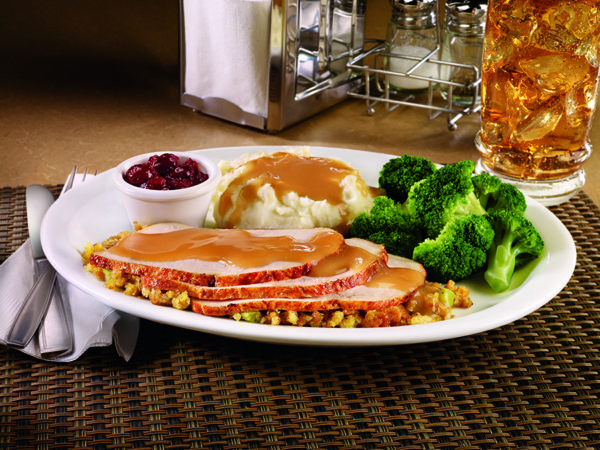 Holiday Turkey & Dressing Dinner – This traditional favorite features the finest tender sliced turkey breast, savory stuffing, gravy and cranberry sauce, served with a choice of two sides and dinner bread.
6.) Dessert To Go!
Denny's Pumpkin or Pecan pies, are available for $2 a slice or whole pie for just $8.99, and offer festive flavors to go at any time of day. The traditional holiday pie not your style? How about this new shake:
The new Santa's Milk & Cookies Shake is a special treat made with creamy, vanilla ice cream milkshake, blended with tasty sugar cookies and topped with whipped cream and more cookie crumbles.
Currently available nationwide, Denny's "Tastes of the Holidays" menu is available through Jan. 6, 2016. For more information please visit Dennys.com.
What is your favorite reason to eat out during the holidays? Let me know in the comments.