When Is Too Soon To Start Celebrating Christmas With Lights & Song?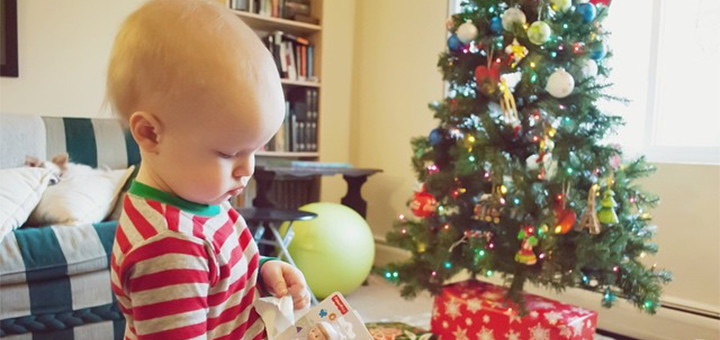 We visit my wife's family for a large get together and meal on Thanksgiving Day, but Thanksgiving itself is celebrated at it's peak as a concentrated three-day block of holiday turkey eating, binge watching movies and way too much pumpkin pie. I like to have this celebration take place at home in my PJs for as much time as humanly possible. Thanksgiving and Christmas are two intertwined holidays that I celebrate simultaneously throughout November. I often decorate the house and put up the tree around my birthday (middle of November) but sometimes start decorating earlier in the month if my schedule allows.
I switch to 100% Christmas mode the Saturday after Thanksgiving. That means a Christmas movie or TV show is watched at least once a day for the whole month, Christmas themed shirts, gifts under the tree, etc. My wife and I celebrate Christmas earlier than most every year. The problem is, I can't fit all my holiday joy into just four weeks! I think it takes six to eight weeks to enjoy it to its maximum extent. I have, however, gathered thoughts from over twenty fellow dad bloggers who think I celebrate a bit too early:
Christmas should start when advent starts, being that it is a Christian holiday (at least originally).

– Jeremy of Barrel Aged Heir
We don't start putting our stuff up until after Thanksgiving. Also, the night after Thanksgiving is when our Elf on the Shelf arrives. Another beloved tradition for many.

– Victor of Fan Dads
We are expecting our first born early January, so there may be limited Christmas decorations this year. We're busy decorating a nursery.

Dan of DAN aka DAD
Christmas music can start on Black Friday. We get our tree and all our Christmas decorations out the Saturday after Thanksgiving. Our elf, Fred, shows up the night after Thanksgiving.

– Tony of Faith Family and Technology
We celebrate right after Thanksgiving. Too much season creep.

– Tom of Twins And Then
I'm Canadian, so Thanksgiving isn't a helpful signpost. For me, I love love love Halloween, have deep respect for Remembrance Day, and then my birthday is November 18th. So I'd appreciate it if we could hold off until November 19th to start going Christmas crazy, just to appease my selfish reasons. Thanks!

– Trevor LaForce of Love.Make.Share
After the Turkey coma wears off. We have Friday off for a reason. No, it's not to stand in mile-long lines for TVs. It's to eat cold turkey sandwiches and decorate the tree.

– Christian of Plaid Dad Blog.
We do it the weekend after 'murican Thanksgiving-ish.

– Buzz of Dad Camp
The day after thanksgiving we trim a tree to Xmas music while drinking candy cane hot chocolate.

– Richard of National At-Home Dad Network
Lights can be hung after Halloween, so long as they don't get turned on until Black Friday. And only if you live in the snow belt. Climbing ladders to hang lights in a blizzard is no fun.

– Nick of Dad With A Blog
We usually wait until the day after Thanksgiving. This is when our Elf on the Shelf arrives (Tiffany) and all of the decorations start going up. We like to also start working on any new decorations to replace broken or outdated stuff at this time as well. I'm hoping to get the lights hung a lot faster this year…. Last year was my first year hanging them and it was not easy.

Richie of St. Louis Dad
I'm a Jew who married a Christian and also never owned a house before a couple of years ago, so therefore I've just figured this out recently. I hang the lights on Black Friday, and we usually get the tree, which we go to a tree farm and cut down ourselves (wife's family tradition) either that weekend or the next.

– Jeff of Dallas Dads Group
Thanksgiving is a great time to put up your tree, IMHO. Some years I add a few decorations each day of Advent so that the tree isn't fully decorated until Christmas Eve. I've tried not listening to Christmas music during Advent, but it hasn't worked out. By the time Christmas happens, the secular world is ready to move on to New Year and beyond. The liturgical season of Christmas may continue until Epiphany, but the secular season doesn't. So, if I want to get my Christmas music fix without feeling weird I have to start in November.

– Eric of Rabble Raiser
I listen to hip hop when putting up the outdoor lights.

– Jeff of Ay Yo Be a Father
I wait as long as the family will let me. Usually the last weekend in November.

– Jeremy of Thirsty Daddy
After Thanksgiving is more than acceptable. Before Halloween is ridiculous. I've always been a 1st weekend of December kind of guy.

– Spike of Double Trouble Daddy
After Thanksgiving is fair game. Before that, GTFO.

– Seth of Forty Weeks Later
It tends to be after Thanksgiving from a decor standpoint. Most people want to transition from Thanksgiving to Christmas, but not have the two overlap. Doing it before Thanksgiving tends to take away from the holiday.

Ryan of HelloDad.com
After Thanksgiving because a grim reaper costume and Elf on the Shelf should not be seasonally available at the same time.

– Matt of Spiraling Upwards
Outside decorations go up any nice weather day after Halloween. I'm too old to freeze my ass off hanging up Christmas lights. Inside decorations go up the day/weekend after Thanksgiving. It's been a long-standing tradition that the tree goes up on Friday morning and I get the lights on it. Then the kids help decorate it that evening while we watch Christmas specials.

– Todd of Iowa Dad
I hung the lights outside yesterday because we've had decent weather and if it gets cold I'm not going on the roof. They won't go on for a while. We decorate proper on the 24th. 1 month for a Christmas tree is enough.

– Matt of NotAnotherDadBlog
I'm already listening to Christmas music and buying decorations. I'd start celebrating on October 1st if it weren't so frowned upon by society…

– Henry of Henry's Blog
After Thanksgiving, with a pass on some forms of Christmas music for sentimental reasons.

– Mike of Spoon & Knife
Decorating, The day after Thanksgiving… leave the lights up until Mother's Day, or when the wife threatens divorce… whichever comes first.

– John of Daddy's In Charge
I don't have Thanksgiving in November. I think it's possible to maintain respect for veterans and decorate so we do it anytime after Halloween. We usually get to it around the third week of November.

– Justin of Life in 140
What do you think? Do we celebrate too early? When do you turn on the Christmas tunes and decorate for the holidays?