We Got to Meet "Nature Cat" in Person
My son loves this new show on PBS Kids called "Nature Cat." It's made by WTTW in Chicago and has been gaining traction recently in the cartoon space. They reached out to us and invited us to meet Nature Cat in person. Our meet and greet was inside the Founders Room in the Discovery Center at Brookfield Zoo last week.
Mr. Dude was, as expected, pretty shy while Nature Cat was in the room. He was a complete chatter box on our way to the zoo. The time came to meet Nature Cat and he became very shy. We, for a large part of the meet & greet watched Nature Cat from a distance:
It took some time for Mr. Dude to warm up to the idea of saying "Hi!" We eventually got a photo and a hug.
Once the hangout time was over we got to spend some time exploring the zoo with a magnifying glass and binoculars handed out. Mr. Dude then repeatedly said "Nature Cat is big, right?" and "I got to meet Nature Cat!" for the rest of the day. It was as if he and Nature Cat were best friends.
No visit to the Brookfield Zoo is complete for a preschooler without a ride on the carousel! He loved it, as you can clearly see from the below image: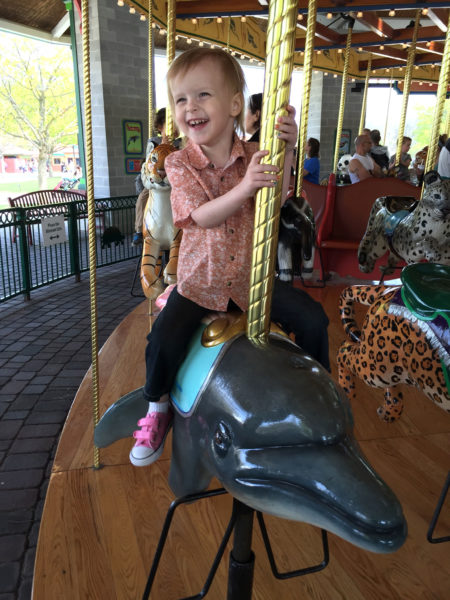 You can watch Nature Cat on the PBS Kids app, online at PBSKids.org, or on your local PBS station. We prefer to watch via the app. That way the show is always there when we want to watch. Tally ho!