"Daddy, you need your coffee."
Disclosure: I have partnered with Life of Dad and Pampers for this promotion.
When a baby is born, a dad is born. I became a father just over three years ago. Mr. Dude's arrival into the world changed my life in ways I had never anticipated. Sleep, or the lack there of, was given new meaning. I suddenly cared about the quality of the food I prepared at home and about making sure the place was "baby proofed" so he didn't get hurt. This Father's Day, Pampers celebrates that incredible feeling little ones bring to the hearts of dads through unconditional love.
It hit me when they handed me Wesley after he had been weighed that I had entered the Dad club. It was real. It had finally happened. That thought was also immediately followed up by "Don't drop him, don't drop him, don't drop him." That's why you hold him with both arms, in case one fails. Just FYI. Words cannot express the awe I felt that day of seeing my son being born. Hearing him cry for the first time was beyond amazing. I'm a dad now and I love my expanding family unit more than I ever imagined possible.

– "A Dad's Birth Story" by Joel Gratcyk.
On Father's Day and every day, Pampers is giving thanks to babies for making Dad feel exceptionally special and empowering him to discover new roles in life through fatherhood. Pampers honors dads for just being dads and thanks them for all the amazing things, big and small, they do to help little ones have a better, loving, more fulfilling life.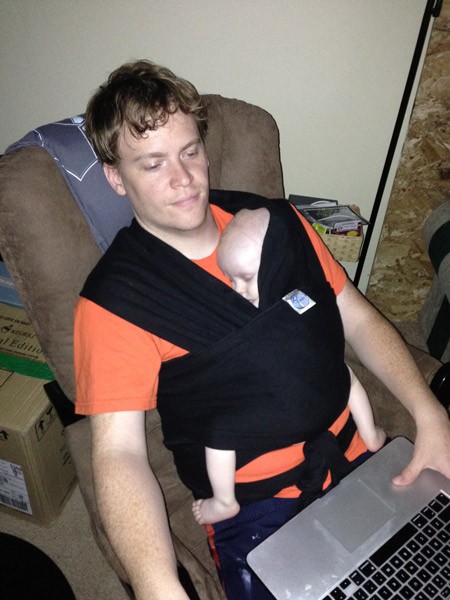 Mr. Dude has given me a plethora of experiences and stories in his first three years of life. He never fails to know how to make me smile or encourage me when I'm stressed. That includes the times when the stress is caused by him. "Daddy, you need your coffee" is a phrase I may or may not hear on a regular basis. Ha!
Pampers has released a new #ThanksBaby video that captures the amazing relationship that is created between a dad and his baby when a baby is born and the beautiful journey of fatherhood begins:
Mr. Dude was such a squish when we was little. He was happy as long as we were holding him or very close nearby. That gummy smile and little squeaky laugh makes me want another one:
For more than 50 years, moms and dads have trusted Pampers to care for their babies' happy, healthy development. Pampers offers a complete range of diapers, wipes and training pants designed to provide protection and comfort for every stage. Please join Pampers and me by tweeting why you are most thankful for your baby (babies) with the hashtag #ThanksBaby. Want to learn more about Pampers products, join the Pampers Rewards program, and find ideas and information to help your baby get the most out of love, sleep and play? Visit Pampers.com.