#ISleepTo Stay Healthy For My Kids #ad @Beautyrest
Disclosure: I have partnered with Life of Dad and Beautyrest for this campaign, but my opinions and experiences are my own.
I went into the doctor's office to get a flu shot at the end of last year. I don't normally get them every year, but needed to this time around because it was recommended I do so with an expectant wife at home. My doctor noted that I had an elevated blood pressure reading. She said that it was a concern because it had been elevated the last few times I'd been in to see her. It was right before the holidays so schedules were busy. I got the shot and then she suggested that I come back in the new year and get some bloodwork done "just to be safe." Over the next few months, I modified my diet to reduce my sodium intake, increase my daily vegetable servings, cut out caffeine and increase my sleep. These changes helped drop my blood pressure by several points as my doctor noted at my next visit.
I want to be around for my kids over the next few decades and part of making sure that happens is taking better care of myself. My normal schedule as a parent, adult college student, full-time office worker, and part-time blogger/freelancer doesn't leave much time for me. That doctor's appointment as a wake-up call. If I didn't start taking better care of myself I wouldn't be around for them in the future. #ISleepTo stay healthy for my kids.
Sleep is important.
I've always known that sleep is important but had often traded in sleep for getting things done. The impact of that swap can be keenly felt, not only in my health but in my mood the next day. It almost never makes sense to stay up late and then get up early the next day at the expense of the quality of work and motivation it causes. That feeling of being grumpy at the smallest things or a lack of concentration is tough. Getting a great night's sleep fixes that for me. The world is a much more pleasant place when I've hit my sleep goals.
The Beautyrest Sleeptracker monitor has been a huge help in my journey to take better care of myself.
It's an app that pairs with a processor and two individual sensors to offer a new way to monitor my sleep in a quantifiable way. It's not a rudimentary wearable that gets in the way of sleep. The biggest pain point of wearables is that they must be worn on the body and charged regularly. Unlike wearables, The Beautyrest Sleeptracker monitor is completely non-invasive and plugs directly into a wall outlet. Hooray! Always powered. The Beautyrest Sleeptracker monitor is a standalone sleep monitoring device that provides in-depth analytics and personalized insights to empower individuals to sleep smarter. The monitor generates an individual sleep score for up to two people simultaneously, based on a variety of key sleep metrics – including sleep efficiency, progress toward sleep goal, how long it takes to fall asleep, how long users spend in each sleep cycle and how many times they were awake throughout the night.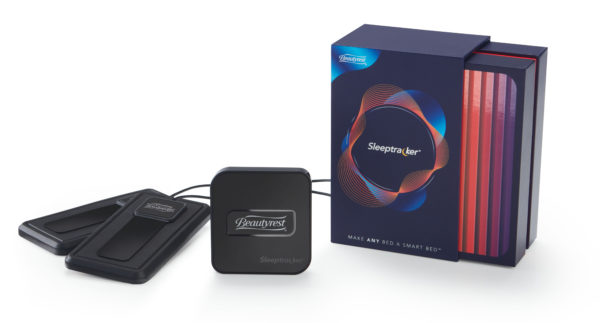 I've been using the Beautyrest Sleeptracker monitor for a couple of weeks now.
My wife and I have been monitoring our sleep and using the pointers on the app to help improve the quality of our sleep. Our quest to achieve optimal sleep quality has had a positive, overall impact on my personal performance metrics. One of the most important of which is going to bed and getting up on time. The Beautyrest Sleeptracker app allows me to have a daily reminder of when I should go to sleep based on my sleep goals. The alarm feature is also one of my favorite parts of the app. It has a wake-up window that is variable depending on your sleep schedule.
My bedtime routine used to be work-until-too-tired-to-stay-awake.
Since I got the Beautyrest Sleeptracker monitor it has changed into a more structured and predictable routine. I now generally go to bed around midnight and get up around 7:00 a.m. I also used to drink coffee pretty late in the day. While I gave up caffeine last fall I started drinking it again, this time in moderation, once Theodore arrived. Newborns don't care if you're sleepy or not. When they need attention, they need it no matter how sleepy you might be. The app's coaching feature has helped me to drink my last cup of coffee for the day earlier in the day. It's also helped me to spend more time awake from my electronics when bedtime approaches.
My wife and I co-sleep with our kids sometimes and that's presented some challenges to getting a full night's sleep. The Beautyrest Sleeptracker app asks optional questions in the morning about your night's rest and how to feel when you get up. One of the questions it asks is if you slept in bed with a small child or pet. So even that sleep challenge is factored into your sleep coach's suggestions for the next night's rest. This system is awesome. It's just what I needed to keep me on track to getting my best night sleep.
The Beautyrest Sleeptracker monitor gives me a closer look at the things keeping me up at night and offers personalized, easy-to-implement insights to help me make the most of my time asleep. Ever since I started using the Beautyrest Sleeptracker monitor, I have such a stronger understanding of my daily habits that affect my sleep. Even with a three-month-old in the home, I find myself waking up ready to perform at my best thanks, to the implementing of some simple changes to my nightly routine.
#ISleepTo be the best dad I can be during the many hours when my kids are awake and clamoring for my attention. 
Over the next thirty days, I'll continue to track my sleeping habits in hopes of being Life Of Dad's Beautyrest #ISleepTo Campaign champion. If I win I'll get a $250 VISA Gift Card! It won't be easy with the newborn in the house, but I'll send him a memo just to be sure he knows the ground rules.
You can find out more about the various Beautyrest sleep options at their website Beautyrest.com. Or you can find out more about The Beautyrest Sleeptracker specifically at Beautyrest.com/Sleeptracker.