A Visit To Skydeck Chicago
Disclosure: We were provided complimentary tickets to Skydeck Chicago at Skydeck Chicago in exchange for this post. All opinions expressed are my own.
We visited the Skydeck Chicago experience at the Sears Tower recently. Excuse me, Willis Tower. I don't know that I'll ever get that straight in my head. It wasn't the first time I've been to visit the experience. It was, however, the first time I've attended with kids. I wasn't sure how Mr. Dude, our four-year-old, would do with the height. He didn't seem to comprehend exactly how high up we'd be going until we got downtown and saw the building. His response? Excitedly shouting "Wow, I want to go up there!" with his arm outstretched and his index finger pointing up towards the sky. You can tell from the clip below that he has no problem with walking out on the ledge once we got our chance.
You might have to pan around to see us.
I'm still getting used to this 360 camera. 
There are a couple of options when it comes to tickets. I highly recommend the VIP / Fastpass option if you don't want to wait in line at the ticket counter. It will allow you to skip the normally long line and get you to the elevators more quickly as well. Tickets are available online to print at home or for use on your mobile device. This makes things easier as well. Will Call is easy to find, but still, can take up time if others are picking up tickets as well. The quickest way to get up to the 103rd floor is the quickest way to get views like this:
There is a gift shop on the 103rd floor that includes all sorts of items you would expect from a top tourist destination like Skydeck Chicago. See what I did there?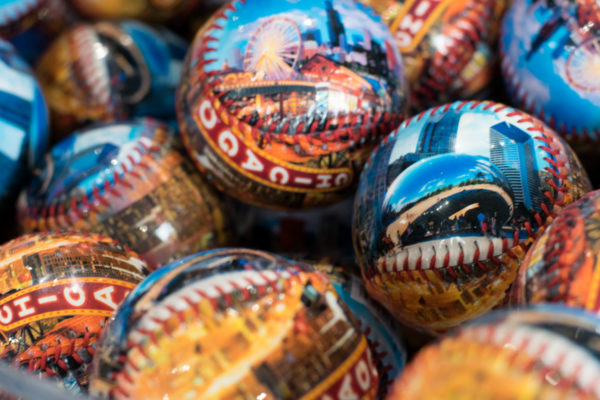 Don't worry if you don't find what you're looking for while up there. You'll exit through a much larger gift shop (complete with hot food and cold drink options) on your way out of the elevators on your way to the exits.
The Chicago Skydeck is family friendly. Children under 3 are FREE! There are also lots of clothing and toy options for them in the gift shop areas. Bring quarters along if you want to use the timed lookout spots all around the floor. There are change machines around if you forget.
I've never been one to consider myself afraid of heights. Today confirmed that. I felt 100% safe while on the 103rd floor as well as while on the ledge. If I ever jump out of a plane I imagine my thoughts on the fears of heights thing might change. Ha! Wesley, on the other hand, seems like he'd be a natural at it.