DreamWorks Trolls: The Beat Goes On! is Now on Netflix
Disclosures: Thank you DreamWorks for the free DreamWorks Trolls: The Beat Goes On! Activity Set and Hasbro toys. This post contains affiliate links. If you make a purchase via this page I may make a small commission.

I was skeptical about the Trolls movie before I saw it the first time. I then fell in love with the whole idea (music and all) once I saw it. Dreamworks found a magic formula that worked with audiences around the globe. I think they've done it again with the new animated series on Netflix. Just take a look at the opening credits…
Trolls: The Beat Goes On! is an all-new chapter in the hair-raising adventures of DreamWorks Trolls.

Join Poppy, Branch and all of Troll Village as they keep the dance party raving in their fantastical forest home. Picking up where the blockbuster film left off, the Trolls are quickly adjusting to a life of cohabitation with Bridget, King Gristle, and those grumpy Bergens and the resulting culture clash. Bursting with their signature positivity, irreverence and a whole lotta music, Trolls: The Beat Goes On opens up the colorful world of Trolls for new adventures and a dance party around every corner!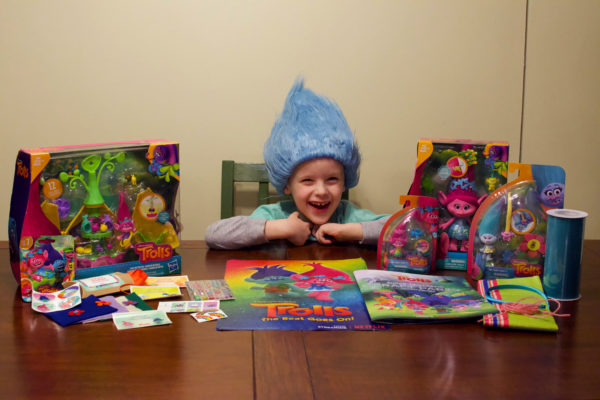 Dreamworks sent us a package full of goodies from the new toy roll out from DreamWorks Trolls: The Beat Goes On! this spring. Wes was obviously ecstatic about it. Have you watched the show yet? Check out a few of the toys they have on sale now:
DreamWorks Trolls Camp Critter Pod Playset
Everything is cupcakes and rainbows at the DreamWorks Trolls Camp Critter Pod! The fun starts as soon as you unlock the pod and the petals "bloom" open revealing the playset. Kids can send critters friends down the critter slide, take them for a spin on the merry-go-round, wash them in the bath or hang out with them on the swing! Some critter's even glow in the dark! This totally fabulous DreamWorks Trolls Poppy figure is approximately 5-inches from hair to toe and comes with ukulele, headband, cupcake and 8 critter friends to hide, hang and care for! Camp Critter Pod attaches to DreamWorks Trolls Pod'ular Tree. Sold separately.
DreamWorks Trolls Maddy Collectible Figure with Printed Hair
Put your hair in the air! DreamWorks Trolls Maddy isn't just a hair stylist, she's a hair sculptor, working wonders with the Trolls' already magical locks! Collectible and totally fabulous, this Maddy figure sports wild, colorful hair printed with an adorable scissor design to match her love for styling. She's approximately 5-inches tall (including hair!) and ready for fun adventures around town. Collect them all! (Each sold separately.)
DreamWorks Trolls Hug Time Poppy
Welcome to the magical world of the DreamWorks Trolls, where a song can lift anyone up and it's especially encouraged to let your true colors shine. While their town is vibrant and fun, the trolls have to be careful to avoid getting captured by the Bergens — in Bergentown, they're considered a rare and delicious snack! From the DreamWorks Animation movie, this line of dolls and playsets lets kids express their true colors through a variety of play patterns. It's all about bright colors, fun songs, funky fashion, and wild hair — definitely the hair!
Are you ready for the musical funny? "Laugh Out Cloud" (part two of the first episode) is hilarious. Go watch DreamWorks Trolls: The Beat Goes On! today.