Woody Woodpecker [Movie Giveaway]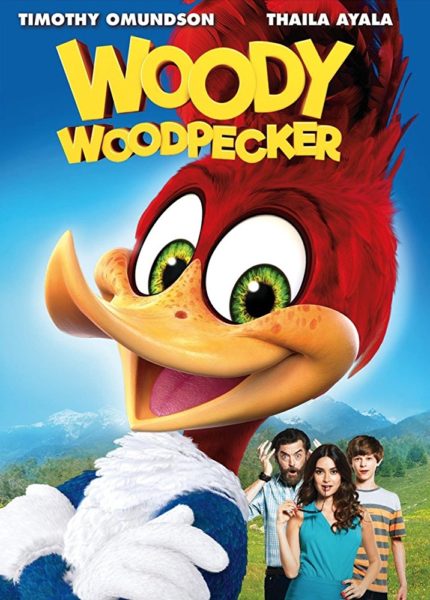 The all new Woody Woodpecker movie is out on DVD, & Digital now. It is a hilarious revisiting of a classic cartoon personality in a modern format. My, nearly 5-year-old, son has seen it at least a billion times since we got it on DVD. This is a family-friendly comedy I'd recommend to anyone who is a fan of the franchise. You can enter to win a copy of your own via the entry form below thanks to my partnership with Universal.
The film blends live action and CGI animation to tell the crazy and humorous story of an all-out turf war between the mischievous prankster and a big city lawyer who wants to build his dream home in Woody's backyard. Directed by Alex Zamm (Inspector Gadget 2, The Little Rascals Save the Day), Woody Woodpecker stars Timothy Omundson ("Psych"), Thaila Ayala ("Rio Heat"), Graham Verchere ("Fargo") Jordana Largy (Monster Trucks) and Eric Bauza (The SpongeBob Movie: Sponge Out of Water), as the voice of Woody.
This Woody Woodpecker release features deleted scenes and an exclusive inside look at the making of the film. It also features an overview of the evolution of Woody's iconic cartoon character over the decades. The movie features some ableist language, but it also shows that Woody has come a long way since his questionable cultural commentaries in the 1940s & 50s.
Woody Woodpecker is a legendary icon created by Walter Lantz in 1940. Woody Woodpecker & Friends have entertained kids for more than 75 years! Woody Woodpecker cartoons appeared in theaters until they debuted on television in 1957. Woody's popularity resulted in new shows airing across several decades. "The Woody Woodpecker Show" has been broadcast in over 155 territories and 105 languages worldwide. He is one of the most memorable cartoon characters in animation history, featuring the little red –headed bird with the unforgettable laugh, who's forever pecking his way out of trouble. Woody has evolved from a cartoon TV character to a Pop Culture Icon with his fearlessness, goofy antics and smarts.
BONUS FEATURES on DVD and Digital
Guess Who? The Evolution of 

Woody

 – 

Woody

 

Woodpecker

 is one of the world's most iconic animated characters. In this featurette, we explore how 

Woody

's look and personality have changed since his introduction in 1940.
The Making of 

Woody

 

Woodpecker

 – Filmmakers and cast discuss why this version of the

Woody

 character is so appealing and how his brand of physical humor translates across audiences.
Working with 

Woody

 – Filmmakers, cast and crew reveal the specific challenges of filming a movie whose main character is CGI.
I'm a member of the Netflix Stream Team. Based on my partnership with them I think you should know that 
Woody
Woodpecker
is also currently
available to watch on Netflix
(without the bonus materials).