Chicago Dogs Opening Day at Impact Field
Disclosure: I was invited to as a guest to attend The Chicago Dogs opening day at Impact Field on May 25, 2018. The following opinions are my own.

There is a new sports team in town. The Chicago Dogs baseball team recently opened their first season at the brand new $63 million IMPACT Field development in Rosemont, IL. The stadium is a 6,300 seat baseball field with a 10,000 person concert capacity. The concourse is includes open views of the field, concessions, and area surrounding the stadium. There is also an attached parking garage with 850 parking spaces.
Attending @TheChicagoDogs #OpeningDay with @skywaitress. Incredible new field. Thanks for the invite! #ChicagoDogs @ImpactMyBiz pic.twitter.com/tJP50zFwvi

— Joel Gratcyk (@joelgratcyk) May 25, 2018
Abigail and I attended opening day on Friday, May 25, 2018. The energy in the crowd was pretty fantastic. There was a wide range of families, singles, retirees, and media.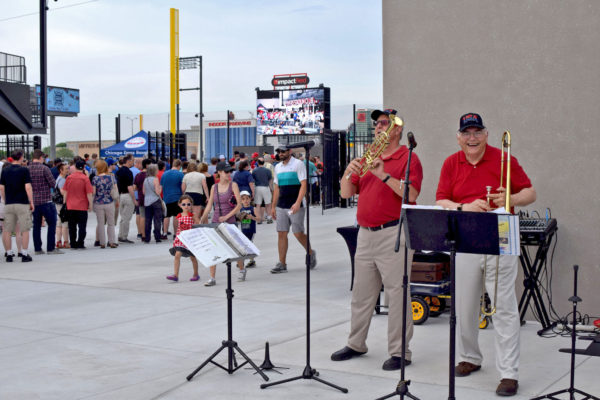 There was a live band playing outside the main gates into the stadium. The line moved quickly into the stadium and security was professional.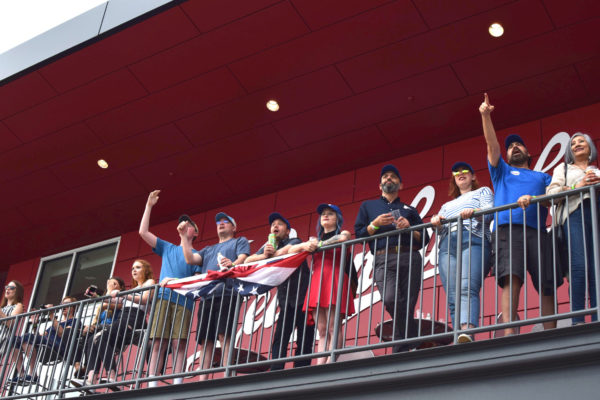 We spent a good part of the first inning in line for concessions. That time waiting gave us a clear view of what its like to be in the club house above the main concourse. This was our view from below looking up.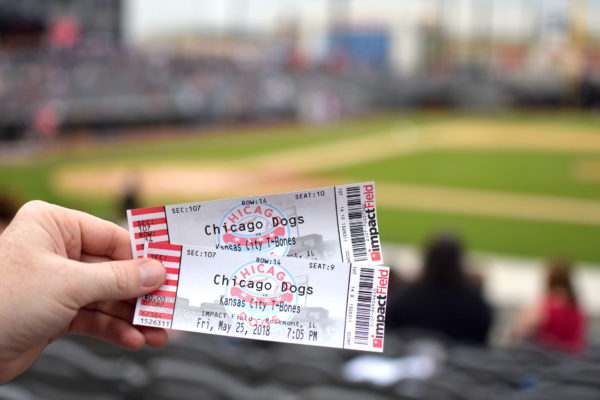 Our tickets/seats were close to the field. I don't think there is really a bad seat in the house.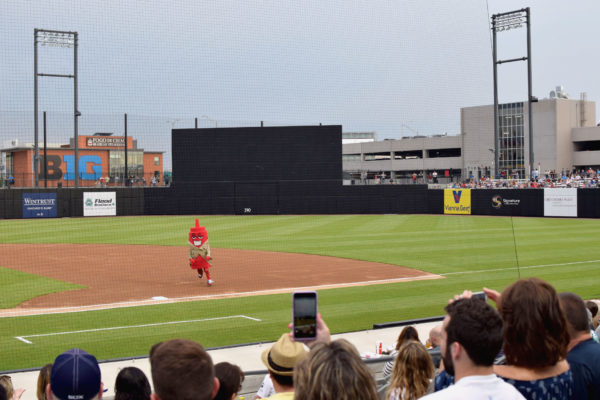 There was an ongoing joke throughout the whole game about how there is "no ketchup on hotdogs at Impact Field." This is a photo of the ketchup running onto the field just before he/she was carted off by security.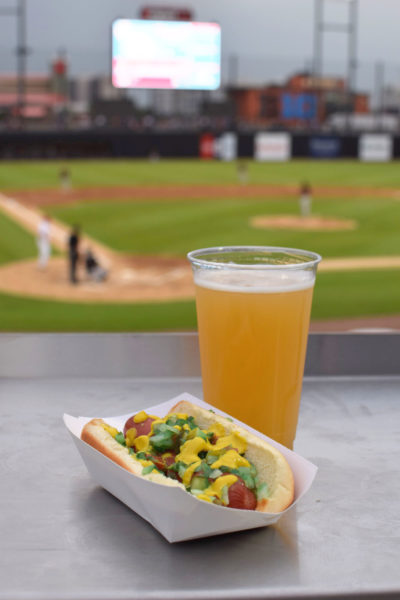 There are areas all around the stadium to stand and eat your food if you don't want to cart everything back to your seats. The hot dogs we got were luke-warm when we got them.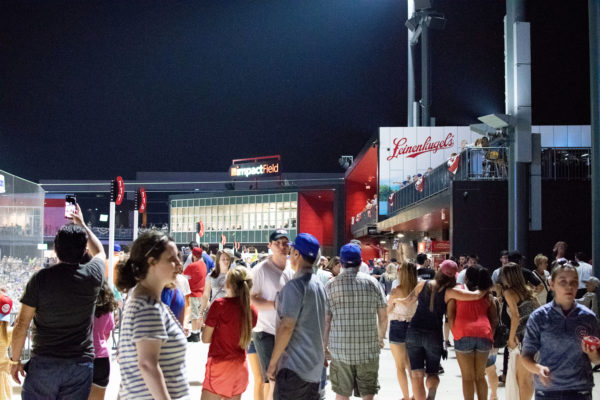 The beers available on site, that I noticed, included Miller Lite, Coors Lite, Linnie's Summer Shandy and 1867. This is disappointing. There are many local Chicago craft brewers who would be a perfect fit for an "independent" team like the Chicago Dogs. The bills, however, do get paid more reliably by the mass produced macro brewers.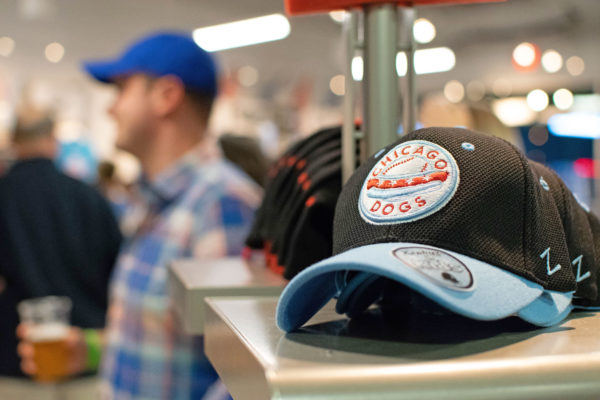 There is a well stocked merchandise shop.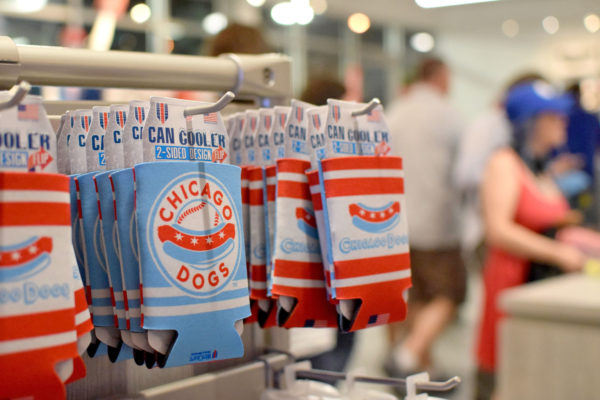 The shop seemed to be busy the whole night.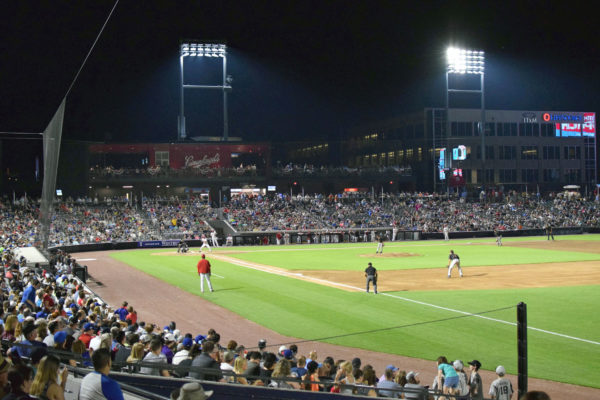 There is plenty of room to walk around during the game if you want to stretch your legs are get a different view of the ballpark.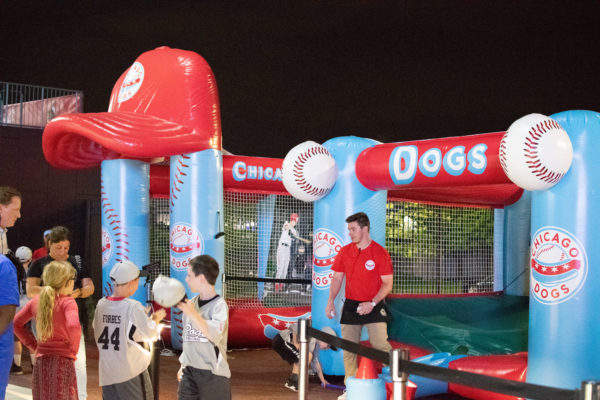 There are plenty of activities for the kids before and during the game.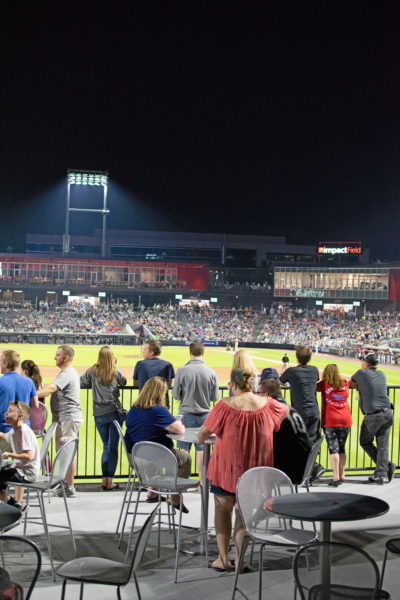 There are also spots around the concourse to sit and eat. Some are first come first served and others can be reserved by groups.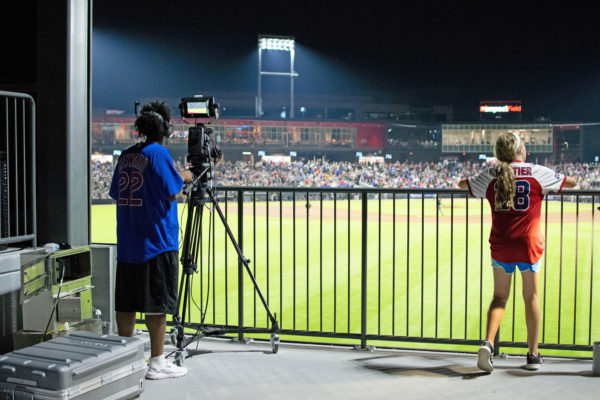 The main video screen even has instant replays when needed. I found it amusing that this camera guy was getting bothered by fans because he was just out in the open. Poor guy.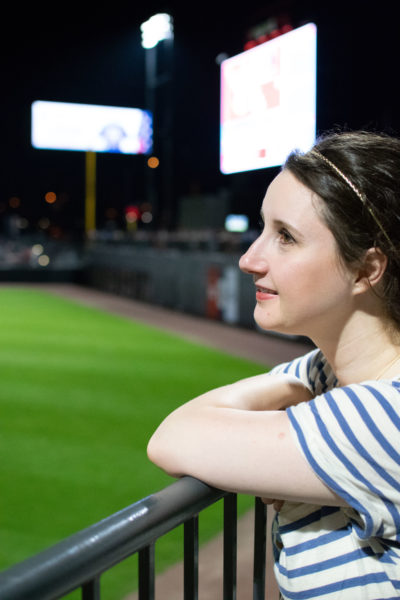 My date for the night, SkyWaitress, had a blast.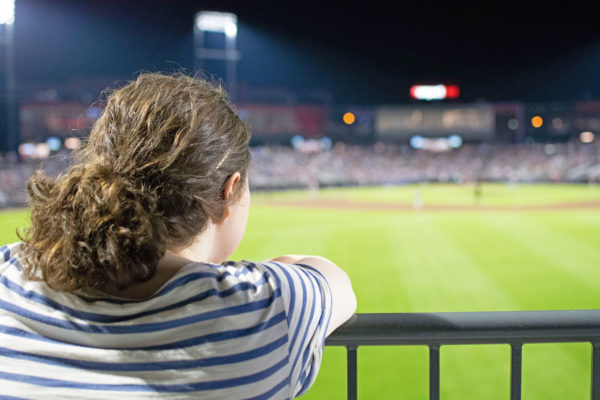 This is such a beautiful new stadium. I hope to make it back to several more of the 50 scheduled home games this inaugural season. Check out some of the upcoming special themed night listed below.
The Chicago Dogs 2018 Inaugural Season includes regular daily promotions on game days:
"Family Sundays" include:
$3 bottomless popcorn
$3 bottomless fountain drinks
Game Day USA Top Dog Youth skills competition (Ages 8 – 15)
Post-game autographs
"Mustard Mondays" include:
Free mustard pack to first 1,500 fans
"Brewsday Tuesdays" include:
$2 domestic drafts all night
"Wiener Wednesdays" include:
Team takes the field as The "Chicago Wieners" in special Wednesday uniforms
Special offers for fans
Thursday Village Fireworks
Village of Rosemont Entertainment District Fireworks Fan Fridays
"Fan Fridays" include:
Giveaway item every Friday to first 1,500 fans
Kids can run the bases post-game
"Firework Saturdays" include:
Post-game fireworks extravaganza
Specially Themed Games
June
Fri. June 1: Replica jersey t-shirt giveaway to first 1,500 adults presented by Signature Transportation / Boy Scout night
Sat. June 2: Post – game fireworks feat. The music of Elvis / Youth baseball night
Fri. June 15: Dogs home caps to first 1,500 fans presented by Wintrust
Sat. June 16: Jurassic ballpark
Sun. June 17: "Fathers day catch" pre-game catch on field
Thurs. June 21: Flight night / Salute to airline and airport personnel
Tues. June 26: Business persons special / Summer camp day
Fri. June 29: Replica jersey t- shirt to first 1,500 kids ages 14 & under
Sat. June 30: Girl Scout night / Princess night
July
Mon. July 2: First responders night
Tues. July 3: Village of Rosemont & Chicago Dogs Independence Day fireworks 9:30 p.m.
Fri. July 6: Dogs inaugural season pennant to first 1,500 fans / youth baseball night
Sat. July 7: Post-game fireworks featuring the music of Jimmy Buffet / Parrot head night
Sun. July 8: Brotherhood for the Fallen night
Wed. July 11: Summer camp day / Business persons special
Fri. July 20: Chicago Dogs floppy hats to first 1,500 adults presented by Miller Lite
Sat. July 21: Harry Potter night
Sun. July 22: Chicago Dogs team card set to first 1,500 fans
Tues. July 24: Business person special / Summer camp day
Wed. July 25: Chirstmas in July
August
Wed. Aug. 1: Chicago Dogs special announcement
Tues. Aug. 2: Umpire appreciation night
Fri. Aug. 10: Muscular dystrophy awareness night
Sat. Aug. 11: American Cancer Society night
Sun. Aug. 12: Inaugural season team photo to first 1,500 fans presented by Athletico
Fri. Aug. 24: Chicago Dogs backpacks to first 1,500 kids ages 14 & under
Sat. Aug. 25: Special Olympics night / Old school night
September
Sat. Sept. 1: Star Wars night
Sun. Sept. 2: Photo with a dog day
Mon. Sept. 3: Final regular season home game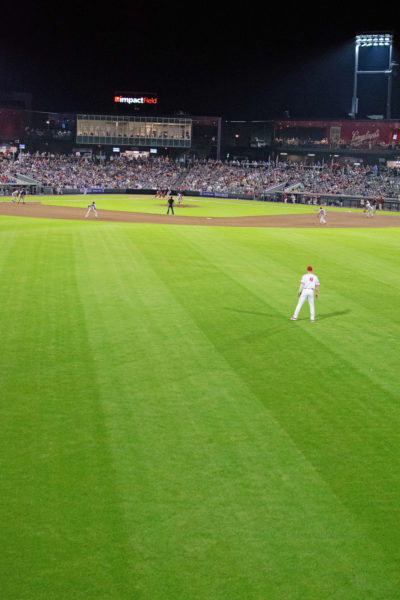 Will I see you at Impact Field this summer? Let me know in the comments.
Find out more about the new stadium, get team details, and buy tickets online at TheChicagoDogs.com.
Play ball!