Santa's Village Amusement Park 60th Anniversary Season
Disclaimer: We were invited as guests to Santa's Village earlier this month. All options shared are my own.
 We got to spend the day at Santa's Village in East Dundee, IL as a family earlier this summer. It was the first time any of us had been there. Let me just say, we had so much fun we'll be sure to go back!
We spent the days preceding the visit talking to Wesley about how Santa vacations in IL during the Summer. We was more than curious to find to this information and possible pay him a visit. The look of amazement on his face as we arrived was priceless. I only wish we'd been video taping it.
We arrived at opening (10:00 a.m.) and got all checked in. Then started wondering the park to see what was there. There were so many games, rides, and food options we weren't really sure where to start! So we let Wes & Theo pick.
Santa's Village amusement park first opened its doors in East Dundee, IL in 1959 with "the vision of bringing joy to local families through Christmas-themed attractions." I can see why 60 of years Santa's Village has brought joy and entertainment to Chicagoland families. Many of the decorations and reminded me of when I was a kid and would go to the local amusement park with my grandparents.
There is a water park attached to the amusement park currently under construction. Santa's Village will celebrate its 60th Anniversary with the opening of the Santa Springs waterpark later this summer. "The family-friendly, interactive water play attraction within the amusement park will be the perfect place for families to cool down and enjoy water fun."
Theo wasn't old enough to ride all of the rides so we spent some time watching other have fun. It worked out well though. Just when the break was over we'd find a ride that everyone could enjoy.
This is a 360 photo. Take a look around. See if you can find how thrilled Theo was in the middle of this one.
Not every right Theo could right on was his favorite. But we had a blast as a family, even when the kiddos had their faith tested in us as decision making parents.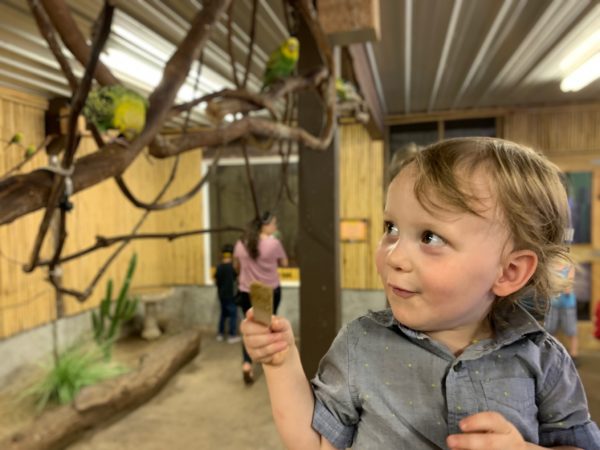 Petting Zoo
Santa's Village is home to more than 200 animals, birds and fish! The kids loved the petting zoo and thought it was hilarious when one of the goat's tried getting into my lap as we fed it. They were even able to ride ponies and feed some parakeets!
Delicious Food Offerings
The park has everything from classic amusement park fare like pizza, chicken tenders and burgers to innovative creations like South of the Border Street Corn and Pork Chop on a Stick.
This is a 360 photo. Take a look around.
We had so much fun at Santa's Village. It was much larger and more entertaining than I had anticipated before arriving. You might be surprised at how much fun you can have there too.
We are already planning our return trip in July and hope to see you there! Have you ever been? What's your favorite attraction? Let me know in the comments.