Johnsonville Tailgate Throwdown Contest & Kicking Sausage Recipe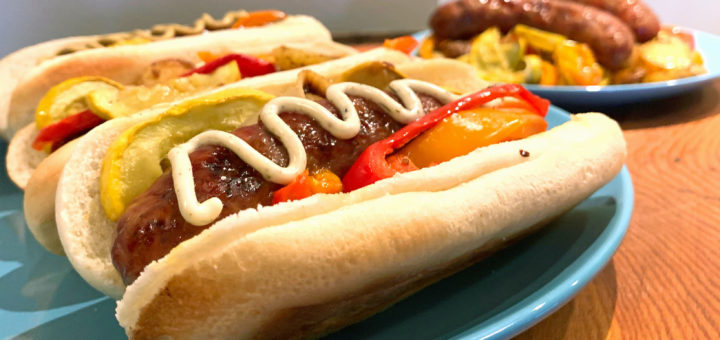 Disclosure: I have been compensated for my creation and sharing of this sponsored recipe and the promotion of the Johnsonville Tailgate Throwdown contest. All options shared here are honest and my own.
Do You Have What It Takes to Win the Johnsonville Tailgate Throwdown?
The Johnsonville Tailgate Throwdown contest is all about finding the best sausage-inspired tailgating recipe. Do you have a family favorite? A crowd-pleaser? That once Johnsonville sausage recipe that gets requested at every party? This contest is for you.
Whether it's Alabama-inspired Smoked Sausage & Grits or Hot 'N Spicy Sausage Jambalaya for Louisiana fans, Johnsonville is asking SEC fans to share their original and favorite sausage tailgate recipe for a chance to win championship game tickets!

– TailgateThrowdownContest.com
Entries for the Johnsonville Tailgate Throwdown contest will be accepted now through November 5 and the contest will culminate with a Tailgate Throwdown before the SEC Championship Game in Atlanta, GA on Dec. 7, 2019, where a winning recipe will be crowned.
Johnsonville invites you to create your own tailgate recipe using Johnsonville sausage and take your shot at getting to Atlanta, GA in December 2019.
I've created my own Johnsonville Sausage & Veggie recipe inspired by the sport of tailgating at games and my love of easy oven preparation. It can be prepped in only a few minutes and will bake in the oven while you get ready for the game.
Johnsonville Sausage & Veggie Sheet Pan Oven Bake
Ingredients:
1 Package of Johnsonville Sweet Italian Sausage
1 Red Pepper
1 Orange Pepper
1 Yellow Squash
1/3 White Onion
3 Cups baby potatoes (a variety is nice)
4 Cloves freshly pressed garlic
2 Tablespoons Olive Oil
1/2 Teaspoon Paprika
1/2 Teaspoon Red Pepper Flakes
Salt & Pepper to taste
Optional Toppings
Spicy Mustard
Creamy Cucumber Sauce
Instructions:
Pre-heat the oven to 400 degrees
Slice the peppers into strips. Cut the zucchini and baby potatoes into circles. Dice the onion and set aside.
Mix the garlic, olive oil, paprika, and red pepper flakes.
Place the peppers, onion, and baby potatoes in a glass baking pan. Top with the olive oil mix and place in the oven for 20 min.
Remove the pan from the oven and place on the stove. Mix the contents of the pan. Add the sausage, peppers, and zucchini. Put back in oven for another 20-25 mins. Or until the sausages look nice and brown.
Remove the pan from the oven. Mix the ingredients a bit. Flip the sausages so the browned side is down. Place back into oven for a final 20-30 mins or until savages are brown and veggies are soft.
Serve. You can plate sausages with veggies, stuff it all in buns, or add your own toppings like spicy mustard or a creamy cucumber sauce. Taking it to the game? Wrap in foil and place in a travel safe container.
Contest Details
• SEC fans can enter their original tailgating recipe for a chance to win by visiting www.TailgateThrowdownContest.com now through Nov. 5, 2019 at 11:59 p.m. ET. Individuals will be asked to share the name of their recipe and its ingredients, cooking instructions and a photo of the finished dish.
• There will be two groups of winners: one (1) Ultimate Fan Favorite and two (2) Finalists. The Ultimate Fan Favorite recipe entry will be determined by a public vote, conducted on www.TailgateThrowdownContest.com between the dates of Nov. 6-15. For captivating fans with their tasty recipe, the Ultimate Fan Favorite will be awarded Johnsonville Sausage for one year (via 12 coupons) and a Sizzling Sausage Grill.
• A panel of Johnsonville members (employees) will review contest entries and help choose the two Finalists based on quality, originality, adherence to tailgating theme and visual representation. Johnsonville will notify the two Finalists the week of Nov. 18, in time for them to prepare a trip to the SEC Championship weekend in Atlanta.
• The Finalists will receive the glory of showing off their tailgating mastery at a live Throwdown event with the Johnsonville Big Taste Grill the morning of the 2019 SEC Championship Game, in addition to: two tickets to the 2019 SEC Championship Game, a two-night double occupancy hotel room in market, and a $1,000 gift card for travel, expenses onsite and potential taxes associated with the prize.
• See full official contest rules here.
NO PURCHASE NECESSARY TO ENTER OR WIN. Begins 8:00 AM ET on 10/17/19, ends 11:59 PM ET on 11/5/19. Open to legal residents of the contiguous U.S. & D.C. (excluding residents of CO, CT, & MD), 21+ . Void in AK, CO, CT, HI, MD & where prohibited. Subject to Official Rules available at TailgateThrowdownContest.com. Sponsored by Johnsonville, LLC.
Did you enter? What recipe did you share? Let me know in the comments.