Create Custom Polaroids Direct from Your Phone's Screen in a Click
Disclosure: I have been compensated by Polaroid and Best Buy for the creation and sharing of this post. All opinions are my own. 
I love turning memories into photos with the help of my phone on a daily basis. Now, I can turn those photos into physical copies with the Polaroid Lab! I try and take a photo (or more, sometime many more) every day to document my kids lives as they get older. Kids grow up so quickly.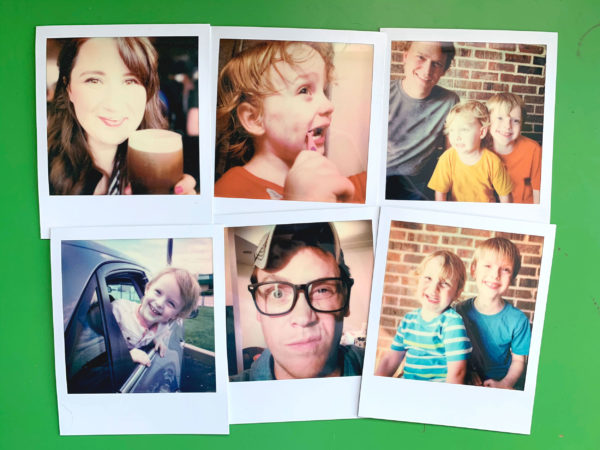 Those digital photos just aren't enough though. I like to put photos up on the wall, fridge, in my wallet, or on my desk. The Polaroid Lab simplifies and expedites the process of turning those smartphone photos into handheld mementos in a click. It's so much fun to use.
Best Buy sent me one a few weeks ago and I've not been able to stop playing with it. The old school feel of the film. The retro fading of the images is perfection. The sound of the film coming out of the camera and watching images develop on the film bring back so many memories of mine from being a kid. I can't even put a value on that.
My kids love it. We've been playing with the app and taking pictures just to "develop" on the film. It is so easy to use even my two-year-old has done it. The image brightness and such can be adjusted. You can see a few versions of one image (pictured above) that we tried before getting it just right.
I use my iPhone X, but the iPhone 6, 6s, 7, 8, X, Xs and newer and most Android™ Smartphones work with the photo lab. The app is available for iOS 11+ and Android 5+.

The Polaroid Photo Lab is compatible is various Polaroid Film types including: Originals i-Type and 600 film (Color, Black & White and Special Editions). It is small enough to fit easily on a bookshelf for storage or in a bag for travel. It's battery can be charged and taken mobile so you don't need to bring a cord along with you if you don't have space.
Transform your digital photos into real Polaroid pictures with the all new Polaroid Lab. Not a printer, not a scanner, just an instant formula for timeless images. The Polaroid Lab takes the digital and makes it analog. From something on a screen to a tangible thing, a moment to be shared with a friend, an experience that you can hold in your hand.

– BestBuy.com
One of the coolest features of the app is the ability to add AR video options to images. Meaning you can do this:
Find out more (and buy now) over at BestBuy.com.