An Interview with R. Alan Brooks
R. Alan Brooks is the author of a new graphic novel featuring a sci-fi story that is meant to be an allegory for leaving white supremacist movements.
I met Alan back in 2004 when he was on tour with several other artists doing spoken word art. We've stayed connected off and on since then. He's an amazing artist, musician, and storyteller you should know about. This interview is about his latest Kickstarter project, one you should support, called Anguish Garden.
---
Thanks for agreeing to do this interview. Why don't you introduce yourself and tell us a little bit about your background as a performer & artist?
Hey, so ok, I'm R. Alan Brooks, and I do a lot to make a living as an artist. Just a few:
I write graphic novels (The Burning Metronome, Anguish Garden)
I write a weekly comic for The Colorado Sun.
I host a podcast, Mother F**ker In A Cape, that focuses on unheard voices in the geek world.
I teach graphic novel writing at Regis University.
I rap with a jazz band, most often at Ophelia's Electric Soapbox.
What was the reason you got into comics in the first place?
My dad wanted to cultivate a love of reading in me, so he introduced me to comics at age 5, and I've been an active fan ever since. When I was 10, my mother saw an ad for a comic convention in Atlanta (where I grew up), and I started going to those with my best friend. Back then, cons were the only time we'd ever encounter anyone else who was into comics!
How has the experience of being a comic book writer changed the way you express yourself and experience life?
One of the things that I love about the medium of comic books is that reading them is usually a very private experience. A reader gets engaged visually, and with dialogue, and they get to control the pace at which they consume the scenes. So the end result is that comic books and graphic novels are an excellent way to engage people with personal or introspective stories, that make them reflect upon their own lives.
What made you want to write Anguish Garden?
I wanted to do something a bit different in tone from my first graphic novel, The Burning Metronome, and I started gravitating towards this idea of a lone, female gunfighter, and what that would be like in a more modern setting. As the story started to take shape, and I began to get a grasp on who the main character really was as a person, I started to see places where her personal journey could be used to comment on some present social issues.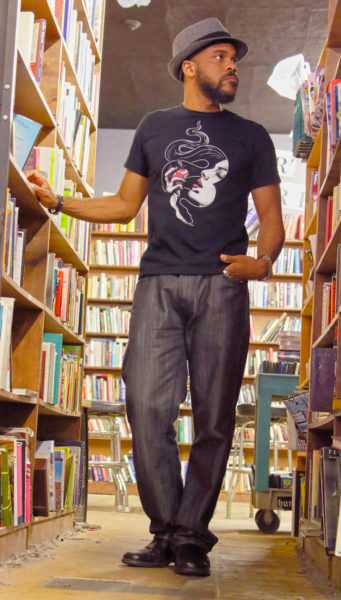 What sort of responses have you gotten from previous coverage about the project?
Aside from a few death threats, most of the coverage has inspired people to be very supportive of this project. So, this book became an allegory for leaving white supremacist movements – thus, the threats I received. But it's been heartening to see the way that people have rallied around what I'm doing with this book – including the artists I'm working with.
I have an artist named Kevin Caron doing the layouts for the book – essentially doing rough sketches, and composing the camera angles and visual storytelling.
Then another artist, Dailen Ogden, is doing the more detailed pencil/ink work on the book. So she's responsible for the facial expressions and body language of the characters – the real acting.
Finally, Sarah Menzel Trapl is the color artist for the book, and she's bringing big emotional tones to what we see in each scene.
I also have a musician named Carl Carrell doing the musical score for the book, which essentially functions as a companion piece, and let me tell you, what I've heard so far is absolutely beautiful!
What do you want readers to come away with after reading Anguish Garden?
I'd like for them to have enjoyed the story, first of all. I think that's always my first objective.
Secondarily, in this book, I deal with the idea of what it's like to consider yourself a hero, and to slowly realize you're acting as a villain. That's something that can happen to any of us, especially when we're convinced that some other group of people are inherently wicked or corrupt. I hope anyone who reads this thinks about how we might be drawn into that kind of irrational hate. It's a tricky business, and easy to get entangled in.
Will it be a series or is it a stand alone story?
This is the first book of three, and there won't be any more after that.
Why did you chose to fund this project via Kickstarter?
Kickstarter is a great place for people to come together and support art and other creations that might not exist if they didn't help it come to be. That's just a really dope thing.
But, of course, we need to get our Kickstarter fully funded to make this book a reality. The budget is for me to pay for printing, and to pay these 3 artist for seven months of work on this book.
How does it compare to your other comic book series: The Burning Metronome?
The Burning Metronome has more spooky undertones – it's sort of Twilight Zone meets Usual Suspects. It's a delightfully brooding book.
Anguish Garden is a more deeply emotional, continuous narrative, with bad-ass gunfights! Also, art-wise, the feel of both books is completely different. I'm so excited about what the artists are doing with my scripts on this new book!
---
What did you think of the interview? Have you checked-out the Kickstarter? Did you pledge? Let me know in the comments.