30 Days of Activities At Home With The Kids [Day Two]
I started writing this series the morning I got an email from my son's school issuing a notice saying that the schools would be closed for at least two weeks (but likely longer) due to the current Covid-19 outbreak. Many parents are in the same spot. This is why I'm doing this.
Each day I'll share a simple activity that you can do with your kids that will help pass the time. Sometimes these with be educational. Sometimes these activities will be family projects. Sometimes they will simply be entertainment options.
If you want to add some ideas to the list please do so in the comments.
You can see the full list of activities (updated daily through-out the 30 day series) at DaddysGrounded.com/30days/
Day Two: Scholastic's 20 Days of Learning
Schools may be closed for weeks (or longer) right now, but we don't have to stop learning because of it. Scholastic has created a cross-curricular journey for four separate age groups: PreK and Kindergarten, Grades 1 and 2, Grades 3-5, Grades 6+.
There are four separate learning experiences for students to experience daily. These experiences include stories or videos covering a variety of topics. These experiences can be done independently, with family, or with teachers. Simply choose the grade level you want to experience and begin using these remote learning resources and strategies!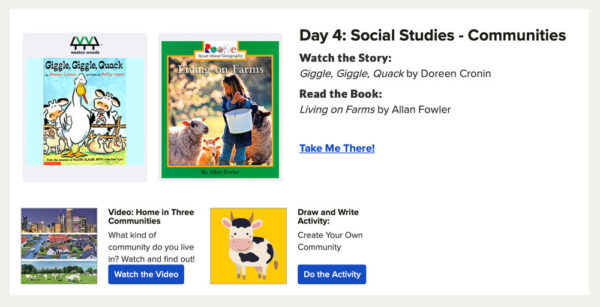 Dear Families and Caregivers,

We know that missing school isn't easy for your kids—or for you. But we also know that there are simple ways to turn unexpected time at home into exciting opportunities for your students to learn, think, and grow.

That is why we've created Scholastic's Learn at Home website. This free resource provides your children with 20* days of exciting articles and stories, videos, and fun learning challenges. Children can complete them anytime, in any order. They can work on their own or together with you and your family.

Our active learning journeys are available on any device and will provide your child with up to three hours' worth of exciting learning experiences per day. They can go on virtual field trips, meet best-selling authors, or dig deep into a topic they love.

We hope that you and your children stay safe and healthy, and wish you the best of luck during this stressful time.

With best wishes from all of us at Scholastic,
Lauren Tarshis
Sr. VP, Editor in Chief & Publisher
Scholastic Classroom Magazines

* The site will be updated weekly until all 20 days of content is available.

If you have any questions or suggestions, please reach out to me at ltarshis@scholastic.com.

– Scholastic
I remember getting the Scholastic Classroom Magazine from school when I was a kid. My kid now gets them from his elementary classroom as well. What are some of your memories of Scholastic from recently or years passed? Let me know in the comments.