The New Fantastic Four Menu at Denny's Diner
Disclosure: This is a sponsored post, in conjunction with Denny's Diner. I've received compensation for the creation and sharing of this post. All opinions are my own.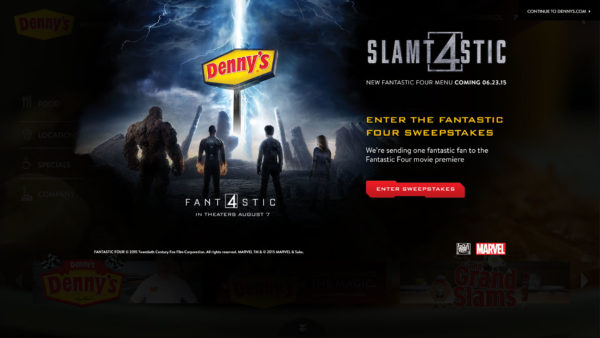 I'm excited to see the new Fantastic Four movie from 20th Century Fox coming out later this summer. Denny's, America's iconic family diner, recently announced that one lucky Fantastic Four fan will win a trip for two to the movie's premiere on Aug. 4. Now, through July 19, fans may visit DennysFantastic4.com to enter for a chance to win the trip of a lifetime.
We took a family trip to visit the official restaurant partner of the new movie this week and had a nice breakfast for dinner night out. Denny's offer guests action-packed fare with the new limited time 'Slamtastic 4' menu, featuring a selection of iconic Denny's dishes inspired by Marvel's first family of superheroes. The new menu explodes with dishes such as the sizzling Human Torch Skillet, The Thing Burger and the Invisible Woman Slam®.
I had the Human Torch Skillet. Wow it was spicy, but good.
Our two year old enjoyed the standard Build Your Own Jr. Grand Slam® with yogurt, pancakes and bacon.
SkyWaitress had the Invisible Woman Slam®
In addition to the exclusive sweepstakes and Slamtastic 4 diner creations, guests will have plenty of other ways to enjoy a taste of the movie at Denny's. Dedicated TV spots, which will begin to air nationally the week of July 6, brings the Fantastic Four characters straight to America's Diner, while the brand's Instagram channel will be posting a series of exclusive clips for followers throughout the partnership. Denny's diner gang from 'The Grand Slams' web series will also be getting a superhero-inspired makeover in two exclusive Fantastic Four episodes featured on TheGrandSlams.com beginning today, July 1.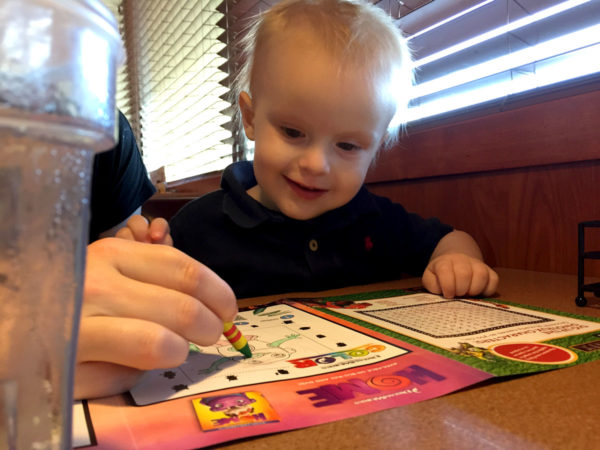 For more information about Denny's 'Slamtastic 4' menu, kids menu or to find a restaurant near you, please visit Dennys.com.
What's your favorite meal at Denny's? And your favorite Fantastic Four character? Let me know in the comments below.