Helping Denny's & No Kid Hungry End Childhood Hunger
Disclosure: This is a sponsored post, in conjunction with Denny's Diner. I've received compensation for the creation and sharing of this post. All opinions are my own. 
I have a bunch of fond memories of being a kid. Each and every one of them have one or two elements that are always present. These positive memories all have either food and/or friendship as a major part of them. Going fishing or playing football with my uncle and cousin. Playing board games with my parents or movie nights the family and pizza. Late night video game competitions with friends. Camping trips, nature hikes or bonfires with those close to me.
I also have some sad and lonely memories from childhood. Each involve feelings of loneliness or hunger. We moved a lot when I was little so I often had to start over in a school or neighborhood when it came to friends. My parents were both hard working individuals, but their jobs had ups and downs. Those ups and downs also directly affected our grocery supply in the house. We sometimes had less than we should have because of external forces outside of their control. That's when friends, family and local charities stepped in to make sure we were all fed, clothed, and had a safe place to stay. I wouldn't be where I am today if our family had not received help when we needed it while I was a kid.
Life is worth so much more when there are people to share it with and enough food to not feel hungry.
Now I'm an adult and better understand the day-to-day struggle my parents must have felt while raising us. I worry about what we would do if we lost our incomes. I stress about the amount of time I have to spend working away from my son and feel as if I'm missing something. He'll only be a kid for so long. Just like DadCamp says, we've only got 18 Summers with our kids. I want every one I have with him to count. Not only that, I want him to know how other kids his age don't always have enough and that he can help them.
Each day in America, one in five children struggles with hunger and doesn't receive the proper food and nutrition they need.
Denny's is partnering with No Kid Hungry for the fifth year in a row to raise money to combat childhood hunger in the United States. Now through Oct. 12, nearly 1,600 Denny's restaurants nationwide will join the campaign and help the fight against childhood hunger. For just a $3 donation, guests will receive $9 worth of coupons for diner favorites, redeemable at participating locations. Guests may also contribute to the campaign with a monetary donation of their choice. I'm personally hoping to raise $500 for the campaign via my website this month: http://dgrd.co/nkh
Every dollar donated helps to feed a hungry child up to 10 meals.
This year Denny's is striving to make an even greater impact on the cause, to which they have donated $2.3 million to-date, helping provide 23 million meals to kids in need across the country. "At Denny's we love to feed people, and we're committed to ensuring that kids across the country have access to a wholesome breakfast, the most important meal of the day," said Denny's Chief Executive Officer John Miller. "No Kid Hungry is one of the most recognized and impactful anti-hunger campaigns in the country, and we're proud of our longstanding partnership with them, working together to combat childhood hunger and help make a difference, one meal at a time."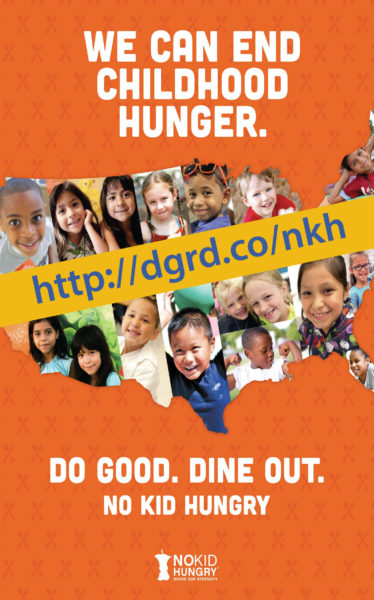 This campaign hits home for me because I was exactly the type of kid that would have received this sort of aid. My parents worked hard, but couldn't always make ends meet. Groups like Denny's & No Kid Hungry stepped into the gap and helped make things better. I urge you to consider a donation, no matter how large or small, to the campaign. You could be helping the family next door or one across the country from you. Isn't the thought of you helping to keep a child's tummy full worth it?
I'm trying to raise $500 for the campaign this year. If you'd like to help me reach that goal, please donate at: http://dgrd.co/nkh
Denny's restaurants will be adorned with orange, the signature campaign color, to show their continued support for No Kid Hungry. Plus, the much-loved characters of DreamWorks Animation's award-winning film and television franchises such as The Adventures of Puss In Boots, Dino Trux, and Shrek will be featured on in-store fundraising elements encouraging guests to pledge their support and join Denny's in helping make No Kid Hungry a reality. Make our family's Denny's outing a way to teach your kids how to give back.
For more information on this year's efforts, please visit DennysNoKidHungry.com.