Introducing My Kid To A Classic American Diner
Reading Time:
4
minutes
Disclosure: This is a sponsored post, in conjunction with Denny's Diner. I've received compensation for the creation and sharing of this post. All opinions are my own. 
I grew up going to diners with my dad. He traveled a lot for work and singing gigs. (Yes, at one point my dad was a recording artist.) Whenever I got a chance to tag along on a trip I would. I loved the opportunity to spend time with my dad. I also loved going to all of the different places to eat that we would. We'd sometimes go to a friend of a friend's house and other times we'd go to a local church or school. My favorite was going to Denny's. You could have breakfast all day and that made me smile like nothing else could.
I recently introduced my son to Denny's Diner. He's old enough to basically order for himself. His favorites are few in variety, but he knows what he wants when he wants it. The specific items he's ordered while we have been out to eat before include pancakes, fries, water, pizza and ice cream. Not all of these items have been ordered at once, yet. He's an awesome kid and amazes me every day. How'd he like it? Let's just say Denny's earned a new regular customer.
Denny's recently announced a partnership with Dreamworks Animation and updated their kids menu options nationwide. What does that mean to me (and you?) An easy to enjoy family meal out with the little ones! The new kids menu has kicked off featuring Penguins of Madagascar, Puss In Boots and Turbo FAST, in addition to many popular characters such as Shrek appearing throughout the year, the colorful characters adorn Denny's kids menu in a variety of interactive, themed puzzles and games to enjoy during mealtime.
Denny's will offer three more engaging DreamWorks kids menus through 2015, inspired by films Mr. Peabody & Sherman, The Croods, Home, How to Train Your Dragon and more, and each featuring fresh new movie characters, themed games and activities from these titles for families to enjoy. In addition to new exclusive content, the menus also provide a delicious selection of customizable dishes from the ultra-popular Build Your Own Jr. Grand Slam®,  Junior Cheeseburger and Build Your Own Jr. Sundae, to a series of Kids LiveWell verified dishes and sides, such as Spaghetti, Steamed Broccoli, Apple Dunkers, Jr. Dippable Veggies and more.
Now that I'm all grown up my dad and I still get together from time to time for a meal. More often than not we go out for breakfast no matter what time of the day. My wife, son and I have breakfast for dinner often too. It is seriously a family tradition at this point. When we visit my grandparents in Cleveland we often cap off the trip with a late brunch out before the road trip home. Don't forget about Kids Eat Free Tuesdays at Denny's from 4:00 p.m. to 10:00 p.m..
Let your kids color the DreamWorks characters featured on the Denny's Kids Menu while waiting for your food to come out and then use the DreamWorks COLOR App to bring their drawings to life. The characters seem to jump off the menu in 3D! They can also take selfies with their characters, and build & play in worlds they color and create. DreamWorks COLOR app encourages families to engage creatively with each other during mealtimes and provides a modern twist to a traditional diner activity.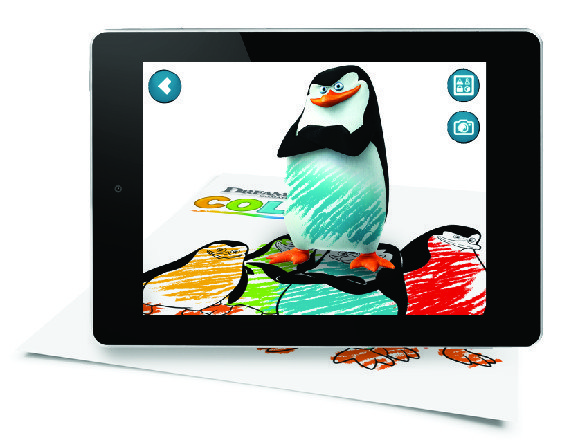 Denny's was born in 1953 as Denny's Donuts in 1953 in Lakewood, CA. They now have over 1,600 restaurants across the United States and internationally. No matter where you go there's probably one close to you. Looking to do a road trip and want to plan out your Denny's Diner stops? The Locate a Denny's Travel Planner is exactly the online tool that you've been looking for to help! It'll give you directions, travel times and suggested Denny's Diner locations to stop at along the way. I'm using it right now to plan a family road trip next month!