The One With All the Blue Dye
Disclosure: I cleaned up a giant blue Doctor Who Halloween cosplay mess with Zep Commercial® as part of a sponsored post for Socialstars. #TryZep
I love Halloween. Growing up it was something my parents didn't celebrate because of religious reasons, but I feel like I missed out. I want my son to experience the fun of dressing up for the night and pretending to be someone or something. Let's face it, life can be pretty tough and an excuse to have fun don't come around often enough. My wife and I started doing Halloween after Mr. Dude was born last year. We "dressed up" as Goldilocks and the Three Bears but our outfits were basically hats and a jumper for the kiddo.
This year was completely different. Abigail had a plan weeks in advance. I don't know how many stores we went to in search of all the items we need to complete the 2014 theme. It was too many really. We're fans of Doctor Who and decided to have Wes play the 11th Doctor. Abigail was Amy and I was Rory:
The most difficult part of this year's outfit was the TARDIS. If you don't know, that's The Doctor's spaceship that looks like an old 1950s police box. We followed this tutorial and transformed a tan colored Ergo into this beauty:
The carrier had to soak in the dye solution while constantly moving it around to get even coloring on the carrier for what seemed like forever. Then the rinsing part of the process took hours in the shower. Needless to say the whole process left a nasty blue mess in the bathtub:
I used the Zep Commercial antibacterial disinfectant cleaner & the degreaser / stain remover to take on the mess today. Life has been extra busy recently so I took on the mess after it had sat there in the tub for… a week! Hey, don't judge. I have a life outside of cleaning.
Zep Commercial® offers a complete line of cleaning and drain care products that deliver professional results. Whether you're a cleaning professional or just want to get the job done right while saving time and money, you'll be able to clean with confidence and have pride in the results.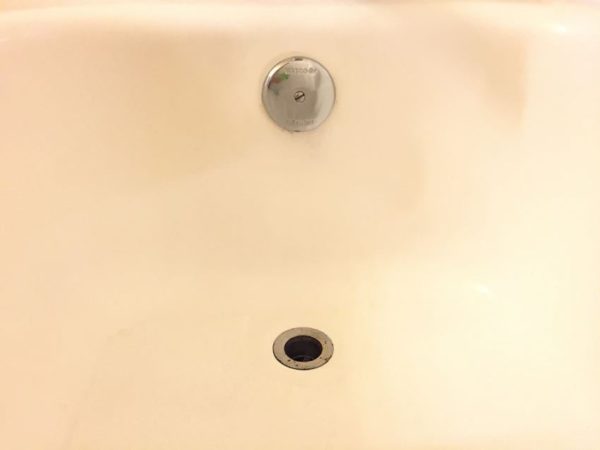 How do you like that sparkling and germ free tub? Just dyed an Ergo to look like The Doctor's TARDIS? We've Got a Zep For That!
Now, we're thinking we should be do the same to a TULA! I've already go instructions and the cleaning supplies for afterwards. What do you think?