Celebrating Oktoberfest 2017 at Hofbräuhaus Chicago
We were invited as guests of the Hofbräuhaus Chicago to celebrate the beginning of Oktoberfest 2017 with them this weekend. It is their fifth annual celebration at the Rosemont, IL location. The whole season is an event that includes live Bavarian entertainment, Celebrity keg tapping ceremonies, Oktoberfest food specials and freshly brewed "Oktoberfestbier." The house band plays a variety of old world and contemporary American music. There is even some yodeling!

This is a 360-image. Scroll around and see what's happening.
Hofbräuhaus Chicago is one of only seven official U.S. locations for the chain. This custom built location is a 20,000 square foot brewery, restaurant and live entertainment venue. Parking can be validated after your meal at the parking MB Financial Park garage. The space includes bench seating in a reminiscent of the Hofbräuhaus in Munich, a clear view of the brewing equipment, and an additional Bavarian inspired dining area with traditional tables & chairs.
This place is great for kids. Hofbräuhaus Chicago has a kids menu and coloring page options. The entertainment is interactive and standing on the benches in the bier hall is even encouraged! Plus, there is so much going on no one would notice if your kid throws some sort of tantrum. Live entertainment is from 5 – 10 pm Sunday through Thursday and 6 pm – 1 am Friday and Saturday.
Hofbräuhaus Chicago brews three beers on location: Premium Lager, Dunkel, and a Hefe Weizen. These beers come in 1 liter and 1/2 liter serving sizes. There are seasonal beers available from time to time, like the Oktoberfestbier and Maibock currently on tap. Wine and other cocktails are also available.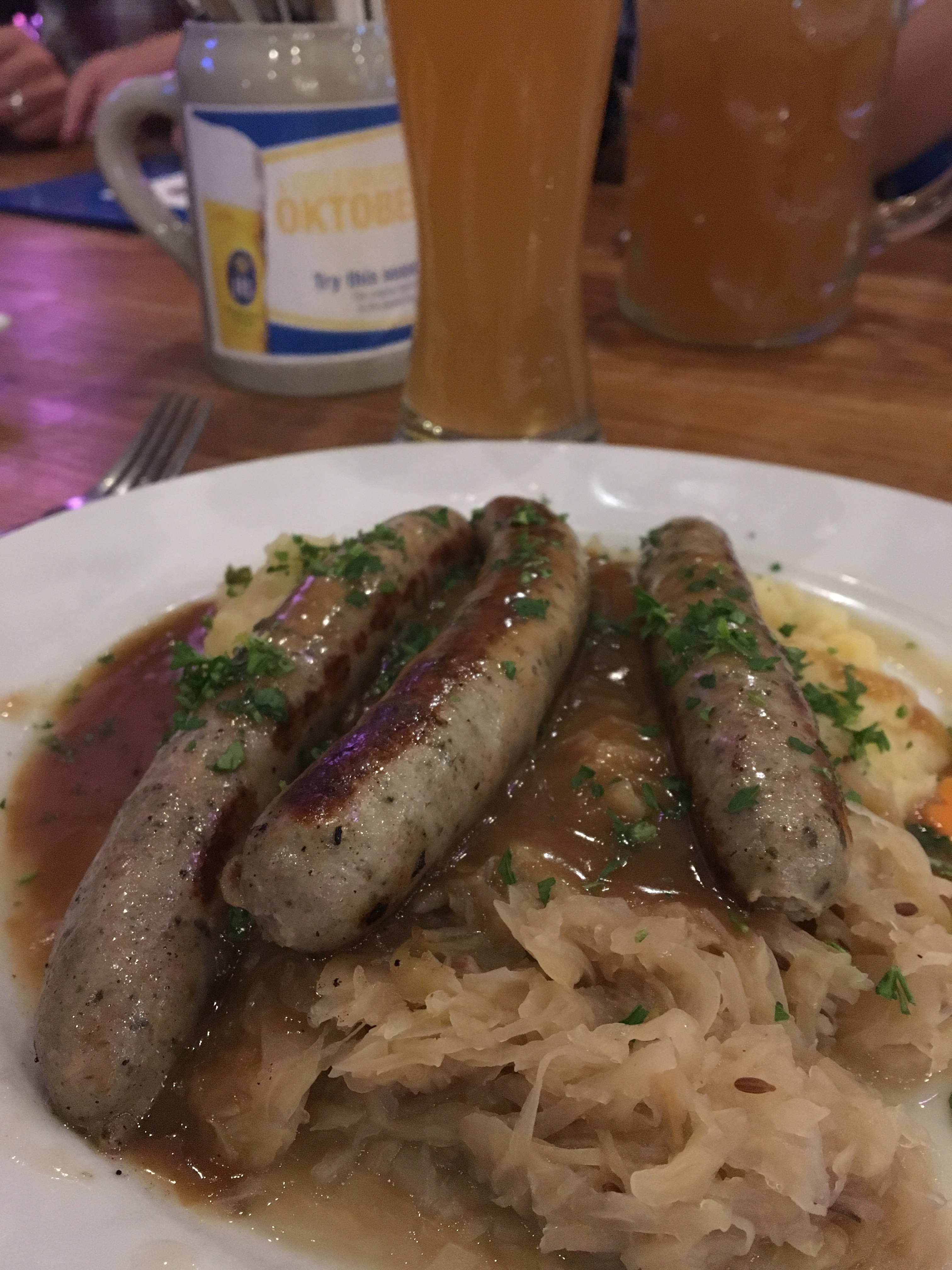 The food is amazing. German and Hungarian dishes cover the menu. We almost often get the sausages because they are so tasty. The fish, schnitzels, pretzels and sauerbraten are also good. 80% of the food produced on site uses imported ingredients from Europe. The sauerkraut, for example, is brought over from German, yielding a smooth, creamy pickled cabbage. The pretzels are also imported, 30,000 at a time!
Dessert is not to be missed! It was one of my wife's favorite parts of the evening. Pictured above is the Apple Strudel, imported from Bavaria and topped with a rich vanilla sauce.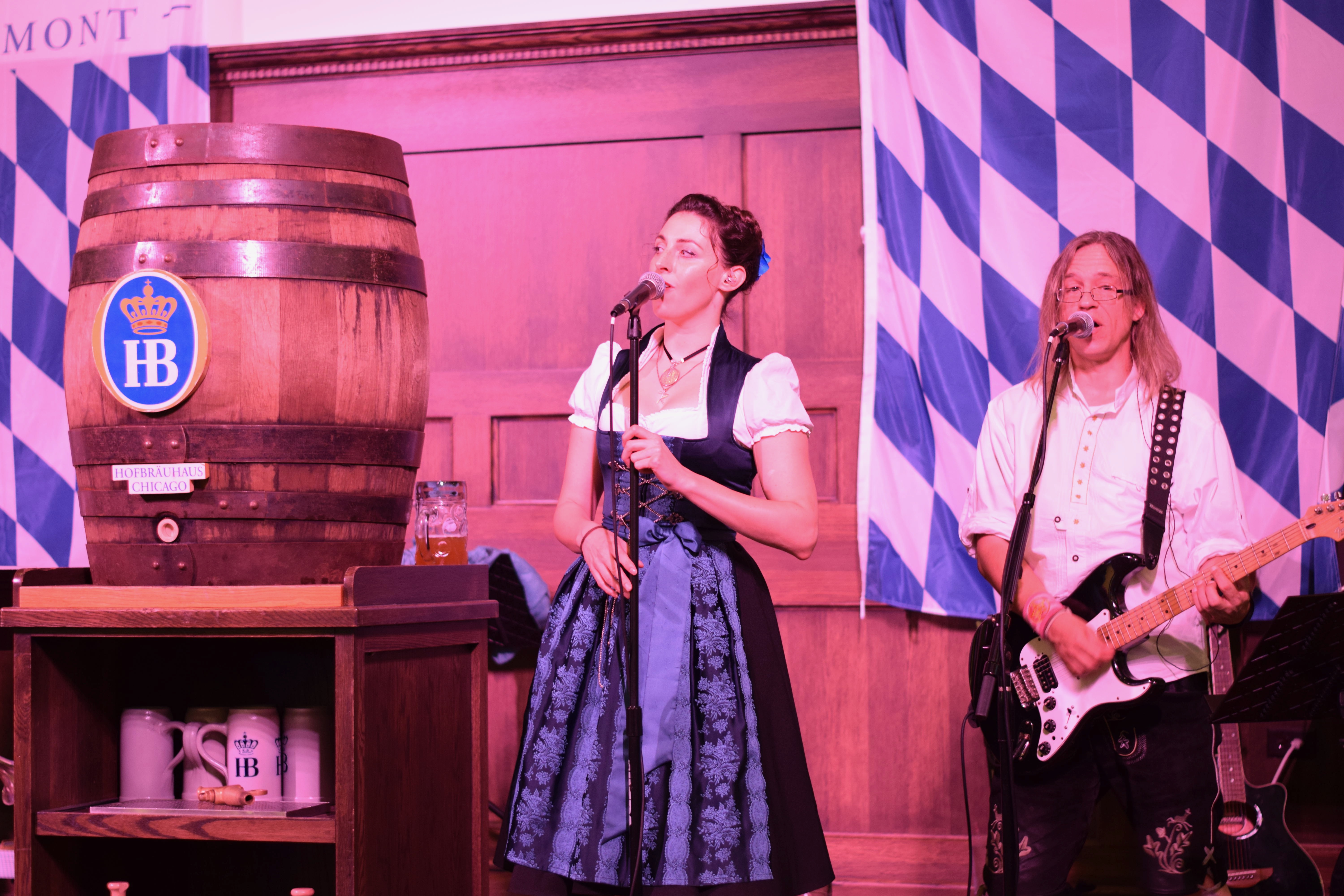 Live entertainment and various keg tapping ceremonies happen regularly at Hofbräuhaus Chicago.
The stein-holding competition is not for the weak. 
There was a 40-piece German Bugle band on site when we attended opening night.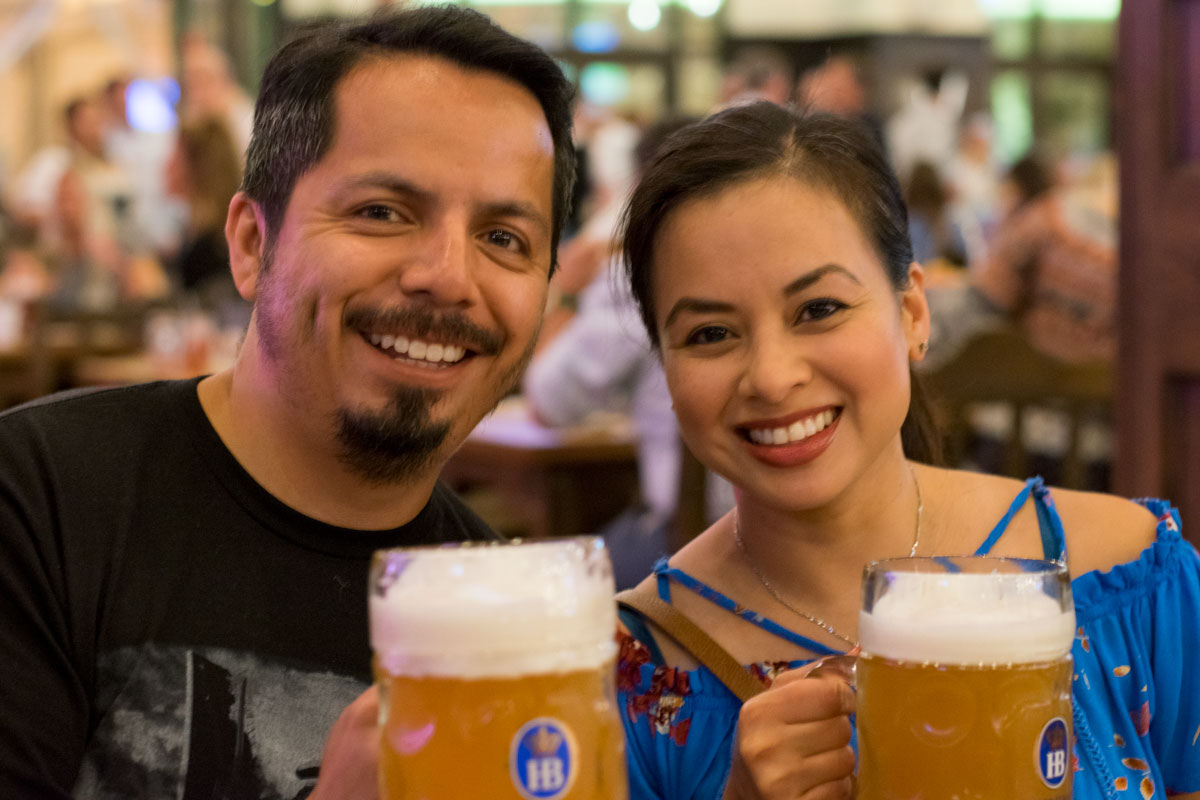 We even got to hang out with Fandads for the night! 
Oktoberfest 2017 at Hofbräuhaus Chicago is happening now and runs through October 29. Go with friends, on a date or bring the family and enjoy a boisterous night out. Just be ready for a surprise if you order a shot. Prost!