Easy 30-Minute Cheesy Rotini with Sausage Marinara for Busy Back-to-School Nights.
Disclosure:  I have partnered with Life of Dad and Barilla for this promotion. This is a sponsored conversation written by me on behalf of Barilla. All opinions, text, and images are my own.
The back to school season is my busiest season of the year. Between my kids going back to school, the launch of the new program year at work and my own enrolling in college classes I lose all concept of what easy or convenient is outside of meal time. Thanks to Barilla® meal time remains my simple and tasty space in life.
Barilla offers stress-free meal combinations, perfect for the busy back-to-school season that put every home cook at ease with their simplicity. I love to use the Barilla® Rotini and Barilla® Marinara sauce as a solid foundation for one of our family's staple dinners on school nights. Having my kid in the kitchen with me "helping" prepare dinner makes it all that much more special. We love the time together and can accomplish something useful while in the kitchen. #InTheKitchenWithDad is my favorite part of meal time.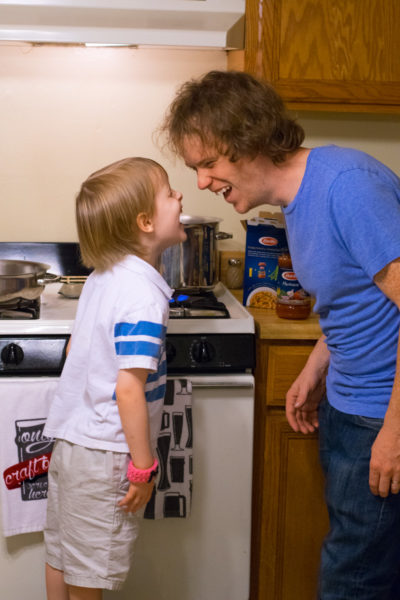 I grew up on pasta. Many of my fondest memories as a child revolve around family, the dinner table, and pasta. It is easily one of my favorite foods. The sheer variety of Barilla Blue Box & Sauce delivers Italian-inspired meal solutions filled with taste, texture, and flavors to make mealtime meaningful like I remember it being as a kid.
Barilla's classic line offers endless variety with 38 pasta cuts and 14 sauce varieties. It is astounding if you think about it. That's well over 500 combinations without adding anything else. Throw in some sausage or your favorite cheeses and the possible combinations grow exponentially!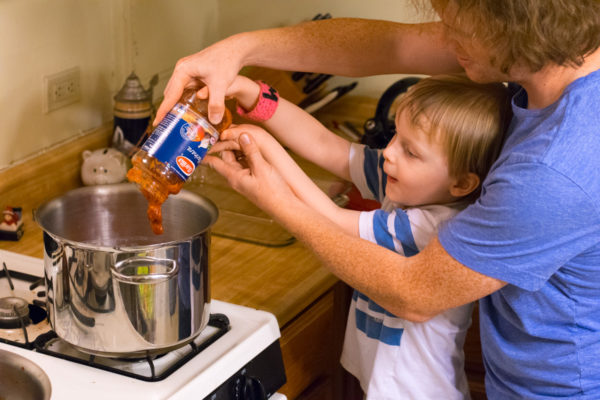 Our home, like many, revolves around what is going on in the kitchen. Schedules are busy during the school year. Tests, field trips, art projects, sporting events… The list of reasons a family splits up into different locations is endless. Mealtime is when families like ours get together to spend quality time over the process of preparing and consuming delicious meals. Barilla's semolina pasta delivers a delicious taste and perfect texture that has my family coming back for seconds. Every time.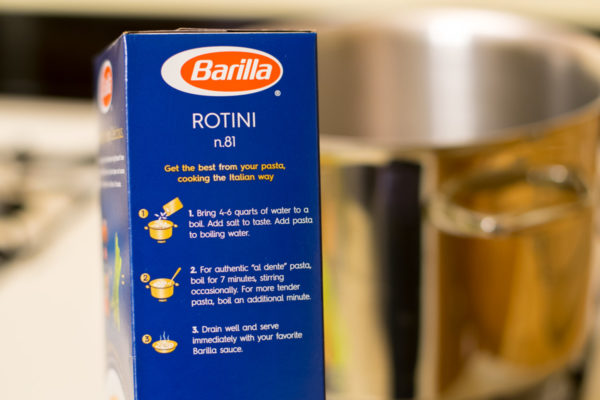 Easy 30-Minute Cheesy Rotini with Sausage Marinara Recipe
Ingredients:
1 box Barilla® Blue Box Rotini
1 jar Barilla® Marinara sauce
1 pound of your favorite Italian sausage
1 pound of shredded mozzarella cheese
Preheat oven to 350º.

Cook the

Barilla® Blue Box Rotini.

Cook only 7-minutes in order to achieve that perfect al dente texture. Drain. Return pasta to pot.

Pour in a jar of

Barilla® Marinara sauce.




(Add a second if you like a more saucy dish.)

Brown and drain the sausage. Mix in with pasta and sauce.




(Swap Italian for spicy if you want more of a bite.)

Spray a 4-quart glass baking dish with non-stick spray and pour the contents of the pot into the dish.

Bake for 5-10 mins. Just until the cheese is melted.




(Bake longer if you like the cheese browned.)

Serve with salad and/or garlic bread. Enjoy!
From Italy's #1 brand of pasta that cooks up perfectly "al dente," Barilla means mealtime simplicity and versatility. Those delicious back-to-school-friendly dinner options make my life easier, more enjoyable, and keep it centered around family. The normally mentally distracting question of "What's for dinner?" is turned into a tasty and relaxed one. Barilla!