She Said What About My 7 Month Old?
UPDATED – April 2015. See note at the end of the article to see what CVS did once corporate found out what happened. 
We've been trying to get out of the house to get Mr. Dude's passport photos taken for months. We've had busy weekends that didn't allow us time to stop in the local drug store. Other times we've tried going out but Wes has been less than cooperative because our being ready and his nap time didn't match up. Today it happened. The stars aligned, the heavens opened and we made it out the door! It was right after Mr. Dude woke-up from a nap and was all smiles. It was perfect.
There's a CVS a few minutes drive from us that I knew did passport photos because I stop in there frequently. Early this past Saturday afternoon we made it to CVS and waited in line a few minutes before an employee asked if they could help us.
We said we wanted passport photos taken to which she pointed and asked, "For the baby?"
"Yes"
"I can't do that. He's too young and there are lots of requirements for passport photos. They are really picky."
"Could we just hold him and try?"
"It could take a long time and a lot of shots. I just don't have the time to take his picture."
"What are we supposed to do then? He needs a passport."
"You could go to a professional photographer. They have time to sit there and try for 20 minutes. Sears has a portrait studio that can probably do it. Or the Picture People can do it. I used to work there so I know they can. I just don't have the time to mess with a baby."
Wow. We were taken back. "I don't have the time." Seriously? I know it's a weekend and your store is busy, but you can't even be troubled for 5 minutes to freaking try? The photos are digital so it'll only cost you a little time. I would have understood if we tried for 5-10 minutes and he wasn't cooperating, but she couldn't be bothered.
We went to the car annoyed and unsure of what to do. If we went to another drug store would we get the same answer? Some of our friends had gone to a drugstore with a 6 week old without issue. What now? We didn't want to have to pay for a full professional photo session just for a $12 drug store image.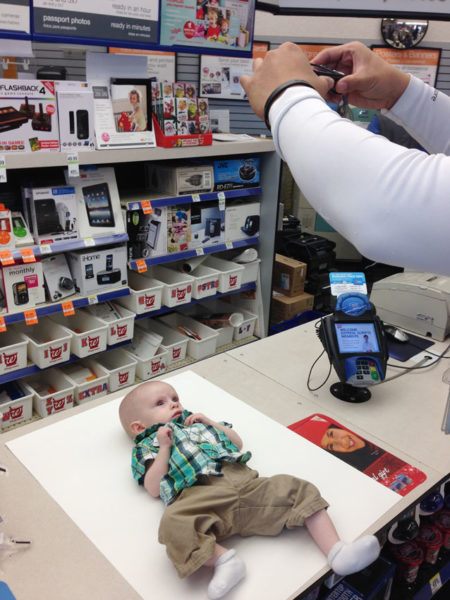 Abigail called the local Walgreens. She asked the guy on the other end of the phone if they took passport photos of babies. He asked how old the baby was and when told 7 months I heard him answer, "I can work with that." A few minutes later we arrived and enter a similar scene from earlier at the CVS. It was a weekend and there were a lot of people there. It took several minutes before it was our turn at the photo desk, but the employee behind the counter pointed at us and smiled. "You guys are next. Let me grab my camera."
We sat Wes down on the photo counter on top of a sheet of white poster board. The awesome Walgreens employee that helped us out got up on a milk crate while Abigail watched/held Mr. Dude. It took a couple tries, but in less than 4 shots we got a useable photo. Yeah, that's right cranky CVS employee. You upset a couple with a new baby because you couldn't waste five minutes of your time taking a few pictures.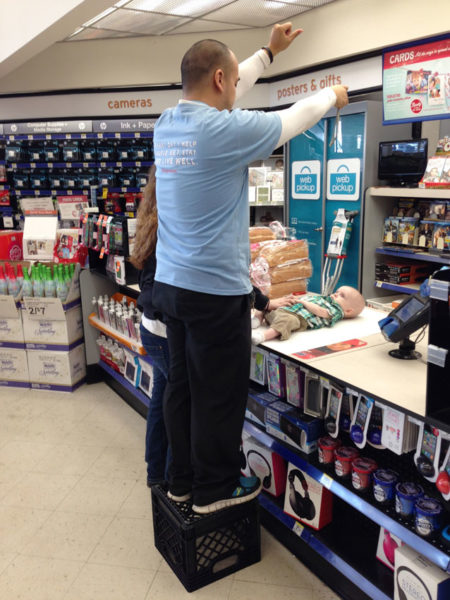 Do you know how much money new parents spend at 24-hour drug stores? More than I wish we did, but after this past weekend's experience our money will be spent at Walgreens over CVS the next time I head out at 1:00 a.m. to get diapers, medicine or other last minute items I forgot to get on my way home from work. Thank you Walgreens for hiring an awesome and helpful employee. Thank you CVS for forcing us out of our routine to find something better.
—
UPDATE – April 2015: I received a very apologetic phone call from the store manager of the CVS location where this frustrating event happened. He wanted to know who the individual was who we wrote about, but I couldn't tell him who it was. It had been too long. I don't remember her name. What would he have even done? "Remember that couple and baby you refused to serve while you were stressed out at work one day like a year a and a half ago?" Anyways, long story short we are once again CVS customers and have not had any more negative experiences with the company.