Watch "Voltron: Legendary Defender" Now on Netflix!
Disclosure: I've joined the Netflix #StreamTeam and have been compensated for writing this post.
I got to spend a day at DreamWorks last month and get a sneak peak of "Voltron: Legendary Defender" before its release. The day started with breakfast, a few photo opportunities and this nifty badge that proves I was actually supposed to be there. Thank you Netflix & DreamWorks for inviting:
If you've never heard of Voltron before here is the series write-up:
From days long ago, from uncharted regions of the universe comes the Netflix Original Series, VOLTRON LEGENDARY DEFENDER! DreamWorks Animation reimagines one of the most popular fan-favorite shows of all time in this all-new comedic action-packed show. Five unsuspecting teenagers, transported from Earth into the middle of a sprawling intergalactic war, become pilots for five robotic lions in the battle to protect the universe from evil. Only through the true power of teamwork can they unite to form the mighty warrior known as VOLTRON LEGENDARY DEFENDER.
While on campus we were ushered into a theater where we got to not only watch the first three episodes, but do a Q & A with executive producer Joaquim Dos Santos (The Legend of Korra, Avatar: The Last Airbender) and co-executive producer Lauren Montgomery (The Legend of Korra). They talked about their love of the original Voltron series and how rewatching it decades later reminded them of how much they wanted to do this project.
One of the coolest parts of my day visiting DreamWorks was being able to step into the sound booth and in front of a microphone. I wish I would have taken a photo of me while in there, but it happened so fast I didn't think to do it until later. In the below clip from "Voltron: Legendary Defender" I was able to say a few lines as Shiro.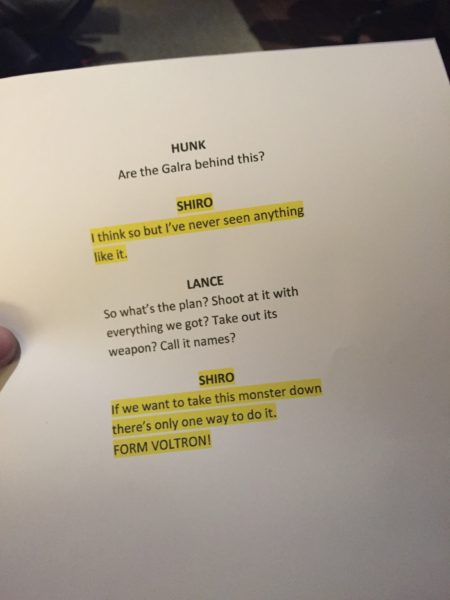 To be fair, I understand that my performance was poor, but I was goofing around a bit. I had one take, this was my first time in a sound booth (besides that one time in a kid choir like 20 years ago)  and was the first in the group to go. I, at least, made everyone else feel great about their performances because I set the bar so low:
We were also able to meet several of the voice cast who lend their talents to the series. The casting process was pretty involved and lengthy from the stories they told. I'm convinced that the process was worth it. The quality of the end product speaks for itself.
Want to take a listen in to the question and answer time we had with the cast? I've embedded some of it below. There are some minor SPOILERS in the recording so be warned. The audio quality gets better after the second question/answer:
We had lunch on the DreamWorks lot and they had these great placemat coloring sheets on the tables. I was able to get a PDF of them from DreamWorks an share them with you. If your kids are fans of the show, or just like coloring, they will love these sheets.
Do yourself a favor and watch season one of Voltron: Legendary Defender. Fans and newcomers alike will enjoy its high energy story telling and quality production value. I can't wait to see season two!