You Were A Good Dog, Phoebe. Good girl.
We got Phoebe almost 8 years ago. My wife and I had just moved into a new apartment. She had returned from a year away in DC for her job and was recently put on furlough. We had the discussion that many still newlyweds have or at least I imagine them having.
"I want a dog or a baby." She said.
"Let's get a dog." I replied.
It wasn't that I didn't want kids, I just wasn't ready yet. She agreed and began the process of finding a breed of dog that we thought would fit well with our family as it grew in the future. It didn't take long for her to find and fall in love with the Papillon breed. They are smaller dogs. Generally good with kids and easily trainable. The search for a reputable breeder was next. We found one about two hours drive from us.
I remember going to pick out a puppy that spring day. All of the puppies were taken out of the crate and played with each other for a few minutes on the breeder's kitchen floor. Every one of those puppies headed back to the crate except one. She crawled onto my lap, snuggled me and closed her eyes. We didn't have to pick Phoebe, she picked us.
Phoebe spent her life with us as a fun loving, couch climbing, trick doing, road tripping dog. We visited my grandparents in Ohio. Took day trips to Indiana. We even drove down Route 66 pre-children with our 2006 Hyundai Accent and Phoebe:
Along our trip we stopped on the side of the road in the middle of Arizona for a photo opportunity. It was like 106 degrees fahrenheit out and we were all hot. Phoebe clearly wanted to drink some water, but refused to do so because there was a bug in her water dish. I took the bug out and she still refused to drink. I then dumped the water dish and filled it up with fresh cold water from the cooler. It was only then that she drank some water. She was a high maintenance dog some times but I loved her.
She followed our little family all over the place…
The transition from a child free family to having a little human at home was a tricky process for Phoebe, but she ended up accepting our little ball of energy:
Phoebe was diagnosed last September with a soft tissue sarcoma. We saw specialists and got estimates on treatment options. The "best" of these plans ran into the several thousand dollar range, would cause her great pain and not guarantee any longer of a life span. We chose in the end to let her quality of life be the key factor in how long she would be with us. We took some family photos with a professional photographer in Lincoln Park in early November of last year: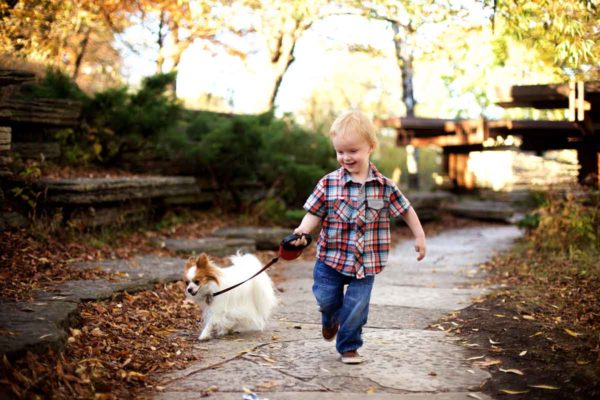 The vet and various specialist said she'd be gone by early 2016. It wasn't until May of 2016 that she began to noticeably decline. He nose began to bother her more and more even as we increased her pain medication. We said goodbye for the last time to Phoebe this morning, June 9th. She will be deeply missed in our home.
You were a good dog, Phoebe. Good girl. Everything will be okay. We love you.