I Owe My Sanity to 4moms' mamaRoo
We won a mamaRoo by 4moms in the 4moms Registry Contest held by the company in April 2013. These are my thoughts and impressions made by the product's use in our home over the last several months.
The mamaRoo is quite possibly my favorite piece of baby tech in the house. Wes would not fall asleep anywhere but in our arms the first few weeks we had him. He was only 8 weeks old when we first got the MamaRoo after having tried several swings/gliders/bouncers from other brands. That 8 weeks seemed like an eternity. My wife and I couldn't find anything that would allow us to not hold Wes while walking around for hours on end, until the mamaRoo.
This incredible gizmo allowed us to take a break from the constant pacing and actually sit down. While he wouldn't often fall asleep anywhere but in our arms, as a younger baby Wesley would sleep for up to two hours (sometimes more) in our mamaRoo. Totally amazing.
The mamaRoo by 4moms is a rocker/bouncer with five different motions modeled to mimic the movements of parents. It bounces up and down and sways from side to side with various speeds and in various modes titled: car ride, kangaroo, tree swing, rock a bye, and ocean. Wesley likes the variety of options and doesn't have a clear favorite.
One of the things I like most about it is the built-in speakers with audio in aux cable. It allows me to put on our favorite white noise app via my phone and have it play through the speakers. There are a few built in white noise sounds as well.
The mamaRoo comes in multiple colors/patterns. The newborn insert and mobile are even reversible between a multi-colored side and a black & white one. Wesely was amused by this when we would switch between the two and stare very intensely at the mobile. "Something has changed" he must have thought, "but what?"
The incline of the seat is adjustable and the mobile removable if preferred. Assembly of the mamaRoo was also much simpler than I expected it to me. Do yourself a favor and read the directions first though. I was about half way through assembling it when I look at them and realized there are numbers that tell you what parts go where. The second half of assembly went much more quickly once I noticed that. There are a couple of cons to the mamaRoo. Nothing big, but somethings to be aware of:
The mamaRoo doesn't move from room to room very easily. It's not that heavy, but is a bit awkward and bulky to pick up and relocate around the house while holding a baby in one arm.
Cleaning the straps can be kind of a pain. They are impossible to remove from the unit itself. We had a few blowout diapers and ended up setting up a bowl of bleach next to the mamaRoo in order to clean/disinfect the straps.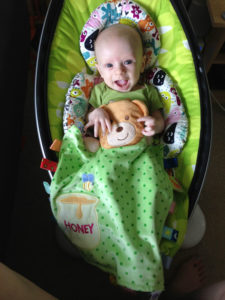 All in all I would say this was the most important baby gadget we have had in the house. I can tell you that the amount of time for comfort and relaxation breaks this has given us from holding a baby that hates being put down is well worth the purchase! The 4moms mamaRoo is $199 online, but if you get coupons in the mail from various baby places like Buy Buy Baby or Toys R Us you might be able to get it for less. The newborn insert is sold separately and retails for $29.99. We plan on using the mamaRoo with our second child and see it as a much needed lifeline that we are infinitely thankful for having in our home.
You can see a gallery of some of our favorite shots from mornings, noons and evenings with Wes and the 4moms' mamaRoo: