Recycle That Old Phone (Tablet or MP3 Player) with ecoATM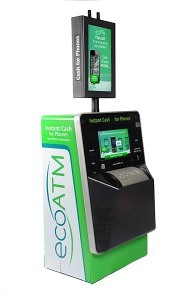 Disclosure: This is a sponsored post, in conjunction with ecoATM. I received compensation for the creation and sharing of this post.
Like most Americans I love my gadgets. And like many I simply collect old phones. They end up in a drawer or a box and I don't think about them again until I move or decide to "sort" things. I've been in a sorting mood recently and ran across my wife's old Apple iPhone 3G. It powers up just fine, but can't be updated to the newest iOS because Apple no longer supports the old phone. We had kept the phone with the intention of letting our nephews play games on it when they visit. The games that we have on it all no longer interesting to them and newest games can't be downloaded. So the phone got put away and we've not touched it in months.
I recently heard about ecoATM and tried it out with my wife's old phone. ecoATM operates a nationwide network of automated electronic recycling kiosks located in shopping malls and select bigbox stores. Its a great way to recycle old devices, avoid having them sent to the landfill and support local charities. I could have chosen to keep the cash ecoATM offered for the old phone, but donated it to Children's Miracle Network instead.
The service ecoATM provides is a much easier and quicker alternative to those mail-in and recycle services via snail mail. No packaging, no postage, no waiting for days to get your cash. ecoATM can give you cash on the spot or let you donate a portion or all of the offer for old phone to a selection of charities. ecoATM has recycled more than 500,000 pounds of devices in just four years. That is a total of more than 2 million individual devices, 70,000 pounds of copper and over 1,500 pounds of silver!
There are so many phone thefts each year that security minded folks might be curious how the ecoATM fights fraud. They require a a valid ID be scanned during the transaction, and have cameras at each kiosk that allow recording video of who is doing the recycling. A team of online attendants (real, live human beings) can check it against multiple photos the ecoATM has taken of the seller in front of the machine. The transaction will be declined if the person doesn't match the ID, If they're under 18 years old or if the ID is invalid. This stops fraud and encourages legal use of the machines.
Apple and Amazon have new phones coming out soon. The ecoATM is a perfect way to trade in your current phone and get paid for it right away. Just find an ecoATM location near you today!