Denny's Is Now Better At Making Pancakes Than I Am
Disclosure: This is a sponsored post, in conjunction with Denny's Diner. I've received compensation for the creation and sharing of this post. All opinions are my own.
We've reached the point in Abigail's pregnancy that requires us to eat out of the house if we want a fresh hot meal. Something about smells and my cooking. Ha! Tonight was no exception. It was, therefore, with great enthusiasm that we stopped by Denny's Diner to try out their brand new buttermilk pancakes. Their new pancakes are hand-mixed using fresh ingredients such as real eggs, fresh buttermilk and a hint of vanilla. These distinctive diner flavors are a sweet and fluffy taste set to rival anything I've ever made. And I know how to make a mean breakfast.
Yes we had breakfast for dinner. I am not ashamed to say so. In all honesty, I love eating breakfast at all times of the day and night. The delicious new pancake stacks are 50 percent more fluffy than the old recipe. I can totally believe this having seen and tasted them first hand: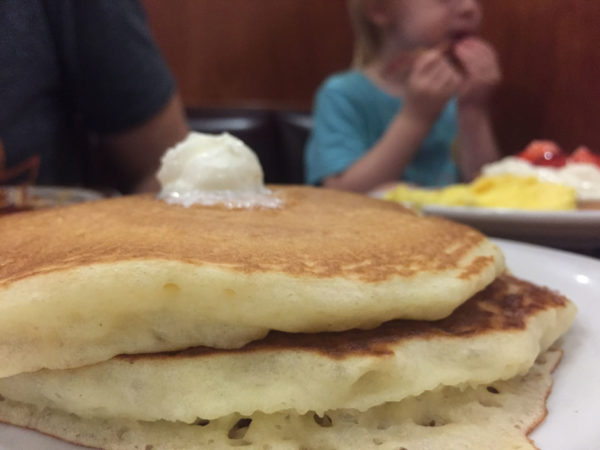 Denny's has four limited-time Signature Builds — the Sticky Bun Pancake Breakfast, Strawberries & Cream Pancake Breakfast, Double Berry Banana Pancake Breakfast and Peanut Butter Cup Pancake Breakfast — that offer sweet and savory ways for guests to satisfy their cravings in addition to a variety of other food options:
The diner's younger guests—and toughest pancake critics like my son — can enjoy junior versions of the 'cakes with the new select signature dishes available for the first time on Denny's Kids Menu: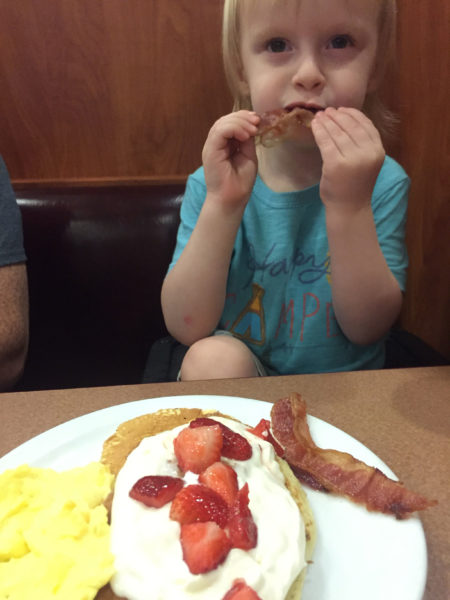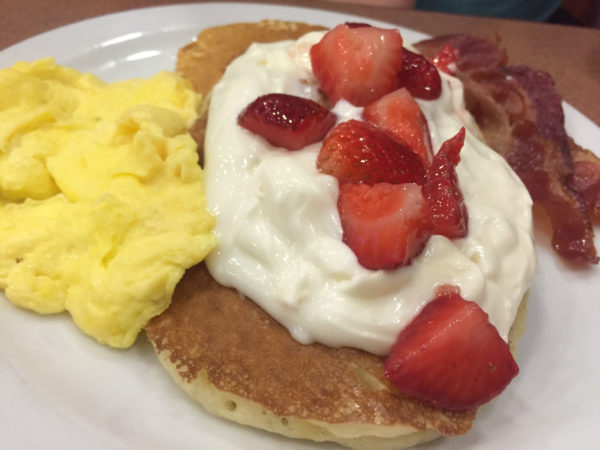 The brand is also bringing America a taste of the new pancakes well beyond its diner walls. Denny's social and digital channels will be extending the pancake party with custom Snapchat filters, Facebook Live events, YouTube videos and a 'Pancake Rejection Simulator,' an interactive application where guests can practice telling loved ones their pancakes are now second best. The diner's hit animated web series, "The Grand Slams" will also be joining the fun with several special episodes celebrating the gang's new-and-improved fluffy Pancake character.
Mr. Dude and I were pretty happy after our meal and held an impromptu funny face competition. It was only about halfway through taking place when some of our fellow diner guests passed us by on the way out the door and laughed. Abigail caught a picture of the action and I now understand why they did.


Denny's new pancakes are available all day, every day at breakfast, lunch, dinner and late-night; for more information or to find a location near you please visit Dennys.com.