What Happens When a Bunch of Dad Bloggers Get Together in New Orleans?
I was able to attend the 2014 Dad 2.0 Summit in New Orleans earlier this month. It's a conference focusing on dads and fatherhood. The normal conference stuff is there… hotel conference rooms, catered meals, big name speakers, brand representatives, members of the media, etc. What makes Dad 2.0 Summit different is the dad blogging community that exists around it.
I started my blog in October 2012 with a post announcing that my wife and I were expecting. This was to be our rainbow baby. Not long after I started posting my wife found out about the Dad Bloggers Group on Facebook and suggested I join. Over the next several months I was accepted into a community of dads that knew how to have fun, be encouraging and challenged me to be better. I was unable to make Dad 2.0 Summit 2013, but heard nothing but good things about it.
When Dad 2.0 Summit 2014 came around I was ready. I was able to secure a couple sponsorships that allowed all three of us (Abigail, Wes and me) to attend. It was a long drive down to New Orleans, but that's another post. Even though I'd been talking with many of the guys attending the conference for over a year online, I was nervous about meeting everyone in person. Conferences, in my experience, have been a toss up of really-awesome or total-waste. #Dad2Summit falls into the really-awesome category hands down. It felt like a really big reunion with a ton of friends I already knew. Conversations, even with dads who I met for the first time outside of the group, flowed easily. That might have had something to do with the drinks, but I think it had more to do with how amazing the dad blogging community is right now.
One of the sessions I sat in on was "Parenting It Forward: Compensating For Our Own Flawed Fathers." It was a panel discussion with Charlie Capen of How to be a Dad, Ryan Hamilton of Life of Dad, Eduardo Vega of Mental Health Association of San Francisco and Caleb Gardner of Organizing for Action. The authenticity of the speakers and transparency of the audience was perfect. Personal stories of father's failings and triumphs, questions and advice filled the hour.
One of the break out sessions was set up in the grand ballroom and composed of 12 tables where people could participate in smaller style break discussions about various topics. The three sessions I sat in on were:
Mike Adamick talking about how to pitch books to editors/publishers. (@BusyDadBlog looking on). #Dad2Summit pic.twitter.com/4uPLnzAVkL

— Daddy's Grounded (@DaddysGrounded) January 31, 2014
"Pitch and Publish: The Complete Road to Authorship" by Mike Adamick (author of Dad's Book of Awesome Projects).
.@CanadianDadBlog talking about building engaged online communities. #Dad2Summit pic.twitter.com/q4KaVUbb6M

— Daddy's Grounded (@DaddysGrounded) January 31, 2014
"Building an Engaged Social Community" by Chris Read of Canadian Dad Blog.
.@blurb is sharing #photography tips at #Dad2Summit. @charliecapen, @babyrabies & @jimhigley among the listeners. pic.twitter.com/HWH42503oM

— Daddy's Grounded (@DaddysGrounded) January 31, 2014
"Advanced Mobile Photography for Capturing Real Dad Moments" by Jon Armstrong of BlurboMat.
Apparently I have a really intense look on my face when blogging while listening to a speaker. Don't let that fool you, I enjoyed every minute. That's my thinking face!
Networking after hours and visit the brand's booths were some of my favorite parts of the conference:
Yup. That's my kid at the #AnimalJam booth petting a crocodile. #dad2summit pic.twitter.com/D5MKCqJht6

— Daddy's Grounded (@DaddysGrounded) January 31, 2014

Wesley got to pet a crocodile!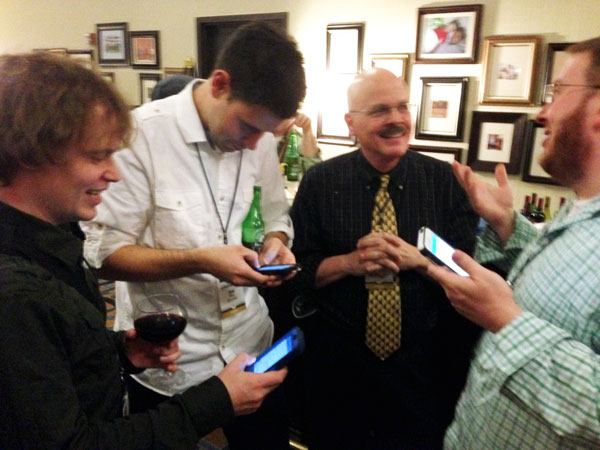 Networking, geek style, with Tommy Riles of Life of Dad, Charlie Seymour Jr. of Charlie The Marketer and Nathan Engels of WannaBite.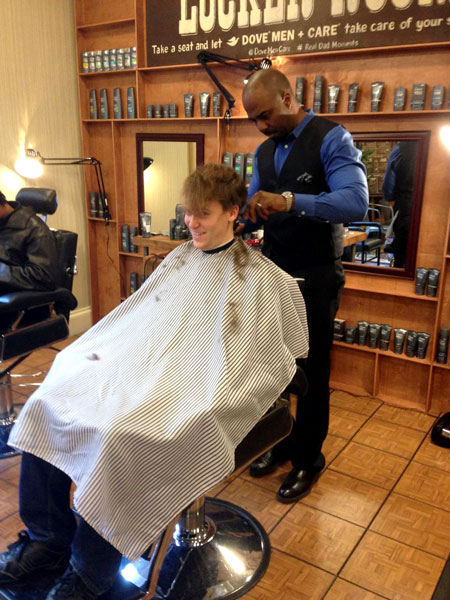 I even got a haircut thanks to Dove Men + Care!

And a free pair of jeans from Lee.
I spent much of my time after the conference out with the guys at various restaurants, bars, etc. I had so much fun out I didn't think about taking out my phone to take pictures. Above is the only image I took. It was a group of people dancing to live music on a street corner. One of the Dad 2.0 Summit out of towers asked if Mardi Gras celebrations had already started and Mike Tremoulet (his family has generations of history in New Orleans) answered "No, Its just Friday night."
Coincidentally Christine Tremoulet (Mike's wife) is the person who named WordPress. She's got a million stories to tell and took some damn good pictures as one of Dad 2.0 Summit's official photographers.
I can't wait for Dad 2.0 Summit 2015!
BONUS: The day after the conference we got to have some family time at Café du Monde.