Our Preschooler and His Grief Over Losing a Pet
Abigail and I recently got a stuffed animal toy that looks similar to how Phoebe looked for Mr. Dude to keep with him. One of his first comments was "Phoebe's nose is all better!" in a happy little squeal. He then paused and realized this wasn't actually here. He hugged the stuffed animal and said "Phoebe is gone. I miss Phoebe."
A couple days later I had to go to the store and Mr. Dude wanted to come with me. He grabbed the toy Phoebe to accompany us on our trip. On our way to the car, just liked we used to do with the real life Phoebe, we stopped by the brick wall next to the sidewalk for a few photos. Mr. Dude didn't want to hold the toy. He wanted it to sit next to him like our pet papillon used to do. He was got visibly frustrated when the stuffed animal wouldn't perform as he wished. I snapped a few photos (some shared in this post) and we were on our way.
I was driving home from work the other day when Mr. Dude (our three year old) broke through the routine sounds of our commute as he abruptly shouted "Daddy! Stop the car!" He sounded worried. I ask him what was wrong and he exclaimed back at me "It's a spider! Please Daddy, hurry. Stop the car. It's gonna kill me!" He was obviously in panic mode so I took the nearest exit off the interstate and pulled into a fast food parking lot. There was no spider in site.
I got him out of the car and asked him where he saw it. We then spend the next several minutes wiping off the window, checking around the car seat, and inspecting every spot his little fingers pointed out. Nothing. He hugged me tight. He said "I love you, Daddy" and we both got back into the car.
Not a minute after we got on the highway did he said "Daddy, it's back! Help me!" I asked him where it was and he said "The Window! Put it down! He's gonna get me!" I still couldn't see if there was a spider or not, but I did put the  window down. He started laughing with joy. "Did I get it, Dude?" I asked him. "Yes, the spider flew out the window! Thank you, Daddy!" He laughed a bit more and the rest of the car ride home was back to normal.
Everything this a preschooler does or experiences can be dramatic at times but this episode was different. There was an exhibited fear that I'd never seen before in Mr. Dude. He was more than uncomfortable. He was deeply frightened. I don't know if there was a spider back there or not, but to him there was a spider back there on the window. The truth for him was that what may have in reality been dirt on the window was out to get him.
We recently had to put our dog down. She spent months with cancer and her time had come. The process leading up to and dealing with her absence around the house has been difficult for Abigail and I. We have been able to talk about it, cry about it and process our emotions through the eyes of past experiences with loss. This is the first loss that Mr. Dude has had to deal with that has affected his daily life. She was there with us every day at breakfast. She was there when we would take road trips to see family out of state. She was there when we dropped her off and the picked her back up after her grooming appointments. It's hard to explain to a three year old what death is and how it came come as an unwelcome visitor with or without warning.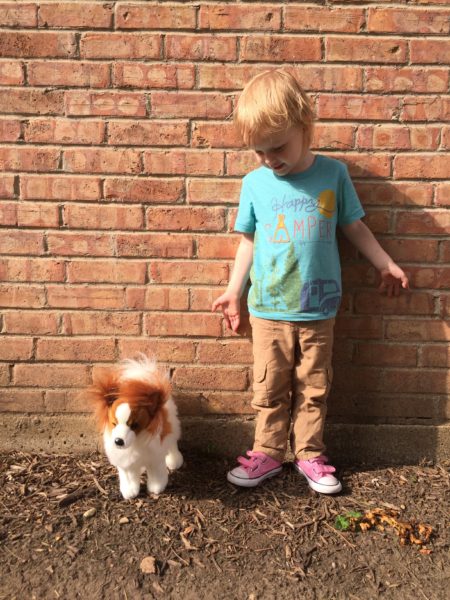 Through out the process of Phoebe (our Papillon) being diagnosed with cancer and our discussions of treatment he would ask about the bump on Phoebe's nose. "Phoebes is sick, Buddy. We have to give her some medicine." It was a simple understanding. He has been sick before and has had medication and treatments that made him well. Based on his past personal experience with medical professionals he expected our dog to get better.
"Hooray! Phoebe had her medicine. She's all better now right?!" he would say almost every time we gave her the morning and evening pills she required to manager her pain. "No buddy. She's still sick, but the help her not to feel so bad."  The day we put her down he got to say goodbye, but didn't understand the gravity of the action.
Shortly after we put Phoebe down Abigail left on a four day trip to China for work. Mr. Dude has seen his mother leave for trips and come back many times before so we didn't think anything of the normal goodbyes we do. In retrospect it may have been a good idea to reassure him that she would be returning or to have gotten him the stuff animal before we put Phoebe down. It may not have may a difference but it may have also prevents this exchange that happened during the trip:
"Daddy, I want to take a picture with Phoebe."
"We can't take pictures with her anymore. Remember, Buddy? She died."
"Oh," he said. Then after a long pause he had tears well up in his eyes and then asked "Can we still go pick up Mommom?"
"Yes, of course. MomMom is okay. She is in China right now, but we will see her in a couple days. We sleep tonight and the next night then we can pick her up after school."
"Hooray!" he cheered with hands in the air and a leap that had his feet leave the ground. He hugged me and said "We love MomMom. Right, Daddy?"
"Yes we do, Buddy. Yes we do."