"A Klingon Christmas Carol" in Chicago (2018)
Disclosure: We were invited guests at the opening of The Edge Theater's 2018 production of "A Klingon Christmas Carol."
Abigail and I attended the press opening of "A Klingon Christmas Carol" at The Edge Theater in Chicago, IL last night. I, as one would expect, enjoyed seeing the throughly entertaining show. One does not have to be an uber-geek to enjoy this sci-fi retooling of this Charles Dickens holiday classic.
Seriously, it was so much fun. No actual knowledge of Klingon required. You very quickly forget to notice that it's in an alien language. If you do get lost along the way there are supertitles (yes, that's a thing) that translate the "original Klingon" into English.

The cast even hung out after the show for photos. This is a 360 photo. Take a look around.
"I really loved how they were able to translate such a human story to Klingon morals while keeping it relatable. I swear, even if you're not a die hard nerd like me you'll really enjoy it. But being a nerd is a definite bonus. 🖖🏻" – @Skywaitress
A Klingon Christmas Carol is the first play to be performed entirely in Klingon, a constructed language first appearing in the television series Star Trek. The play is based on the Charles Dickens novella, A Christmas Carol. A Klingon Christmas Carol is the Charles Dickens classic tale of ghosts and redemption, adapted to reflect the Klingon values of courage and honor, and then translated into Klingon, performed with English supertitles.
Presented by EDGE of Orion and written by Christopher Kidder-Mostrom & Sasha Warren, the play has preformanced between November 29 and December 16. The script translation was done by Laura Thurston, Bill Hedrick, Christopher Kidder-Mostrom, and Chris Lipscombe. Purchase tickets here.
2018 Preformance Schedule: 
11/29, 11/30, 12/1, 12/6, 12/7, 12/8, 12/13, 12/14, 12/15, 12/16 – 8:00pm
12/2, 12/8, 12/9,12/15, 12/16 – 3:00pm
Opening week is full of augmented sci-fi themed programming you won't want to miss. Things like pop-music in Klingon, nerdy belly dance, group instruction with a real-life Klingon Language Coach, Bat'leth and Martial Arts demostrations and more! Details below:
Thursday Night Nov 29th
Join The Klingon Pop Warrior for a special mini-concert before the show begins! Meet board and troupe members as we mingle over drinks in the beautiful EDGE Theater Lobby before the show! 7:15 doors open! Learn more about The Klingon Pop Warrior here: https://www.klingonpopwarrior.com/
Friday, November 30th
Watch the nationally renown Raks Geek take the stage in our pre-show entertainment. Raks Geek is legendary in blending nerd with belly dance and burlesque. You've seen them with their belly dancing Wookie, now catch an all-new Star Trek Inspired dance! 7:30 doors open! More about Raks Geek here: http://raksgeek.com/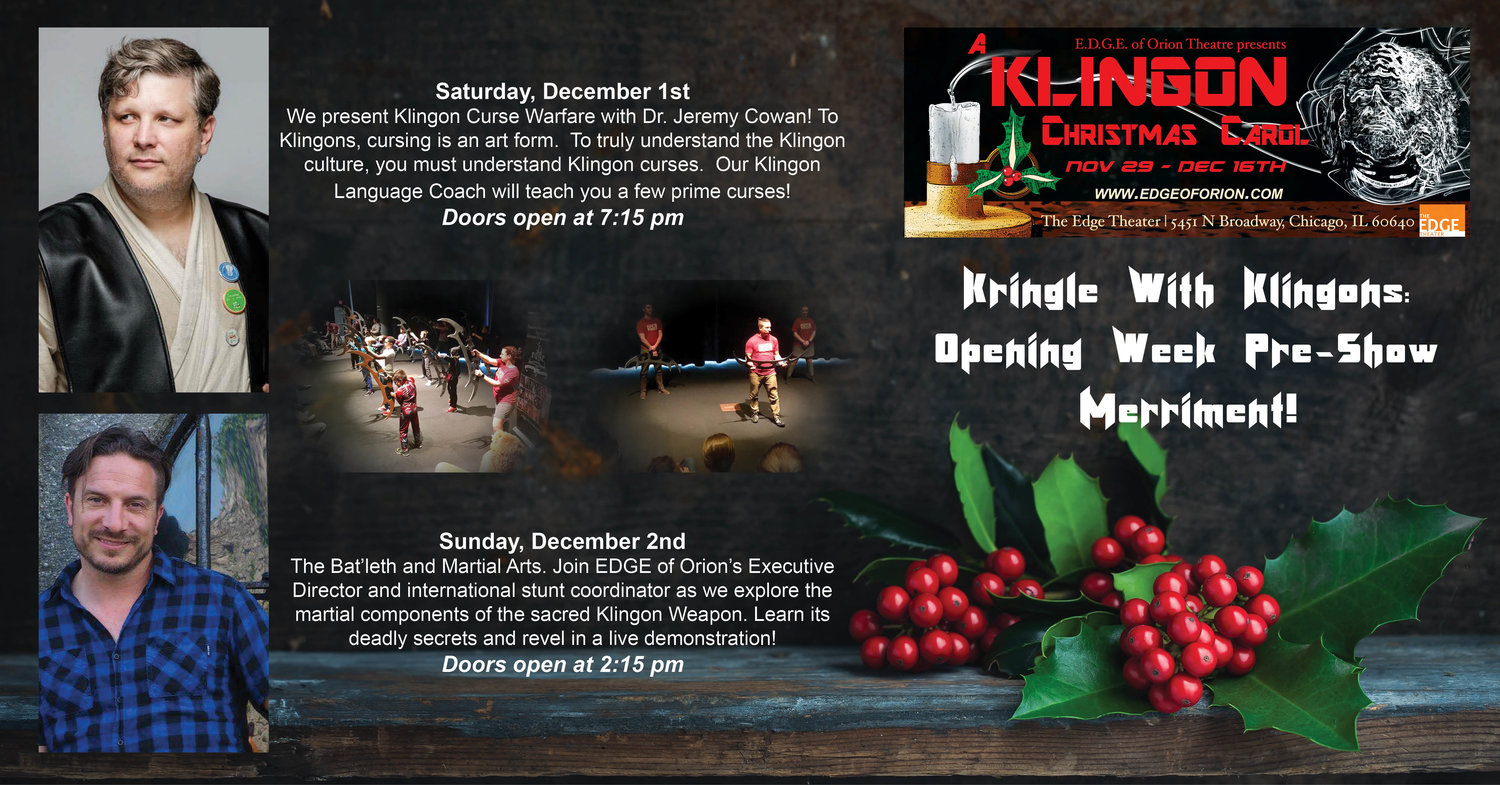 Saturday, December 1st
We present Klingon Curse Warfare with Dr. Jeremy Cowan! To Klingons, cursing is an art form. To truly understand the Klingon culture, you must understand Klingon curses. Our Klingon Language Coach will teach you a few prime curses! Doors open at 7:15 pm.
Sunday, December 2nd
The Bat'leth and Martial Arts. Join EDGE of Orion's Executive Director and international stunt coordinator, Orion Couling, as we explore the martial components of the sacred Klingon Weapon. Learn its deadly secrets and revel in a live demonstration! Doors open at 2:15 pm.
There are also some bonus "Klingon Koncerts" that will be preformed near the end of the show's 2018 run:
December 15th from 6 pm to 7 pm we are pounding the table with happiness to announce 5 Year Mission! Five Year Mission is the collaboration of five Star Trek fans who endeavor to write and record a song for each of the episodes of the original Star Trek series from the 1960s. They played at the Adler and at all the cons you love, and on this very special day, this power pop band brings a 1 hour set with blistering music and a great love for the fandom! Purchase tickets here: https://www.brownpapertickets.com/event/3821279

More about the band here: http://fiveyearmission.net/

December 16th we wrap our series with the Queen of Qapla' herself THE KLINGON POP WARRIOR will be seizing the stage for a one hour set that will rock the Empire! in a 1-hour concert 6-7 pm you will feel like you are at Quarks on a Friday night! https://www.klingonpopwarrior.com/

Purchase tickets here: https://www.brownpapertickets.com/event/3821977
These concerts are $15 on individually, but you'll get 50% off when you buy a ticket to see the show. The coupon will be emailed to you when you buy your ticket online and can be applied when you order your ticket!
To take advantage of all the Kaos, buy your tickets early, and get your Klingon Kringle on!